I scanned the sky, holding my breath, waiting. A clammy draft met my face an inch from window.
"I can't tell." I said, "Is it?"
"No, I think that's ice rain." Keith said.
I looked at the gray sky and saw nothing. I turned my head to the yellow streetlight hoping it would illuminate a few fluffy snowflakes. Instead, all I saw was spittle falling on a wet road.
"Let's go anyway. We could use the fresh air. And perhaps it'll start while we're out."
We bundled Ava in 4 layers, a hat, a hood, and a pair of purple thumbless mittens. We secured her in the stroller with a giant blanket and were off.
"Wow. It must be 20 degrees out here. "  he muttered.
I pulled my coat tighter. "We'll warm up when we get home," I replied.
Thirty minutes later we walked into the house, the frost still clinging to our limbs. I breathed in deeply and smelled the hot Callaloo. Green and smoky. Mmm, that ham bone was a great addition. I left Keith to unbundle sweet Ava and got the ladle out. Time for some warmth – we'll find snow another day.
A cold and quiet night in our little corner of the world, but feeling thoroughly cozy at home thanks to the food of Dominica. This is thing of beauty.
Callaloo (Caribbean Green Soup) [Recipe]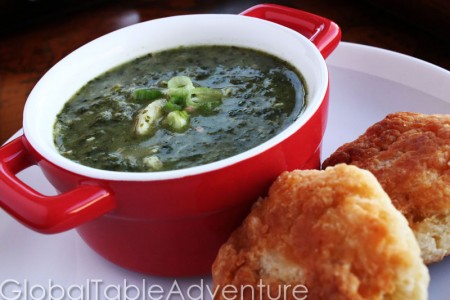 What I liked most about this dish:'
The best part about this soup is that it was bursting with healthy greens and lean protein, from the crab. The creamy coconut milk and smoky ham lend depth of flavor, while also making the texture reminiscent of "creamed  spinach."
What I liked least about this dish:
The texture was a bit "slippery" because of the okra (cutting back on the okra might help, but you'll need to add less liquid). One way to help balance this texture is to serve the Callaloo with a healthy portion of rice. This traditional accompaniment really soaks up and disguises any unusual textures, which would have really come in hand for Mr. Picky. He'll eat almost anything on a bed of rice.
Deep-Fried Mountain Chicken (Frog Legs) [Recipe]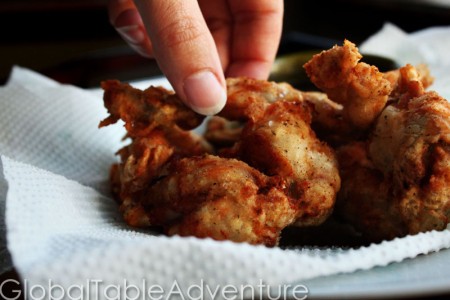 What I liked most about this dish:
First of all, I got a kick out of trying something "weird" that was "normal" to Mr Picky. As a kid, he actually caught frogs and cooked them on a fire. He told me these stories over dinner – a special moment because I learned a little something I hadn't known about him before.  He's such a country boy at heart.
As for what they taste like? They taste pretty much like fried chicken, but the texture is fibrous, like fish (I needed a few rolls of floss when I was done).
What I liked least about this dish:
When raw they look a lot like human legs. Thankfully, once they are cooked, all resemblance goes away and they just look like fried goodness.
Caribbean Bakes (Fried Biscuits) [Recipe]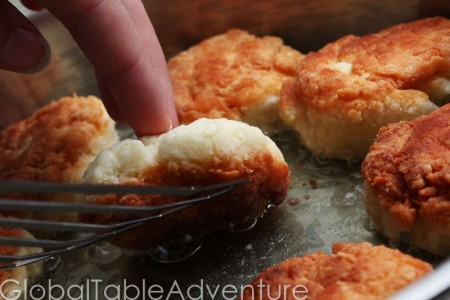 What I liked most about this dish:
These were very addictive. I kept popping them in my mouth, even when common sense told me to stop. The hint of sugar made them even better.
What I liked least about this dish:
Frying the dough makes it rather heavy, so it best paired with a light dish. Make sure the oil is hot enough, or the dough will soak in the oil and become greasy. Oh, and try not to eat 4 in one sitting. They are probably no healthier than a donut.
Grapefruit & Avocado Smoothie [Recipe]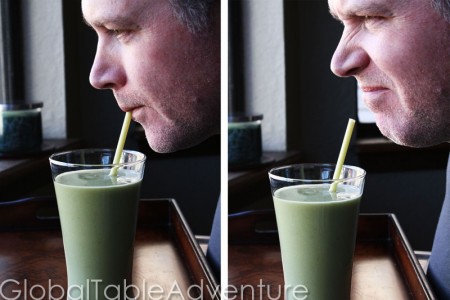 What I liked most about this dish:
I just have to laugh. As you can see by the photos (taken a split second apart), Mr. Picky wasn't a fan. To be fair, he did go back for more, if only to figure out the flavors he was experiencing. Just goes to show how much he's evolved in the last year – he's much more open to exploring flavors which makes dinnertime much more fun. Anyway, I rather liked this smoothie. The slightly bitter grapefruit mixed with creamy avocado was a tantalizing combination. I guessed (and was right) that this would make a great salad dressing with the addition – to taste – of white wine vinegar, olive oil, salt, and pepper. Try it out and see what you think!
What I liked least about this dish:
Take a tip from me – refrigerate the avocado and grapefruit juice. I didn't plan ahead so none of my ingredients were cold, and a room temperature smoothie is not appealing. We tasted it a few hours later, after refrigeration. Thankfully it held its color fine (but I wouldn't store it much longer than an afternoon).
Ava's Corner: