Try as I might, I could not let the Cuban sandwich pass me by. Which means, of course, that Homemade Cuban bread is also required (Oh, happy day!). Sure… it isn't very Thanksgiving oriented (unless you throw some leftover roast Turkey in your Cuban Sandwich), but I'll make up for it with the best Pumpkin Flan ever. And if that won't do, dear friend, just have a Mojito.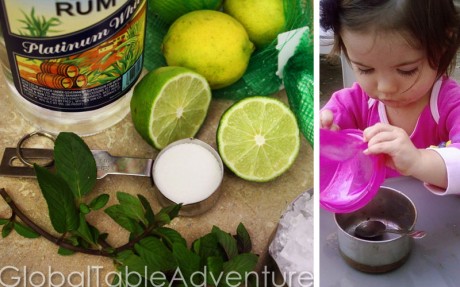 The Cuban Sandwich (Hot Pressed Pork Sandwich) [Recipe]
A hot, pressed sandwich layered with mustard, ham, roast pork, sliced pickles, and ooey gooey Swiss Cheese. Spoiler alert: Tastes like good.
Homemade Cuban Bread (Pan Cubano) [Recipe]
A soft, doughy bread with big yeast flavor, thanks to the use of an overnight starter.
Pumpkin Flan [Recipe]
Pumpkin gets all dressed up for a Cuban style holiday, with cinnamon, allspice, cream, eggs, and milk. The crowning glory? It all sets in beautiful pool of caramel. Flan is the quintessential dessert of Cuba.
Mojito (Mint, Rum, and Lime Juice Cocktail) [Recipe]
Mint, lime juice, and sugar. Oh yeah… and rum.