"What's a poached egg" Mr Picky asked me.
"Hold on a second," I said, cracking the crooked egg into a dish. The egg was laid just two days ago from our friend's chicken. Hence it was crooked. The yolk was brilliant gold… almost orange.
I thought about how runny the yolk would be after poaching. How creamy and delicious. And I thought about how much Mr Picky hates runny eggs. Or claims he hates them. After all, I've never seen him eat a runny egg yolk, so who knows if he's ever actually tried one.
"The egg white will be set, but the yolk will be…"
"Runny?" he interrupted, with a grimace.
"Yes. Give me a minute and you'll see." I slipped the egg gently into the steaming milk and watched as it quickly dove beneath the surface. He snapped a few pictures.
After a few minutes I began fishing around with my spoon. Seconds later, I found the egg beneath the milky white broth. I fished it out and ladled it onto a bed of thinly sliced green onion and cilantro.
Without pausing, I broke Mr Picky off a nice ooey-gooey piece of egg with a spoonful of broth and lurched it towards his mouth.
"Just give it a try" I said.
He obliged and gave it a taste.
"Hmm" he said.
That's it. Not another word was uttered. Dub me flabbergasted.
So. Here's the million dollar question. I'd like to know – is that guy code for good… or bad … or what?
Ideas?
Salad Greens with Avocado Dressing (Vinagreta de Aguacate) [Recipe]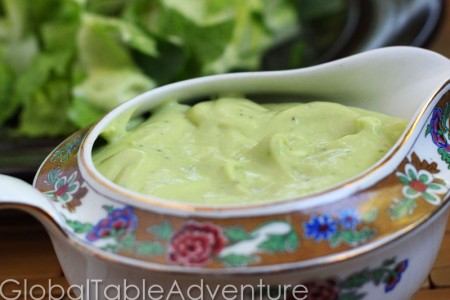 What I liked most about this dish:
I don't normally eat creamy dressing. In this case, the dressing was extra thick, like mayonnaise. Thankfully the flavor distracted me from the thick texture – it was bright and tart thanks to the fresh lime juice. I found it perfect to dip corn chips and veggies in. Granted, this wasn't the purpose of this recipe but if we always stuck to how things are "supposed to be," life would be pretty boring.
What I liked least about this dish:
Although I don't particularly care for thick, creamy dressings, I really don't think anything is wrong with this recipe. In all reality, avocado makes everything taste better. Be sure to season with salt and pepper to make the flavors jump out at you. Because avocados come in all sizes, taste as you go. You may need to adjust the olive oil to make the dressing thinner or thicker.
Party Rice with Cola (Arroz con Coca Cola) [Recipe]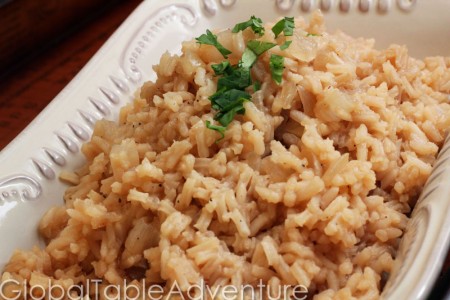 What I liked most about this dish:
The novelty of cooking with cola was fun. This is the perfect dish for a holiday potluck because rice travels well – just put it in a heavy-duty casserole to keep warm. Plus, everyone will ooh and ahh over the fact that you made rice with cola in it (if you decide to share your secret!)
What I least about this dish:
The cola flavor itself is one dimensional. The slightly caramelized onion adds interest. A few herbs stirred in at the end would be nice touch (whatever you like, although cilantro would be consistent with Colombian seasonings). This rice begs to be eaten with spicy food – especially meats.
Poached Eggs in Broth (Changua con Huevo) [Recipe]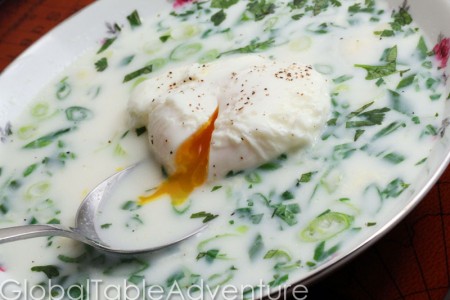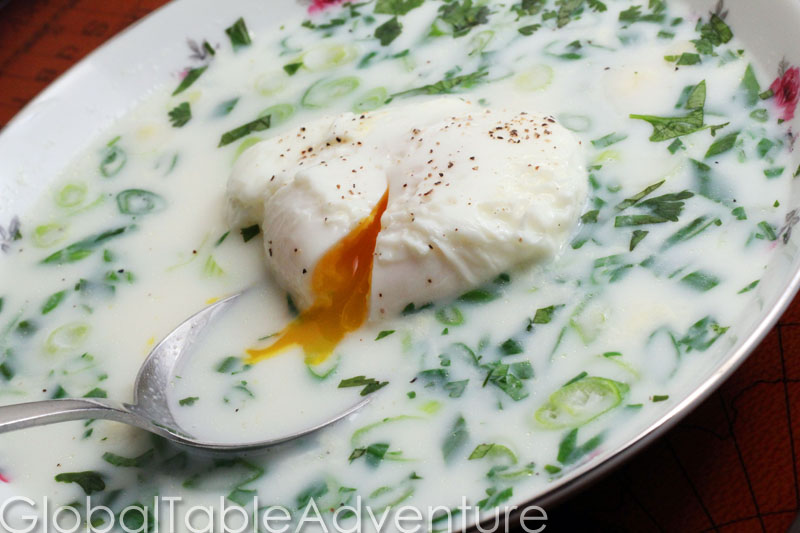 What I liked most about this dish:
I love the idea of breakfast soup which is especially warming in the fall and winter. The broth is light and delicate, as is the poached egg. A bit of thinly sliced green onion adds healthy crunch. This soup is so delicate, so beautiful … I can see ladies with hats eating it… you know, at country clubs. As for me? I like to close my eyes and pretend I'm eating it on the Colombian seaside.
What I least about this dish:
Not much. Just add as much green onion and cilantro as you think you'll like. You can always add more. If you have rebellious taste buds that hate cilantro you might try parsley, but then the dish won't taste so distinctly South American. Mr Picky claims to hate cilantro, but he eats salsa all the time. This tells me he likes cilantro in moderate quantities. I sprinkled a bit in his soup and all was well. Yay!
Colombian Oatmeal Smoothie (Avena) [Recipe]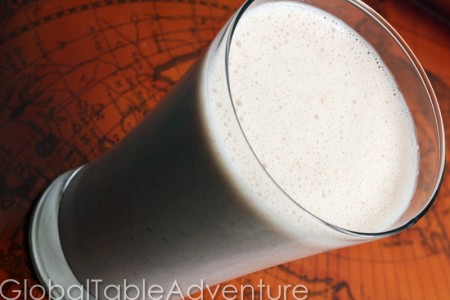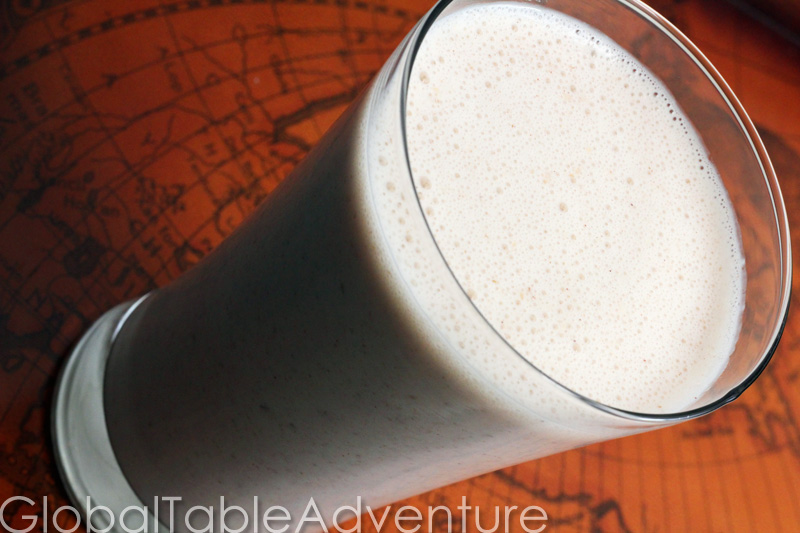 What I liked most about this dish:
Avena is everything I love about oatmeal (cinnamon, sugar, and warm fall flavor), but in a glass. Make this creamy smoothie for brunch next time you have guests. You can mix it up a day or two ahead and then thin it with milk when you are ready to drink it. Now that's the kind of fuss-free entertaining I love! 🙂
What I least about this dish:
The drink gets very thick by the time it chills. Make sure you have enough milk sitting around to "thin to desired consistency." Other than that? Get out some cookies and enjoy this Colombian Global Table! 🙂
Ava's Corner