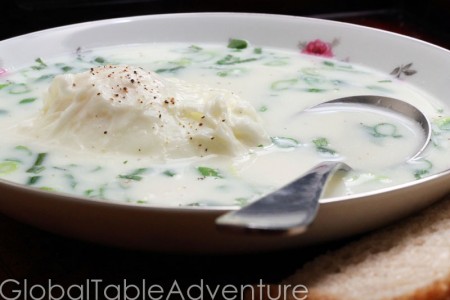 Serves 4
Rethink eggs! Poached eggs swimming in milky broth is a delicious Colombian specialty which is perfect for breakfast, brunch, lunch, or a light dinner. You can easily make this soup vegetarian by using vegetable broth.
Ingredients:
4 cups broth (vegetable or chicken)
2 cups milk
4 eggs
3 green onions, sliced
sprig cilantro, chopped
salt
pepper
Method:
Add stock to a large pot. Sploosh.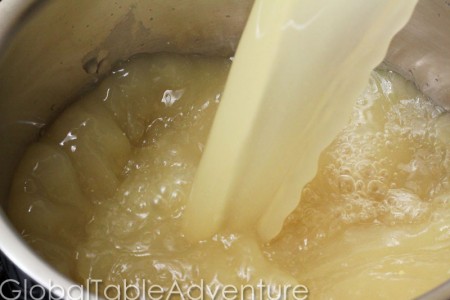 Then add milk. Splash.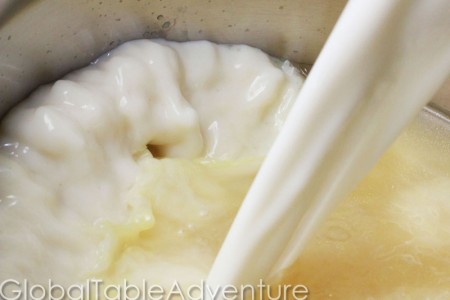 Heat the broth and milk to almost simmering. Meanwhile, spread some thinly sliced green onion on the bottom of the bowls.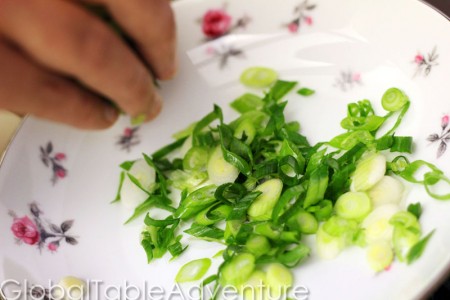 Sprinkle with some chopped cilantro, too.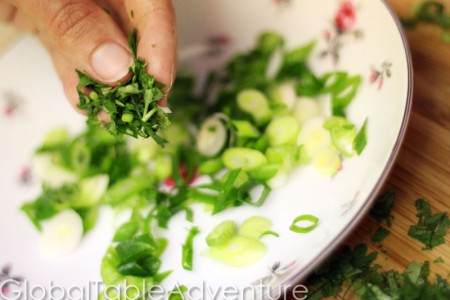 When a few bubbles barely break through the surface of the hot liquid, you are ready to drop your eggs in to poach. Except you never, ever "drop" them. If you do, they'll break, separate, make a big mess….
Instead, Break the eggs into a small, heatproof ramekin and gently "dip it and tip it" into the water.
Let me show you what I mean. In this picture the ramekin is actually on the water… and partially dips under the surface for a second as it is tipped over, to allow the egg to gently flow into the hot liquid.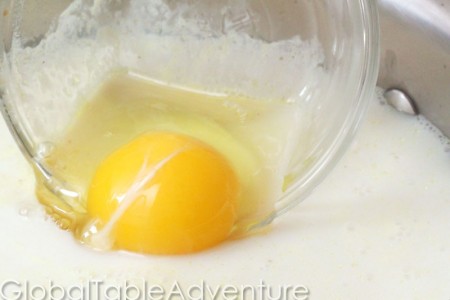 Cook for 2-4 minutes, depending how runny you like your egg yolk. You can lift the egg up with a slotted spoon and gently jiggle it to see how runny it is. Slip it back into the broth if you think it needs more time.
NOTE: Never let the water boil or bubble quickly or you'll get shredded shards of egg all over the place.
In this recipe, the cooking liquid is opaque, thanks to the milk. Since you won't be able to see the eggs, very gently stir with your spoon until you feel slight resistance. That is an egg. Pick it up…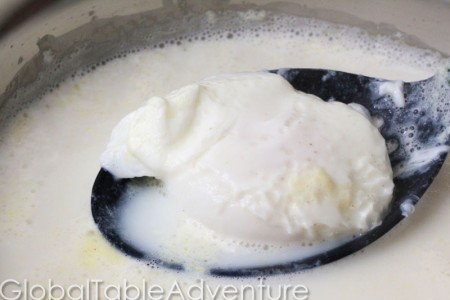 Now to assemble our soup. Mmm. Place one poached egg in each bowl, on top of the green onions and cilantro. Ladle broth over the top.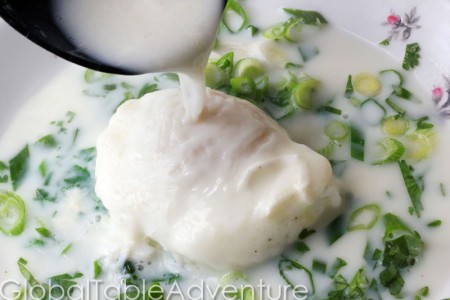 Sprinkle with some fresh ground pepper and salt. Mmm.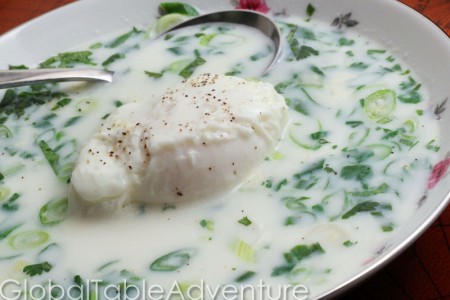 Crack open to get a slightly runny yolk. Stunning golden yellow in a sea of white and green. Perfection!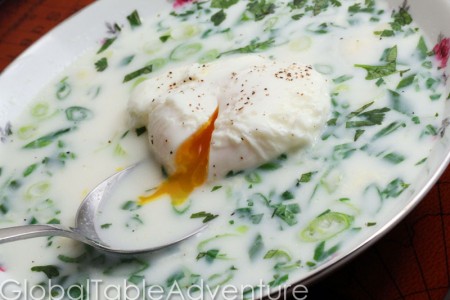 Scoop up with a little crusty bread and a smile!
PS Ever wonder how to poach a lot of eggs at once? You can poach eggs ahead of time in plain water for a bunch of people. When they are perfectly cooked, remove from water and submerge them in an ice bath. This stops the cooking and keeps them cold and fresh. To reheat and serve, simply warm them in a pot of hot water (or this hot soup) for a minute. They do this in fancy restaurants and the Culinary Institute of America. I love tricks like this. Yum!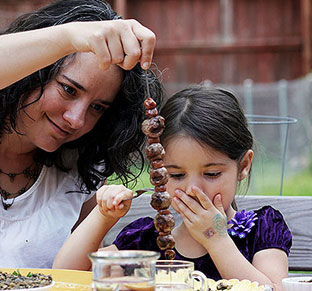 Hungry for more?
Be notified when National Geographic releases my memoir.
Simply fill in your details below.