You might not believe me when I say this, but I love mean chefs.
The chef reputed to be one of the "meanest" at the Culinary Institute of America was my Cuisines of Asia chef. I was terrified at the thought of taking his class. After all, I was not an experienced sous chef, like many of the students. In fact, prior to the CIA, I was mostly just a book nerd who loved food history and experimenting in the kitchen.
However, in the three weeks I was in his class, I quickly learned that what students called "mean" was really just an unwaivering demand for excellence. He lost his temper when students were lazy, sloppy, and disinterested. However, he was the most kind, generous chef to those who cared about their studies. He went out of his way to demonstrate techniques to me because he could tell I really wanted to learn – despite my lack of experience. If that's what it is to be mean, I'll take it!
What can I say. I'm a front row kind of girl. And… shhh. Don't pass me any notes. I'm trying to pay attention!
Moo Shu Pork [Recipe]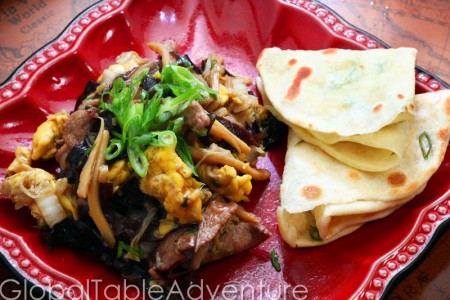 What I liked most about this dish:
I enjoyed the salty-sweet contrast of this stir fry. The wood ear mushrooms were wonderful. The biggest surprise of all – Keith actually liked them. His comment: "They aren't squishy like regular mushrooms." Slicing them thinly probably helped, too.
What I liked least about this dish:
I added all of the "sauce" to the stir-fry and regretted it – the mixture became wet and quite salty. I suggest adding half the sauce and – once you taste it – decide if you would like more. Low sodium soy sauce would also be a great way to cut down on the saltiness.
Chinese Pancakes with Green Onion [Recipe]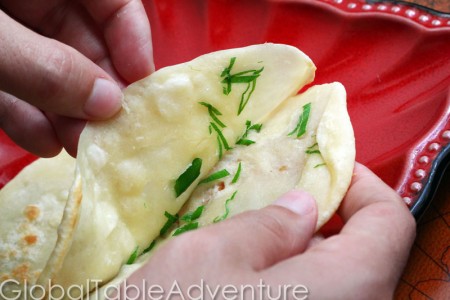 What I liked most about this dish:
I got a kick out of making these pancakes, especially the fact that you press two together and cook them at the same time. Perfect for a busy mom! The flavor was nice, especially with the addition of scallions and a bit of sesame oil.
What I liked least about this dish:
The pancakes are excellent right out of the pan, but get a little dry if you need to reheat them. You could always put them in a warm oven and spritz the oven with a bit of water to keep things moist… but, in general, I recommend eating them asap.
Sichuan Chinese Hot and Sour Soup [Recipe]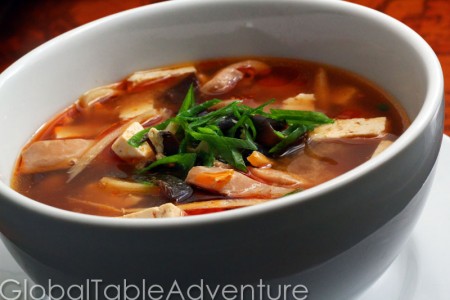 What I liked most about this dish:
Hot and sour soup is incredibly filling and satisfying on a cold day. I like that I could make it as spicy or as weak as I wanted, and still enjoy the flavor of the vegetables.
What I liked least about this dish:
There isn't much negative to say about this dish. To quote Keith: "I liked it. Until I had the other stuff. Then I liked that better." (he's referring to the Mu Shoo pork). You may decide the soup is too thick, in which case add a cup or two more chicken broth or water.
Hot and Sour Cucumbers [Recipe]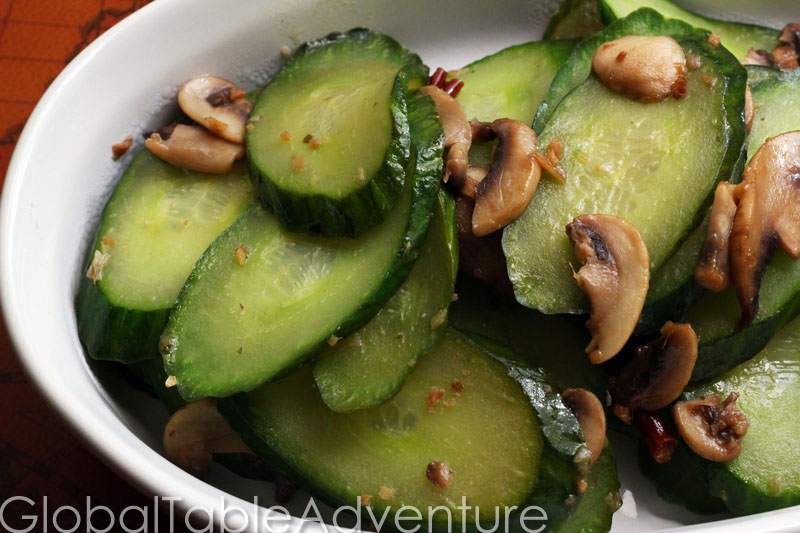 What I liked most about this dish:
I like  a "pickle" that can be eaten the same day it is made. The sugar and vinegar are a great contrast to the spicy heat. Add more if you can stand it! 🙂 Special thanks to Laura Kelley for sharing this recipe with me. It will be in her third volume of Silk Road Gourmet (volume one is already in print and available on Amazon). Check out her blog. I've said it before and I'll say it again – she's an incredible writer and cook!
What I liked least about this dish:
Make sure you cook this to desired level of crispness – if you like a little crunch, pull it a little sooner. If you like them super soft, keep on cooking!
Ava's Corner