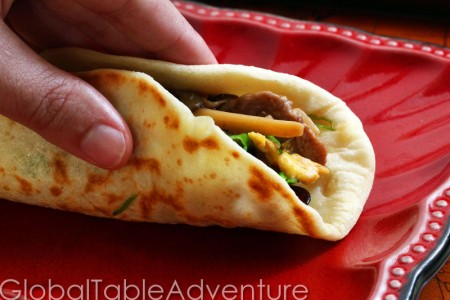 Makes about 8 pancakes
Chinese Pancakes are quick and easy to make… and wonderful for scooping up stir-fry. The key to obtaining the characteristic chewy texture is to use boiling water. Make sure you use a healthy dose of salt to flavor the dough. Serve with Moo Shu Pork.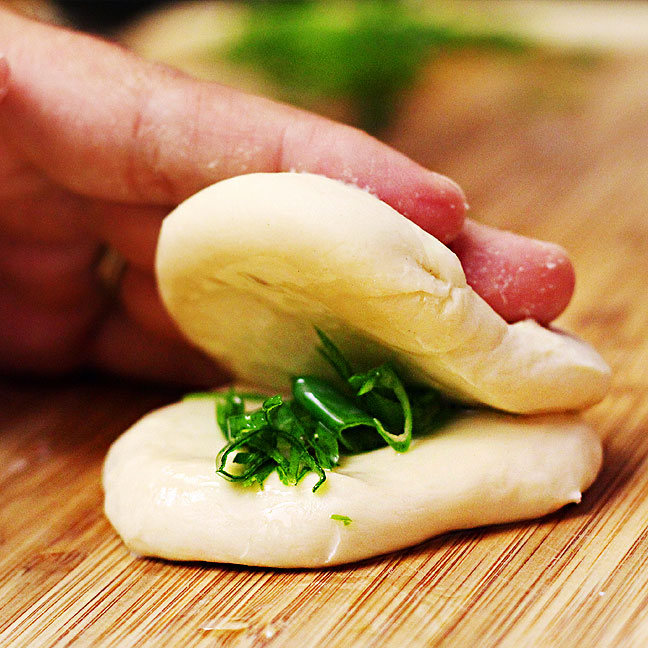 Ingredients:
1 1/2 cups flour
1/2 cup boiling water
pinch salt
2 scallions, sliced thinly
sesame oil, as needed
Method:
Add flour and salt to a food processor…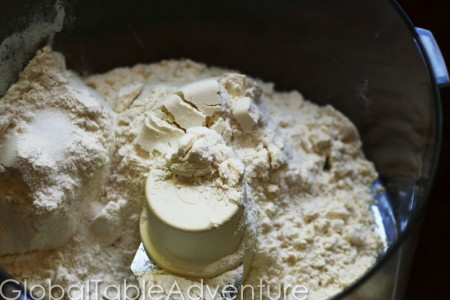 Add boiling water … boiling water actually blanches the flour (cooks it briefly) and makes for a nice, chewy pancake. This is desirable because the texture will hold up better to moist stir-fry mixtures.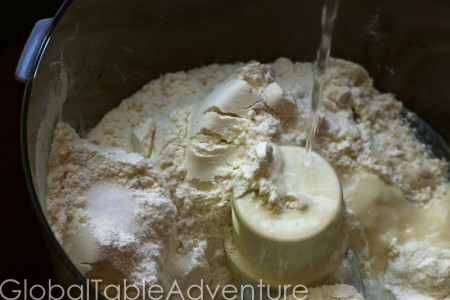 Pulse until dough starts to come together.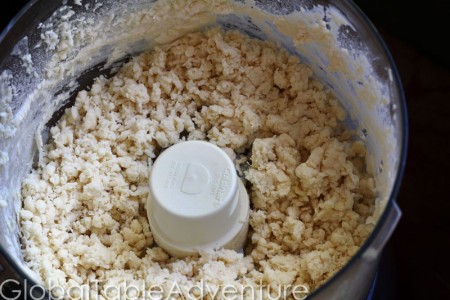 I used my hands to press the shaggy bits into a smooth ball. The dough is not sticky and should not cling to your hands much. Add more water or flour as needed to get the right texture.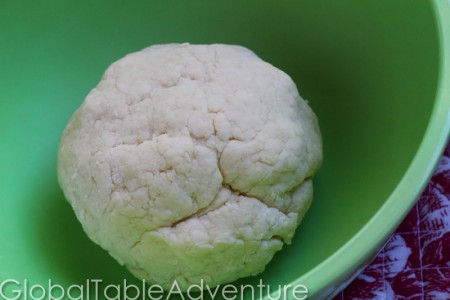 Let rest for about an hour. The dough will relax and become super easy to work with.
Make small balls of dough (you need two at a time)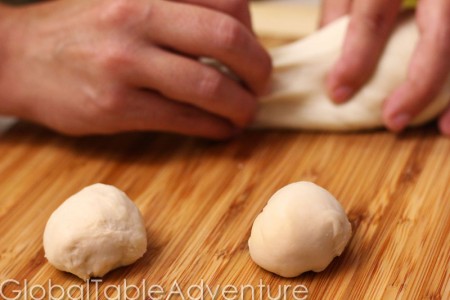 Press them flat with the palm of your hand.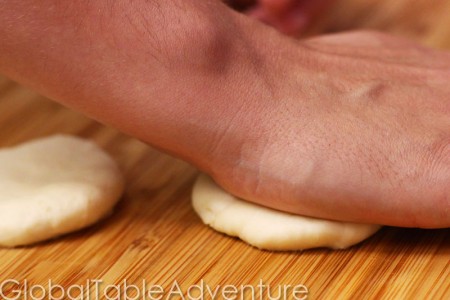 Drizzle fairly liberally with sesame oil (or whatever oil you happen to have – but sesame oil tastes grand!). Spread it evenly around by rubbing the two discs together.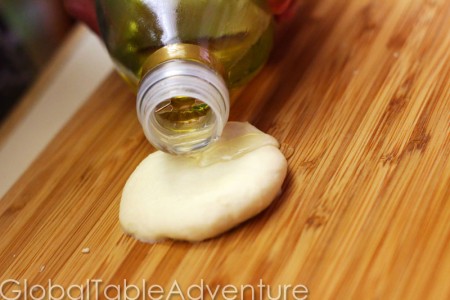 Sprinkle with a bit of green onion and press the two discs together.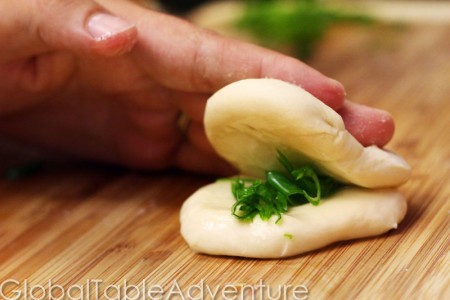 Roll thin. At first it will be slippery and the discs will want to separate. Once it gets a bit thinner, the dough will start to stick and hold together better.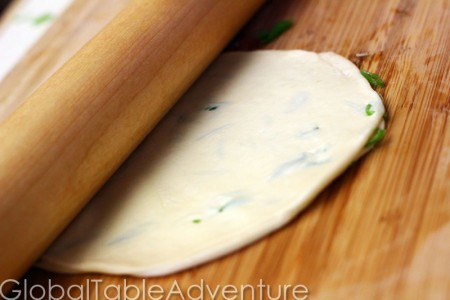 Place in a medium-hot pan with a bit of oil.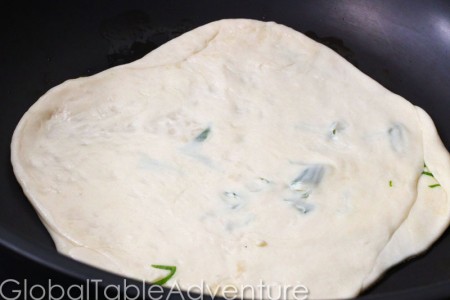 Cover and let cook a couple of minutes, or until light golden brown.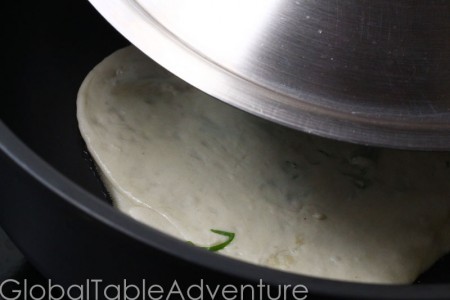 Flip and cover again.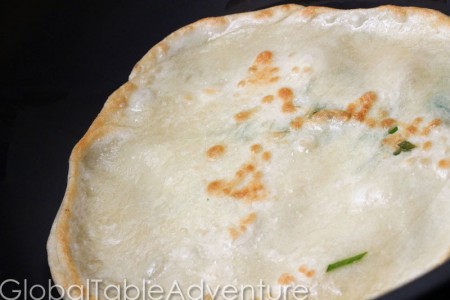 When they come out of the pan you'll be able to separate the two pancakes from each other! Wicked cool.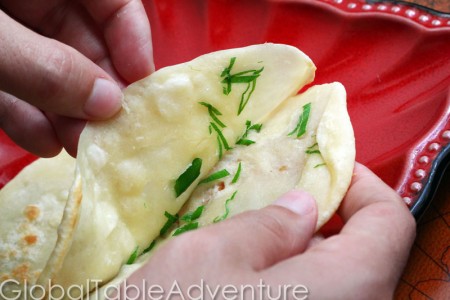 Fold in quarters and serve alongside your favorite stir-fry, like Mu Shoo Pork. Mmm.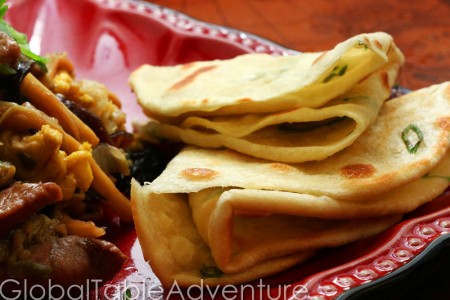 Serve hot. Immediately. Heck, eat some straight from the pan if you can stand the heat! But don't burn yourself…
Recipe inspired by Mark Bittman's "Scallion Pancakes" in
The Best Recipes in the World

.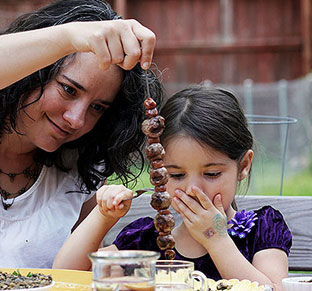 Hungry for more?
Be notified when National Geographic releases my memoir.
Simply fill in your details below.