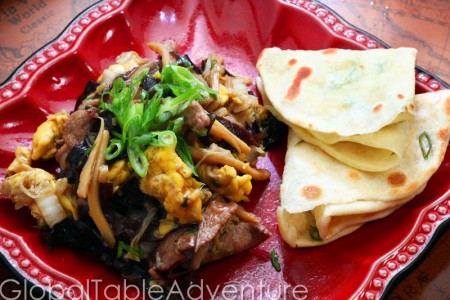 Serves 2-4
However you spell it, Moo Shu (mu sh00, mu shu, etc) Pork is great Chinese food. Simple and quick, you'll make this recipe over and over again.
Ingredients:
3/4 lb pork shoulder, sliced thinly across the grain
For the marinade:
3 Tbsp Shaohsing rice wine
1/8 cup cornstarch
1 Tbsp soy sauce
1 Tbsp oyster sauce
For the sauce:
1 Tbsp Shaohsing rice wine
2 Tbsp oyster sauce
3 Tbsp soy sauce
2 Tbsp sugar
For the stir-fry
1 tsp minced ginger
3 cloves garlic, minced
3 green onions, thinly sliced (plus one more for garnish)
1 pint shittake mushrooms, stems removed and sliced thinly
1 pint sliced chinese cabbage
1 1/2 cups sliced wood ear mushrooms
1 cup bamboo shoot strips
3 eggs scrambled
Method:
In a medium bowl, combine pork, cornstarch, shaohsing wine, soy sauce and oyster sauce.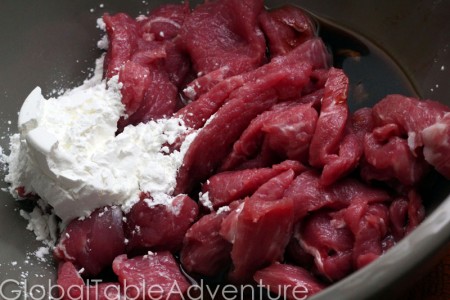 Toss to combine and let marinate about thirty minutes.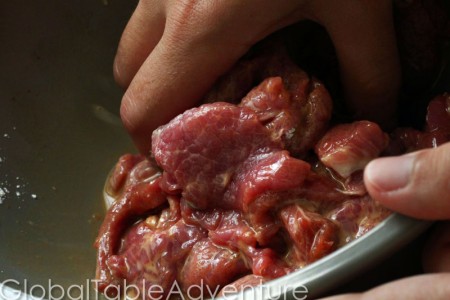 Meanwhile, scramble two eggs and set aside. Assemble sauce ingredients.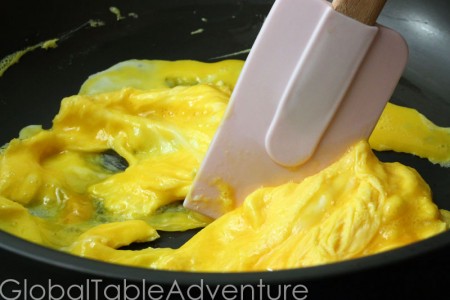 Next, cut and assemble all your ingredients so that you can add them quickly to the pan.
Heat a wok over medium-high heat.  Add oil, garlic, and ginger. When fragrant…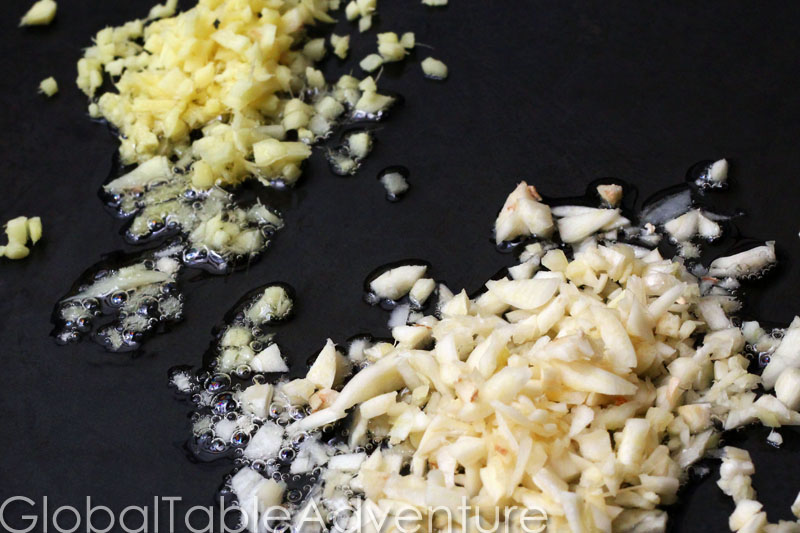 … add scallions. Keep your spoon tossing the ingredients around. The key to stir-fry is to keep things moving!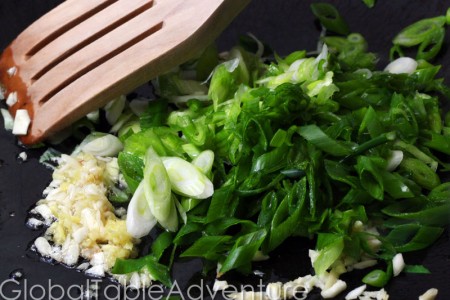 Then add the pork. Cook until lightly browned.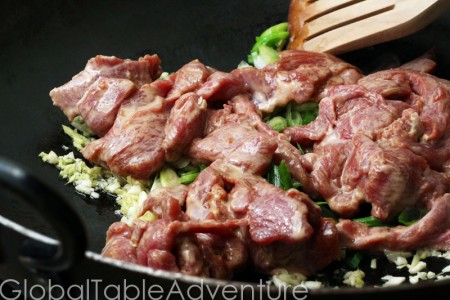 Add bamboo shoots.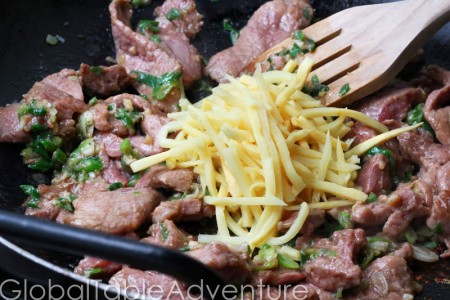 Sliced wood-ear mushrooms…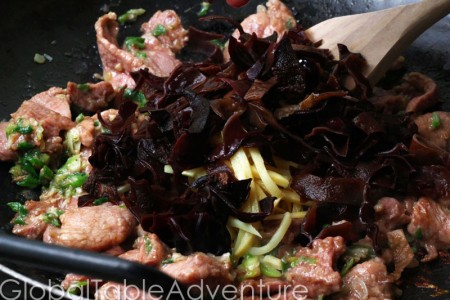 Shittake mushrooms…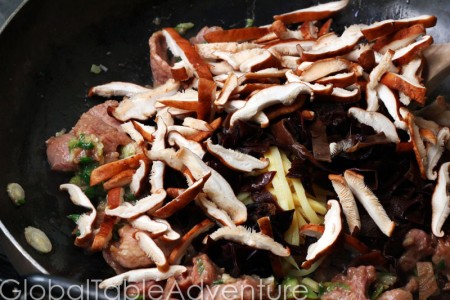 Chinese cabbage…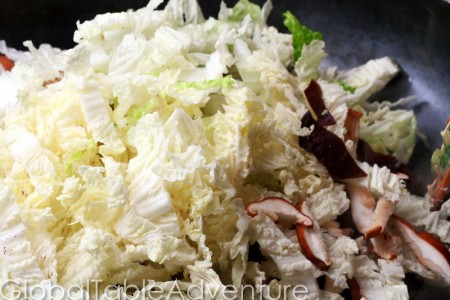 Keep tossing everything, until everything cooks down.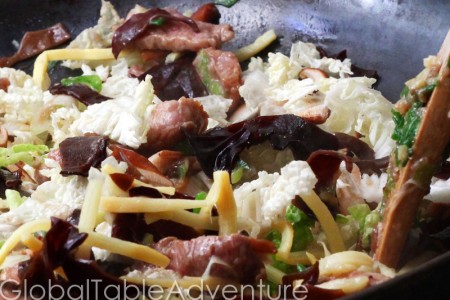 Add the scrambled egg and half the sauce.  Cook until heated through.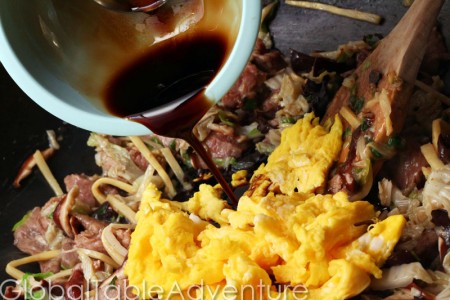 Give it a taste and add the rest of the sauce if you think it needs more flavor. If not, you're done!
Garnish with more sliced green onion.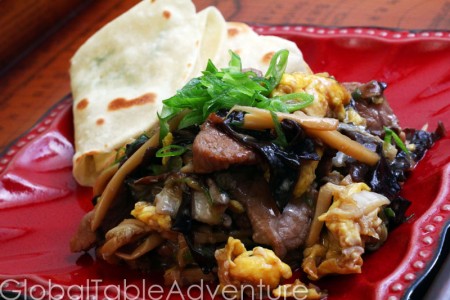 Eat with Chinese Pancakes and a smile!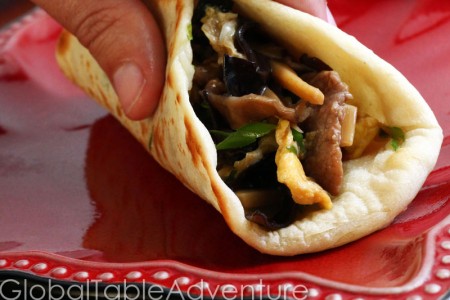 Inspired by Epicurious' Around the World in 80 Dishes hosted by the Culinary Institute of America. That school is "Yum!"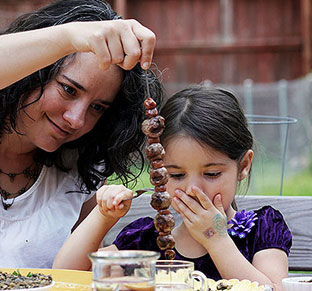 Hungry for more?
Be notified when National Geographic releases my memoir.
Simply fill in your details below.