I've said it before, but this time I mean it.
I'm never buying catfish again. Ever.
Not in a million, billion years.
Store-bought catfish has to be the fishiest, funkiest, stinkiest fish on this planet – which should be a crime because I know catfish is perfectly capable of being sweet and tender.
You see, my father-in-law, Rick, catches catfish from deep within the lakes of Oklahoma. Before the water has a chance to drip down the fish's fins, he fillets, salts, and bags them. Sometimes he freezes them.
He packs the catfish in salt to draw out the natural bitterness and to enhance the fish's more delicate flavors. When he's ready to get cooking, he rinses and dries the fillets before dunking them in a tasty combination of flour and Jiffy mix (which adds just the faintest sweetness to the crust).
When he serves up a platter of deep fried catfish coated in a crackling Jiffy cornbread crust, I get weak in the knees.
I eat more than my fair share. Like six fillets. And I lick my fingers after each bite.
I'm not kidding.
Fried Whole Fish [Recipe] with West African Peanut Sauce [Recipe]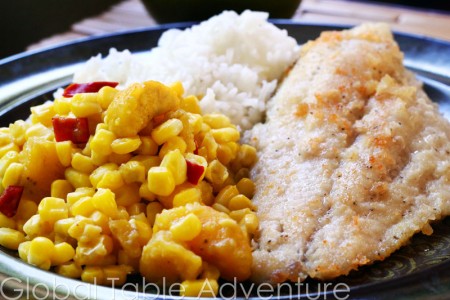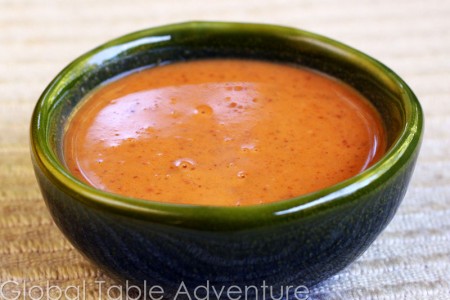 What I liked most about this dish:
This basic peanut sauce came together in a few quick minutes. Make sure you use unsweetened peanut butter, unless you like sugary sauces. The fish? Well… let's just say I wouldn't serve it at the same table as Rick's.
What I liked least about this dish:
I had a hard time accepting that this sauce did not have a sour component – that little tang that makes your cheeks pucker.  The deep, toasted peanut butter flavor would benefit from a bright splash of vinegar or citrus kick. None of the West African recipes that I saw included any though, so, in the spirit of this Adventure, I left it out.
As for the fish, well, let's just say I should have had Rick drive us over some (unfortunately he's three hours away! 😉 ) Anyway, if you use store-bought catfish be very careful- it can be super stinky. I also think ours had little stringy white worms in them. Keith thinks they were muscle. Fish muscle? Come on… no way.
Next time, for fun, I'll try this recipe with one of the other fish popular around Cameroon – Tilapia, Carp, or Snapper.
Corn with Plantains [Recipe]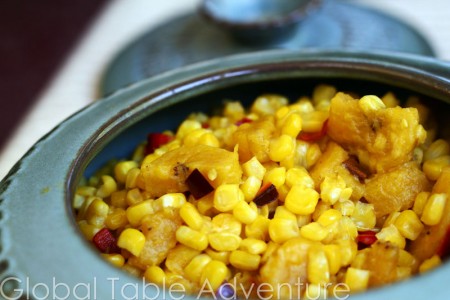 What I liked most about this dish:
The soft, citrus flavor of the plantain is a nice contrast with the sweet corn. Adding hot peppers, like poblano, layers on the heat. Once cooked, this dish would transport well in a casserole, making it a perfect recipe for potluck diners.
What I liked least about this dish:
This dish would benefit from sweet, smoky caramelized onion (but I don't think it would be traditional). Just a quick tip – when cooking, watch the water level, so that the bottom never dries out and burns.
Groundnut Croissants [Recipe]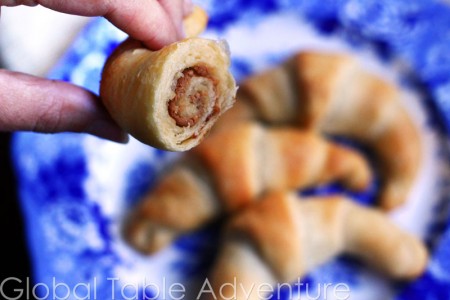 What I liked most about this dish:
These were awesome. Quick and easy. Tasty. Fatty goodness. Perfect for midnight munchies. Nom nom nom. If I'm ever in the doghouse, I'm making these to get out of it! 🙂 This is also a good one to make with the kids (or to help them make for mother's day, father's day or grandparent's day).
For those who have the time, feel free to make homemade croissants. There was a day, not that long ago, that I would have been able to join you. We'll call that time B.A. – Before Ava. In B.A. I could happily spend the morning in my robe, putzing around, sipping tea and rolling slabs of creamy butter between sheets of dough. It was heaven.
What I liked least about this dish:
Nothing. I think it would be fun to make these with jelly too – the perfect recipe for a children's birthday party!
Mango Daiquiris [Recipe]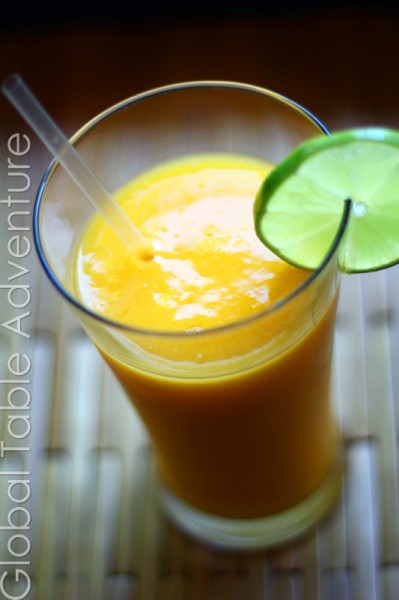 What I liked most about this drink:
In a little over 12 hours, Keith and I drank this entire recipe, which means we each ate 1.5 mangoes. That cracks me up for some reason. Super high in vitamins (A, C & E), Mango Daiquiris are a healthy way to take the edge off. I made some non-alcoholic (so Ava could try) and some with rum. Our mango was so sweet it didn't need any additional sugar. That's what I'm talking about!!
What I liked least about this drink:
I should have chilled all my ingredients ahead of time for an extra frosty drink. Otherwise a lot of ice has to be added, which dilutes the flavor. Also, this drink depends on ripe mangoes, so don't make it if yours are firm, sour, or otherwise unripe. In a pinch you can use frozen mango chunks.
.
Ava's Corner:
.
Anyone else ever use an old Tommy Tippee cup? My mom found this one at a flea market and we love it. The bottom is weighted so that it can't be knocked over easily. I wish we could get a couple more, but I think they are a thing of the past.
.