In my humble opinion, the highs and lows of life are equally worthy of a great meal. Highs are cause for pompous, celebratory food that leaps, dancing into your mouth, while lows beg for rich, fattening foods that slide in softly and ground you (and your belly). It is therefore fitting that this week of highs (seeing Anthony Bourdain live at the Tulsa PAC) and lows (a miserable husband with a giant kidney stone that just won't pass) be acknowledged with a special feast. As chance would have it, Benin is perfectly suited to this split-personality of a week, with an interesting blend of celebratory food (crab and bananas in orange sauce) and rich food (pureed black-eyed peas and coconut rice). Enjoy!
PS – I'm not sure what happened, but this week's Global Table is in varying shades of cream and brown. Not very visually exciting, but the flavors were good all the same.
Crabs from Benin (Crabe Beninoise) [Recipe]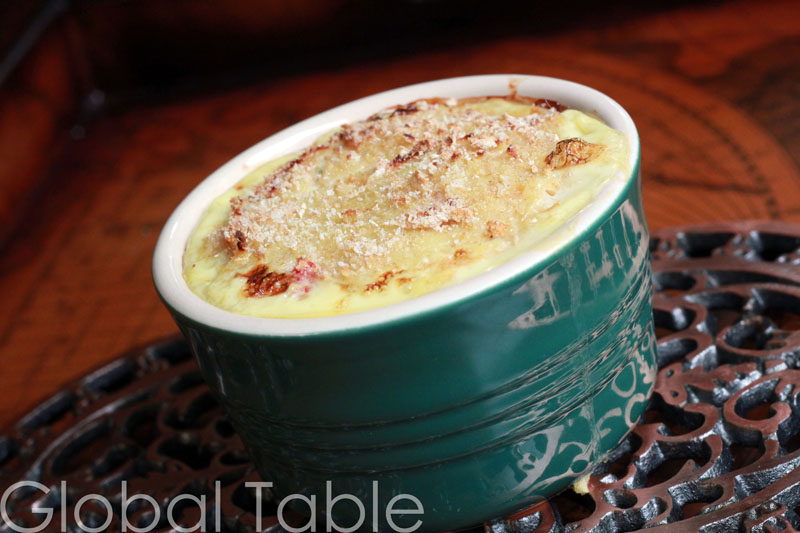 What I liked most about this dish
Crab is a real treat, classy enough for any celebration. This mini casserole is easy to throw together, with intense flavors from sweet crab, spicy garlic, onion, and strikingly hot Serrano chili.  Overall a decent dish, but I would only make it again after major changes (see below).
This was my first time preparing crab, so I was a little unsure of myself (and painfully aware that any mistake would cost me $20/lb). Luckily this is an "add ingredients to bowl and stir" kind of recipe – easy and attainable.
Now that I have a super-fast-crawling-climbing-monkey child, I'm going to be relying on simple dishes like Crabs from Benin more and more. (At least until I grow eyes in the back of my head and/or four arms).
What I liked least about this dish
I was a big idiot and forgot to buy fresh tomatoes at the market. Things being what they are with a baby and drugged up husband trying to pass a kidney stone, I simply didn't have it in me to run out and buy some… so I made the recipe with canned diced tomatoes. The whole time I had this guilty feeling, like I was committing culinary sin. It's not that canned tomatoes don't have their purpose – they do (mostly in slow cooked items, like sauces and stews) – but this dish only bakes for 30 minutes. There is no time for the tinny, metal taste to leave the tomatoes. The result is terrible, no good, bad, yucky. So, rule #1 – use fresh tomatoes!!!!
Another problem I had is based on personal preference. Although I love onion and garlic, I like the flavors to cook into the food, slowly becoming one with the dish, soft and mellow. Unfortunately, this popular crab casserole from Benin has a rather sharp taste of onion and garlic. Like an unrefined diamond, this dish will please some, while others will find themselves wanting for more refined flavor.
Pureed Black-eyed Peas [Recipe]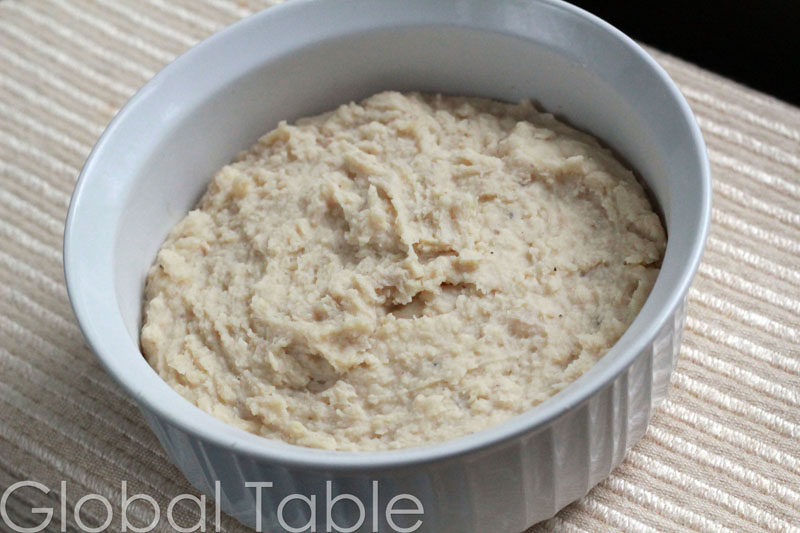 What I liked most about this dish
Such a straightforward side dish makes me appreciate why the people of Benin eat beans with many meals. Aside from the wonderful healthy fiber, pureed black-eyed peas are affordable, easy to prepare, and taste great. The addition of rich, creamy butter sends the black-eyed peas into taste nirvana. I could eat this with fish, chicken, or meat and be happy (although guilt might make me cut back on the butter…. or, on second thought, not).
What I liked least about this dish
If you read my Technique Thursday post, you know that I found no enjoyment in hand peeling the peas. Definitely take advantage of food mills to get this dish perfectly creamy. Can't be bothered? Hey, I won't tell – just puree the beans whole! Let me know how it comes out and if you wished you would have peeled the beans.
One important note – I think I undercooked my beans a little, making them slightly less creamy than they should have been. Make sure you taste several beans to determine doneness.
Coconut Rice [Recipe]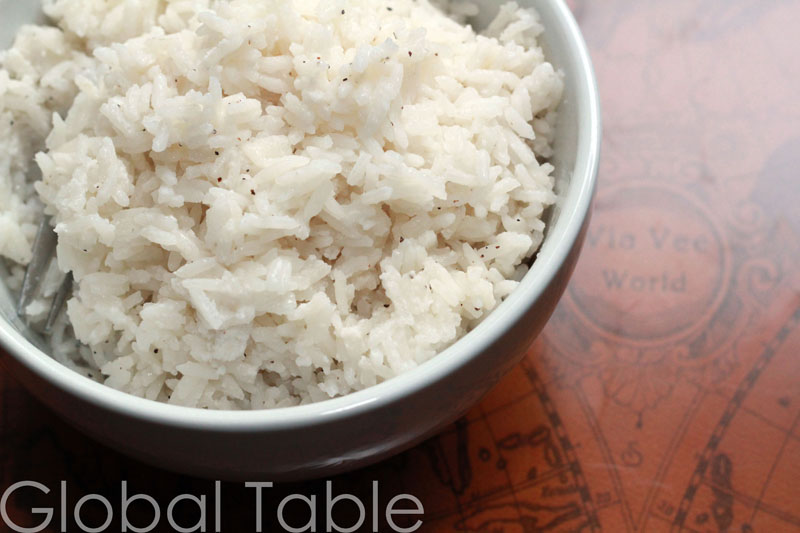 What I liked most about this dish
Coconut Rice is a fun alternative to regular white rice. This side dish is equally appropriate for west African and Caribbean meals. I was thrilled to eat it cold on an asian salad the next day with baby spinach, grilled chicken, and spicy peanut dressing, to name just a few of the ingredients.
A note of warning – this rice will fill your belly fast thanks to coconut milk's high fat content. But never you mind, the flavor is worth it!
What I liked least about this dish
There's nothing bad about this dish, as long as you like coconut milk! Be sure to season appropriately with salt and pepper and you'll have a winner in about 16 minutes. Perfect for adding pizzaz to week night dinners.
Green Baby Bananas in Orange Sauce [Recipe]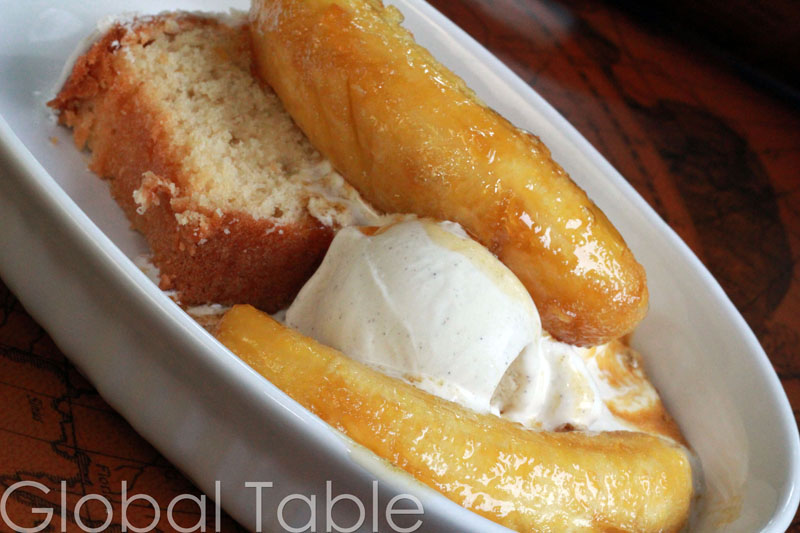 What I liked most about this dish
Another easy dessert that is kid friendly yet upscale enough to serve adults. The orange sauce coats the bananas and brightens up vanilla ice cream and cake. While I was eating, I kept thinking I was eating a bowl of fresh squeezed summer. That's pretty good if you ask me. With recipes like this, I'm not sure why you'd ever eat a plain ol' banana split again.
What I liked least about this dish
I wish I'd been more hungry. By the time I got to the bananas I was stuffed and ready for a nap.
Also, I was disappointed the store was out of baby bananas. The good news is that this forced me to try small red bananas. Sometimes I need a little extra help to get out of my comfort zone. And I'm glad I did – they were great – slightly more floral and less dense than a standard banana. Who knew?
Anyway, at the end of the day, it doesn't matter – any old banana will do – the size is just for looks!
Ava's Corner
I don't feed Ava food with added salt or sugar yet. At 11 months old I think her body is too young to process that stuff. She has her whole life to make herself sick with a bowl of ice cream (like I just did). For now, she gets her sugar from fresh strawberries and peaches. She doesn't seem to be complaining.
Between this and the fact that she cannot eat shellfish yet (major allergy concern), she was left with very little she could sample from Benin. I decided to give her a few bites of beans, but not more due to the high butter content. She liked them no more or less than anything else on her plate that night (chicken and green beans). I think I'll serve her pureed beans again, but next time with some tarragon and much less fat (I'll take her extra 🙂 ).