5 a.m. The tornado sirens sound. I bolt up in bed and stare, bug-eyed out the window.
The trees are sideways.
Sideways.
Side. Ways.
Practically laying over, playing dead.
"This is it. I'm going to die," I mutter.
My husband wakes up and groggily wanders out of the bedroom. I'm still frozen in bed.
"Where are you going?" I whisper-yell, barely audible over the wailing wind and sirens.
"I'm checking the weather on the computer," he says.
I can barely hear him. I run into the bathroom, hoping the shower stall will hold together, even if my paper house blows down. But I'm all alone and I feel silly.
I stick my head out of the door. My husband is no where in sight. Again I whisper-yell, afraid of drawing the storms closer.
"Come! Here!"
Finally he comes, we turn on the radio and listen to the weatherman. We're told the winds are 90 miles an hour.
But even violent storms pass. After a few minutes the sirens wind down, the trees ascend to their proper position, and the rain slows to a trickle. With only "what if's" left to fear, we eventually fall back asleep.
Several hours later we find out that our neighborhood was on the edge of an F2 tornado.
An F2 tornado!
Which explains the sideways trees.
Have I told you how much I hate tornado season?
Forget women. Hell hath no fury like Oklahoma in the spring.
After a week filled with tornadoes, thunderstorms, and hail, I enjoyed cuddling up to a steaming plate of Bajan comfort food.
Now there's a recommendation: Bajan food – it'll get ya through tornado season!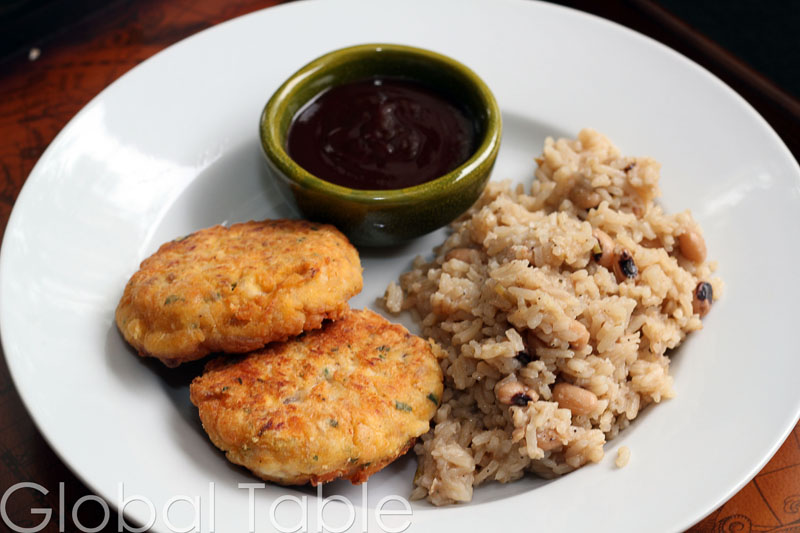 Sweet Potato Fish Cakes [Recipe]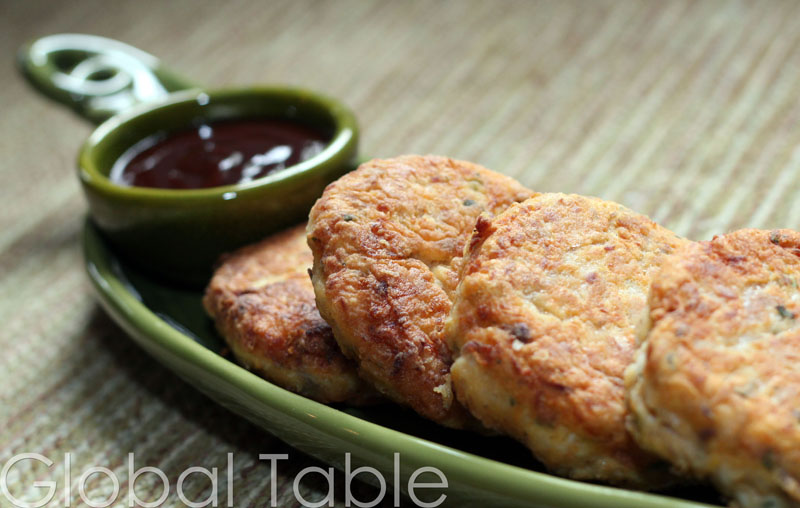 What I liked most about this dish:
This recipe appeals to me because I am obsessed with sweet potatoes and love white fleshed fish. Until this weekend I'd never had sweet potatoes in a fish cake. The flavor was wonderful, especially when served with sweet and spicy dipping sauce. Texturally speaking, I was in love. The outside developed a crispy, golden crust, while the inside remained soft. The cakes weren't greasy but filled my mouth with all the right flavors for good comfort food.
I would consider forming smaller fish cakes, to serve as an appetizer. I would form and fry them ahead, holding them in a warm oven until needed (probably for no more than 30 minutes or they might dry out).
What I liked least about this dish:
I accidentally made my mashed sweet potatoes too wet, so I had to thicken the mixture with flour. I think this made the fish cakes a little bit "pasty." Perhaps not ideal, but the flavor was still good and I would make them again.
Bajan Peas N' Rice [Recipe]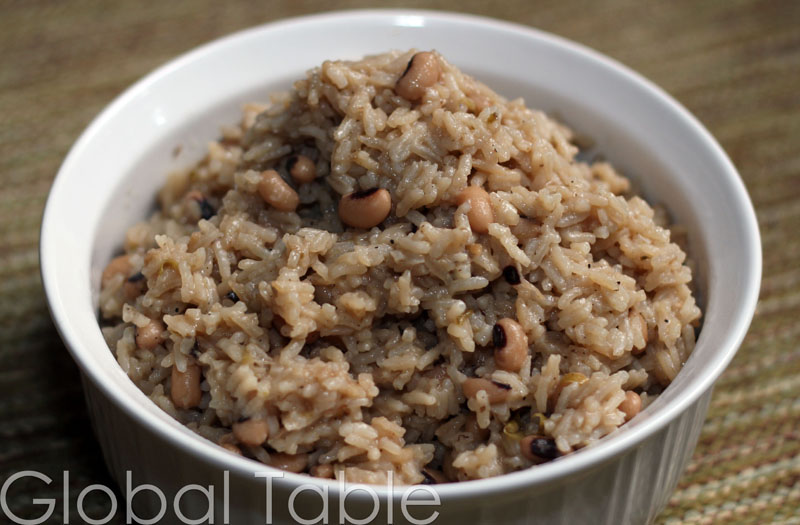 What I liked most about this dish:
Peas n' Rice is a wonderful party dish because it serves a lot of people for just a couple bucks. At one point, while the Peas n' Rice was cooking, I stepped outside to get the mail. When I came back in I was overwhelmed with the wonderful smells that permeated the house – sweet from the onions, smoky from Anaheim peppers and beans …  I could have (and may have) dipped a big spoon in the pot to sample everything at that exact moment.
What I liked least about this dish:
Play around a little with the seasoning. I think mine came out a little bland. You can kick things up by adding habanero pepper (this scorching hot pepper is much-loved by the people of Barbados). Unfortunately the store was out of them when I went shopping. Another idea is more salt, more onion, etc. I would make this again after tinkering with the recipe to get the most out of the flavor 🙂
Spiked Coconut Water [Recipe]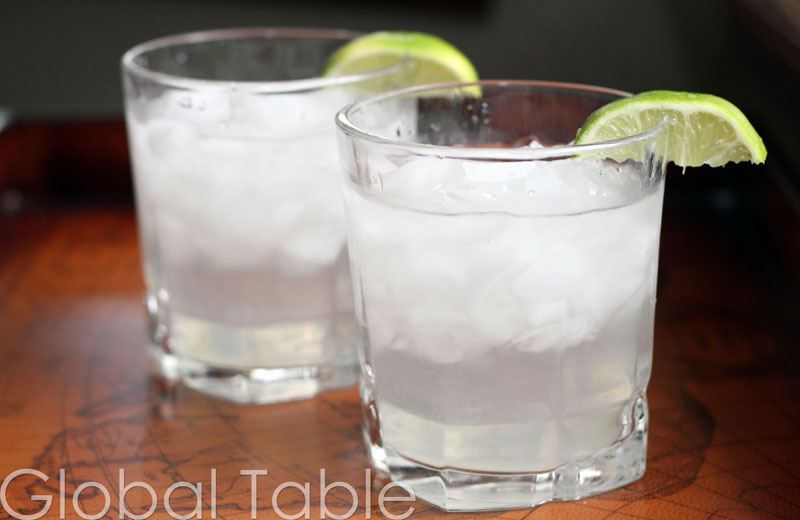 What I liked most about this drink:
Sure, it helps that Jimmy Buffett (one of my favorite singers for lazy summer days) suggested this drink. Perhaps he was even the inventor? Who knows. But, honestly, this drink is now on my "favorite drinks" list. Here's a little video to get you in the spirit of Jimmy Buffett:
Like Jimmy Buffett, this drink is smooth, sweet, and refreshing. Ha. Maybe the comparison is taking things a bit far. In any case, coconut water is known to be full of healthy, replenishing electrolytes so, you can feel good about drinking Spiked Coconut Water! I can't quite figure out why the flavors are so great together, but something about it makes me think Pina Colada – if water could taste like pina coladas.
What I liked least about this drink:
Nothing. Reading the description, I thought this drink would be like drinking a watery shot. I'm not one for shuddering over strong alcohol – I like sweet drinks. Hurricanes. Pina Coladas. Daiquiris. Lucky for me, this drink is light and just sweet enough (from the coconut rum).
If you would like to make this drink more "stout," feel free make it with excellent quality plain rum. And let me know how it is. I think this is how Buffett makes his, but I'm just not that brave 🙂
Bajan Christmas Puddin' (Pound Cake with Cherries) [Recipe]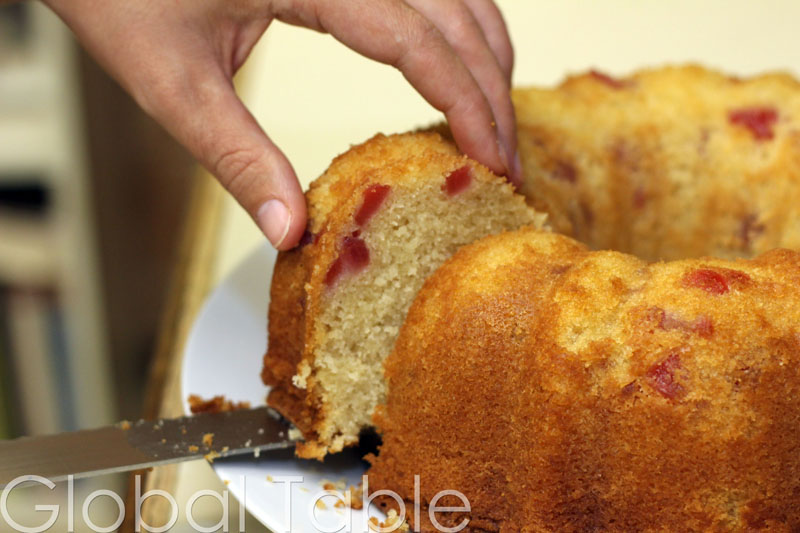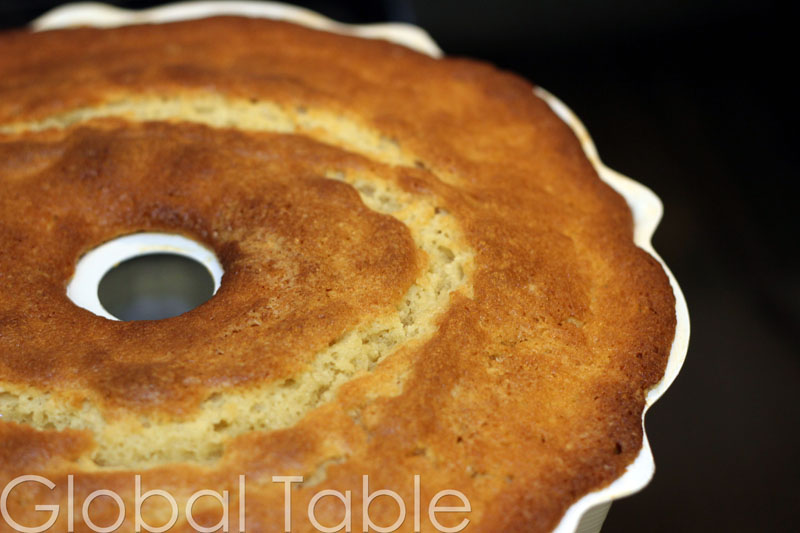 What I liked most about this dish:
This cake is rich. Like really, really rich. Like "eating a stick of butter broken up with sweet bursts of cherries" rich. I could see eating this cake with fresh fruit and ice cream any old day.
Keith actually requested this cake for his birthday! That's a great review since he's the one with the sweet tooth in this house. I recommend serving the cake cold, from the fridge. When warm the butter makes the cake too crumbly (although my husband liked it warm and could care less about crumb texture 🙂 )
What I liked least about this dish:
Although excellent, this recipe makes a LOT of batter. So much batter that I had to put a sheet pan under the bundt pan "in case" the batter overflowed. It came close, but ultimately stayed in the pan (phew). Just beware. You might put some of the batter in muffin tin or something (just don't cook them as long as you cook the cake).
Other than that there's nothing wrong with this cake. I mean, yes it's rich… but isn't it supposed to be? This is, after all, a pound cake!
Ava's Corner
Ava is going through quite the growth spurt. She is putting away double the food she was just a week ago. For Barbados she had the Peas N' Rice and the "insides" of a fish cake (I didn't want her eating fried crusties – after all, she just might like it and become a fried food junkie!). At first we were real careful, only giving her little bits of bean, but once we realized she could handle chomping them apart, we went ahead and gave her more, with the rice. Even though Ava is 10 months old and does well sampling these foods, please be careful when feeding your own child and follow your pediatrician's recommendations.