Thank goodness you guys aren't subjected to the agonizing decision process that goes on in my house each week. It literally takes me two days of sifting through recipes to narrow things down. My husband deserves an award for the moral support he gives so freely. Anyway, from all the great options in Barbados, I finally decided on a solid menu of "comfort food."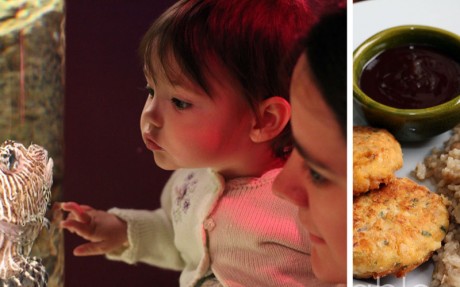 Bajan Sweet Potato Fish Cakes [Recipe]
Large flakes of Mahi Mahi blended with mashed sweet potato and seasoned with onion, pepper, and parsley. Substitute your favorite white fish if Mahi Mahi is not available.
Bajan Peas N' Rice [Recipe]
This common Caribbean side dish comes to life in Barbados with your choice of pigeon peas or kidney beans, rice, and parsley.
Spiked Coconut Water [Recipe]
This stout, mildy sweet drink mixes coconut water with coconut rum and fresh lime juice. Serve over crushed ice.
Bajan Christmas Puddin' (Pound Cake with Cherries) [Recipe]
Although this pretty pound cake is most common at Christmastime, locals enjoy it all year round. Bake in a bundt pan, slice and serve with hot tea.