I am sitting at the dining room table with a cup of tea and cookbooks strewn about me. This is a normal Tuesday night. I spend as much time looking at random recipes as I do Argentinian recipes. I realize I am happy. Thank you, Food, for all your incarnations.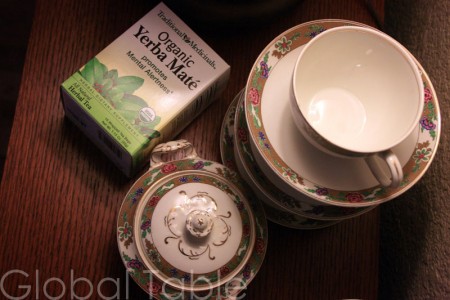 Roasted Pumpkin Salad with Arugula and Chevre [Recipe]
The cavity of a steaming, roasted pumpkin is filled with goat cheese, arugula and mint vinaigrette. Any pumpkin variety is acceptable, depending on seasonal availability.
Beef Empanadas [Recipe]
A savory beef filling is wrapped in pastry and baked. Traditional recipes include hard-boiled egg and green onion.
Chimichurri Dipping Sauce [Recipe]
This garlicky dipping sauce made with fresh parsley has the consistency of a loose salsa.
Pastel de Papa con Elote (Potato and Corn Pie) [Recipe]
Mashed potatoes topped with pureed corn and baked.
Crepes with Dulce de Leche [Recipe]
Crepes are spread with a thin layer of milk fudge, rolled, and served warm from the oven.