When the weather drops below 30, I crave hot, filling food. This last month Oklahoma saw snow, sleet, and ice, so I filled our menu with Albanian comfort food.  Mmm, I can hardly wait!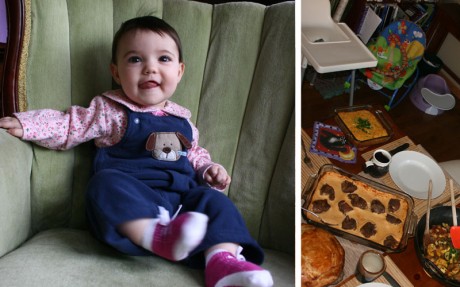 Byrek ose Lakror (Leek Pie) [Recipe]
Sautéed leeks and cottage cheese
are the stars of this dish.
Tava Elbasani (Lamb baked in yogurt) [Recipe]
In central Albania lamb is traditionally baked in yogurt custard.
This dish even makes mutton moist.
Turli Perimesh (Vegetables with parsley) [Recipe]
A distinctly mediterranean blend of
tomatoes, zucchini, summer squash, potato, and parsley.
Albanian Cornbread [Recipe]
Scallions and feta make this cornbread memorable.
Llokume (Turkish Delight) [Recipe]
Plan four days ahead to indulge in this delectable confection.
Our recipe comes in two flavors: orange and rose.