Serves 4-6
Although this dish is simple, the tender lamb and tangy yogurt are very satisfying on a cold winter's day.  Use Hungarian Paprika to give the dish mild heat.
Ingredients:
3 lbs lamb, cut into 10 pieces
2 cups cooking water from lamb
2 Tbsp butter
2 Tbsp flour
4 eggs
3 cups greek yogurt
1 tbsp white rice
1 tsp red pepper (paprika)
salt
Method:
1. In a large pot over medium-high heat, sear the lamb on all sides. Do not crowd. You may have to sear just a few pieces at a time.
2. Add all pieces back into the pot and cover with water. Add a generous amount of salt and simmer for 1 hour.
3. Meanwhile, melt butter in a small skillet over medium heat. Add flour and stir until they blend and cook together. When the mixture thickens and begins to turn the color of light peanut butter, begin adding the water. Heat until thick, stirring constantly. You are essentially making gravy.  Let cool.
4. Preheat the oven to 350F.
NOTE: I originally cooked this at 400F and the yogurt mixture was way overdone. The yogurt needs gentle heat.
5. In a large bowl, whisk together eggs, yogurt, rice, pepper, and gravy. You may add more salt, to taste.
6. Lay lamb pieces out in a casserole dish. Pour yogurt mixture around the lamb. Bake for approximately 45 minutes. Serve immediately.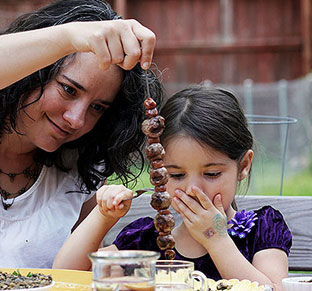 Hungry for more?
Be notified when National Geographic releases my memoir.
Simply fill in your details below.