Serves 4-6
Turli Perimesh is a light and refreshing accompaniment to meat. The influence of Italian cusine on Albania is apparent both in the use of squashes and fresh parsley.
Ingredients:
2 medium onions
2 zucchini
1 yellow squash
1 white potato
1 can diced tomatoes (in the summer use 2 fresh tomatoes)
1/2 cup chopped fresh parsley
1 cup water
olive oil
Method:
1. Dice all vegetables in 1 inch cubes.
2. Heat oil in a large skillet over medium high. Add onion and saute until translucent.
3. Add zucchini and squash, browning lightly.
4. Add potato, tomatoes, parsley, and water.
5. Cover and simmer for 15 minutes or until all vegetables are tender and water has absorbed.
Serve immediately.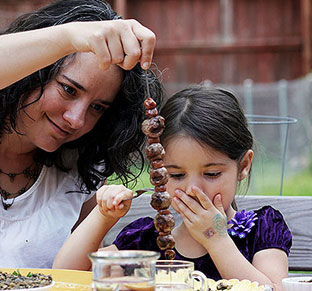 Hungry for more?
Be notified when National Geographic releases my memoir.
Simply fill in your details below.