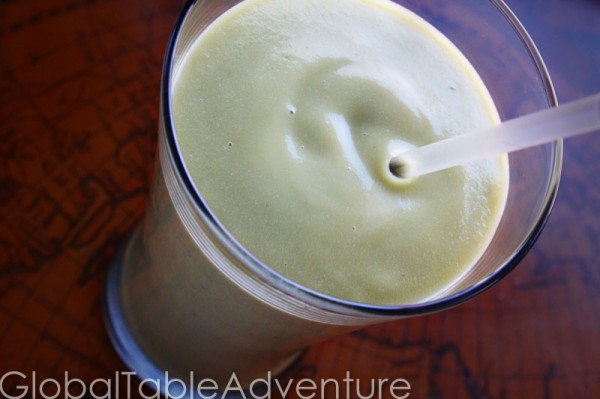 Makes a quart
Want a smoothie, but tired of all the "normal" options? Try this Domincan treat – a tantalizing blend of grapefruit juice and creamy avocado. The "ice" green color will have you cooled off in no time. (Thanks to the Facebook Fans who voted for this recipe)
Ingredients:
3 avocados
2 1/2 cups grapefruit juice
1/2 cup sugar
water (or extra grapefruit juice) for thinning to desired consistency
Method:
Take yourself to that special place, where the sun is shiny (shiny is one degree better than shining), the air is warm, and avocados are perfectly ripe and creamy.
Now, wait a day.
On this day the sun might or might not be shiny, but your avocados are really, really soft. Which is exactly what we need for this smoothie. See?
Toss them in a blender (after removing the pits and the skins, of course). Splash on the grapefruit juice.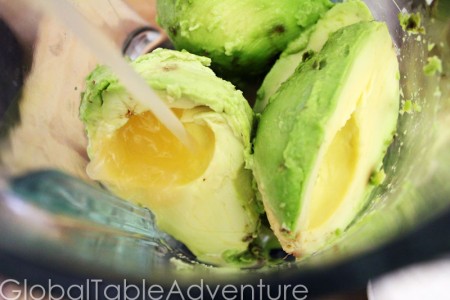 Avalanche some sugar on top.  You might need more than me if you have a big sweet tooth. You might need less, if you like things bitter.
I'm not bitter, though.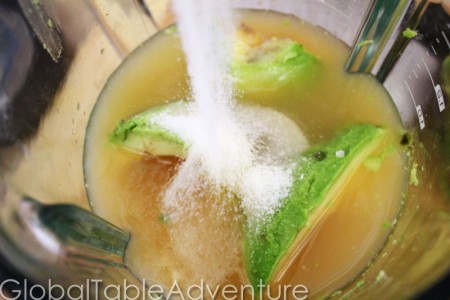 I'm somewhere in the middle. You could call me bittersweet.
Which, when it comes to avocado and grapefruit smoothies, is a good thing.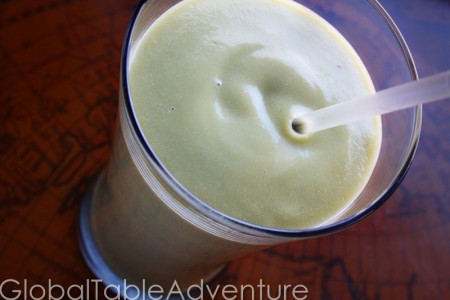 Let's slurp on some Domincan goodness. Thanks Dominica!
Want a smoothie, but tired of all the "normal" options? Try this Domincan treat – a tantalizing blend of grapefruit juice and creamy avocado. The "ice" green color will have you cooled off in no time. (Thanks to the Facebook Fans who voted in this recipe)
3

avocados

2 1/2

cup

grapefruit juice

1/2

cup

sugar

water

(or extra grapefruit juice for thinning to desired consistency)
Toss soft avocados in the blender (after removing pits and skins). and splash on the grapefruit juice.