Curious what it would be like to eat a meal from every country? You're not alone. More people than ever before are bringing the world into their kitchens. These 10 essentials will help you make eating internationally an easy part of your weekly routine, although only the first two are absolute requirements. 
1. A good attitude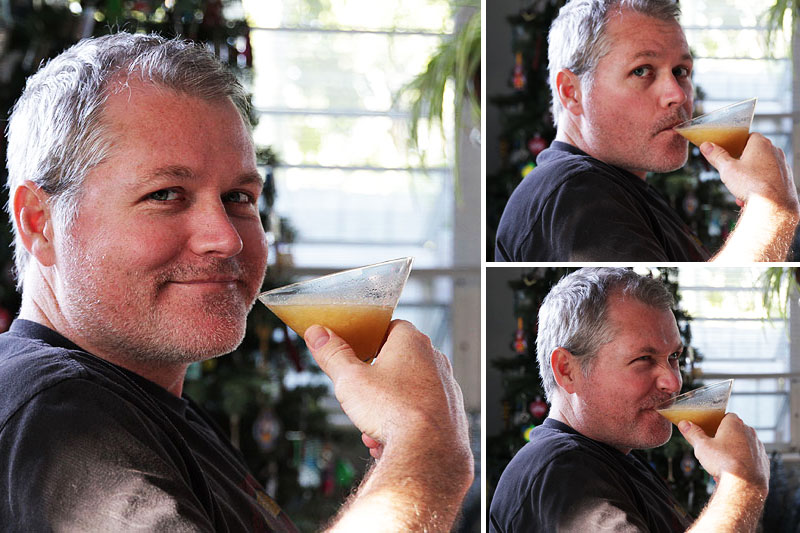 First things first: All the cookware in the world won't help a bad outlook. The first requirement for trying international food is to be open minded. No saying "ugh" or "gross" at the dinner table.
Think: How would you feel if someone spoke that way about your mom's cooking? Plus, if an entire country loves the food, is it really a question of preference or is liking a certain dish more about what we're used to?
My rule of thumb? If you can't think of anything nice to say, hold your tongue.
2. Time with your loved ones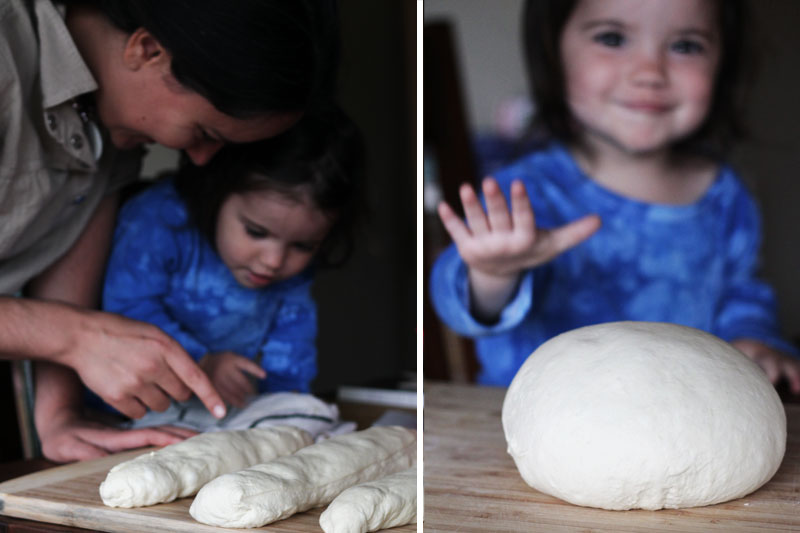 Can you cook alone? Yes. Can you eat 195 countries alone? Sure. But I spend enough time alone, in front of a laptop or cellphone. When you take on eating meals from every country in the world, you have the opportunity to take on lively cooking experiences and dinner conversations with those you care most about. Face-t0-face.
Even if you don't start out sharing your adventure with others, learning about other cultures – and how they come together to make involved dishes like apple or beef empanadas, Hungarian campfire bacon,  and Kosovo's campfire cake, Flija – might make you rethink your cooking experience. Within the first few months I donated my microwave, bread machine, and toaster – simplifying my tools so that my focus could be on cooking with loved ones.
Be prepared to bond.
3. Epic Spice Collection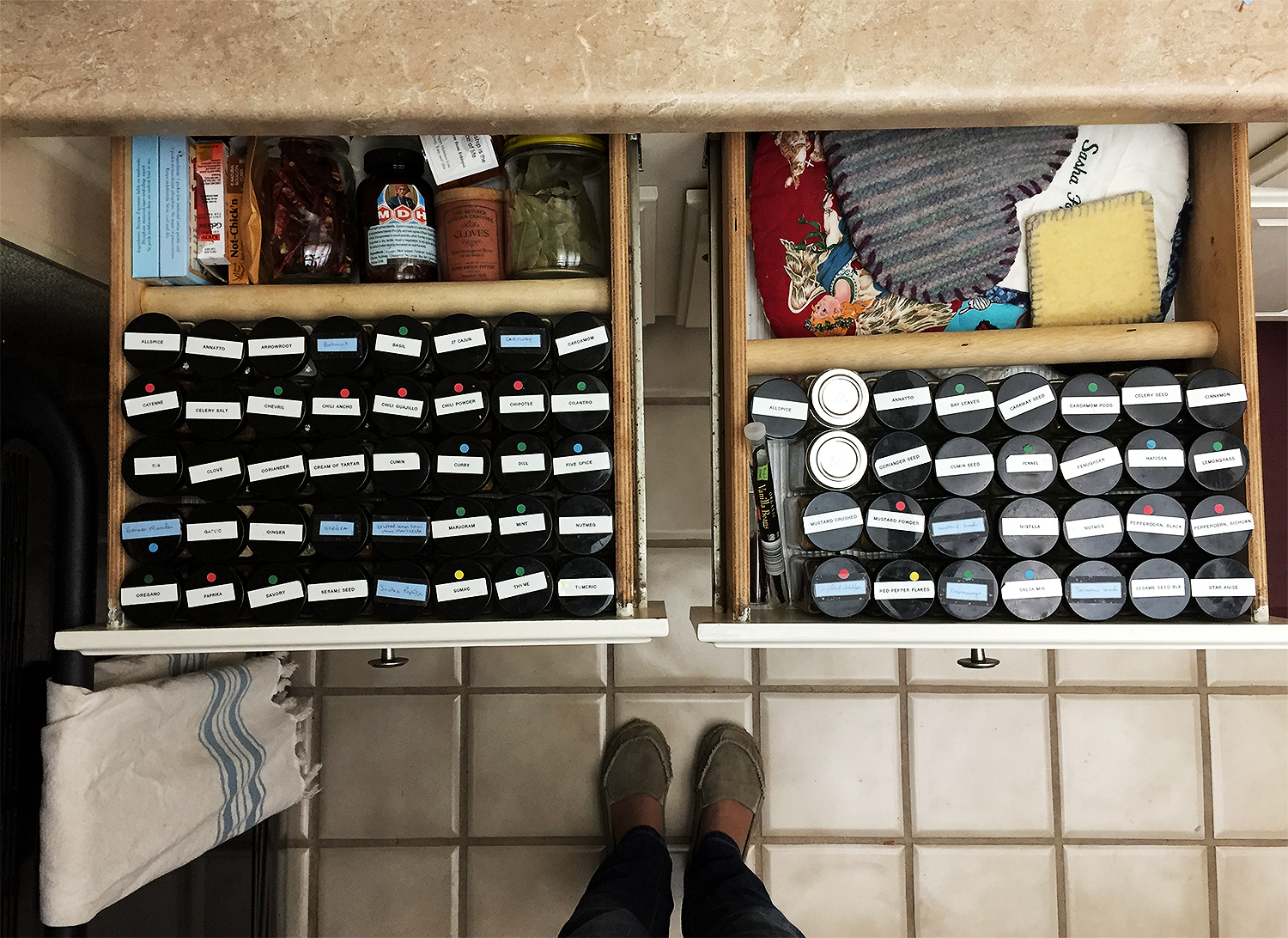 This is not a question of a frivolous, consumer-driven want but rather a question of what's going to happen if you cook enough countries. In the early days you'll be buying new spices for most recipes. After a while you'll be well stocked. By the time you cook recipes from 195+ countries and territories, you might – like me – have 80+ herbs and spices (including whole and ground) tucked in multiple drawers and a cabinet.
The trick is keeping my insane spice collection organized…
I prefer keeping my spices in the dark. This extends their shelf life. Because I have so many, a standard spice rack doesn't have enough room or flexibility for me. SO, I keep my spice collection in drawers and use a dowel to keep the jars towards the front (a dab of glue holds the dowel in place).*
When it comes to spice jars, I like the order and clarity provided by French Square spice jars (that link goes to a wholesaler that charges less than $1/ea). The square shape keeps the jars from spinning so I can easily read the labels. When it comes time to refill, I buy my spices in bulk so I don't have to pay for jars I won't use.
Be prepared: the same phenomenon happens with your coffee, tea, and alcohol collections… if you add global drink recipes to your around the world cooking adventure, be prepared to see your inventory grow… and grow.
* If you don't have any power tools at home, measure the inside of your drawer and write down the number. Head to Home Depot and use the hand saw at their cutting station (over by the trim) to do the job. Make it a touch long and you can always hand sand it to wedge into place for a tighter fit.
4. World Map or Globe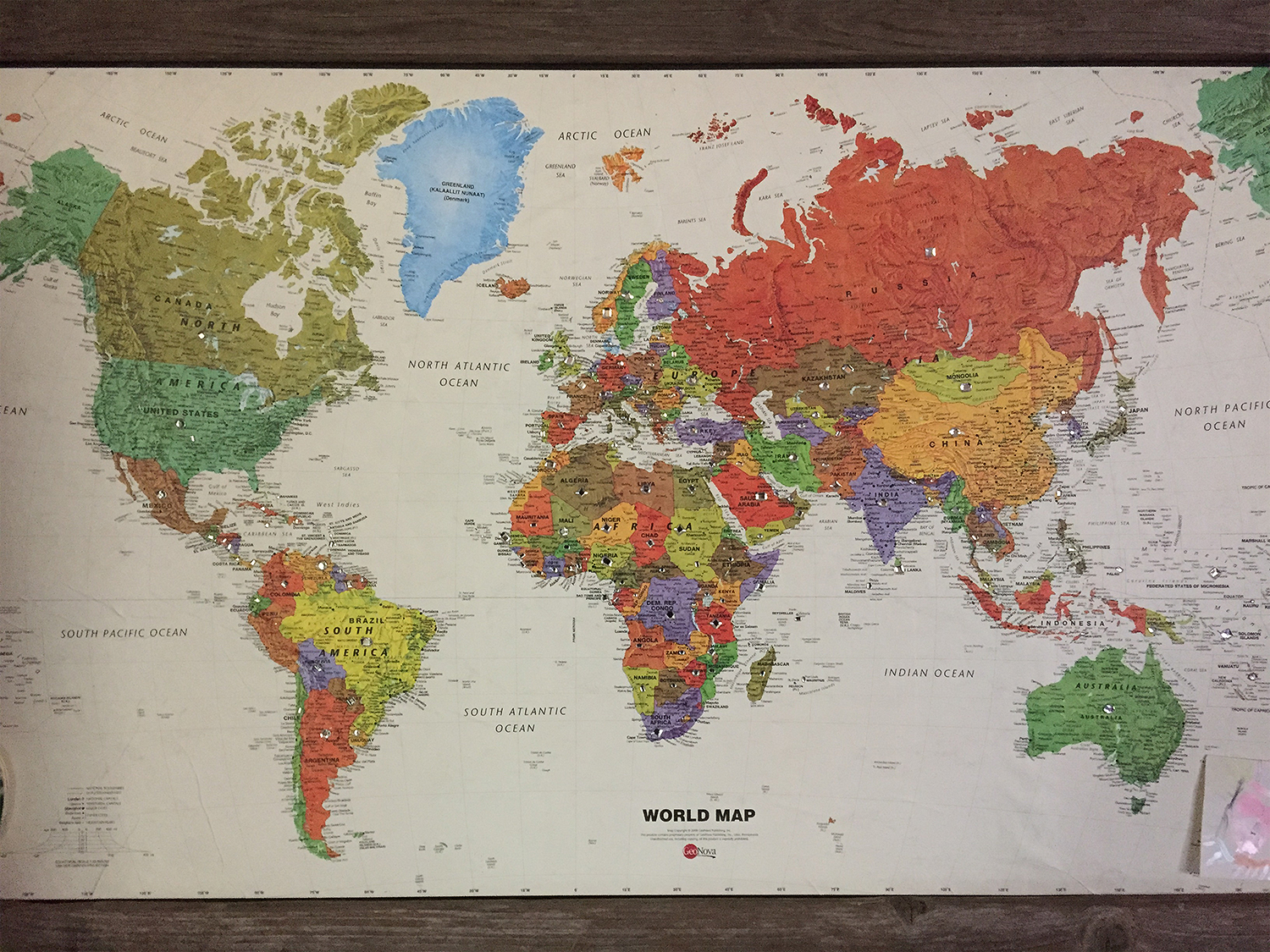 A map or globe will be endlessly useful as you embark on your Global Table Adventure.  Once upon a time, before the age of GPS, maps were a utilitarian purchase. Today they can be an element of style. Make your statement by choosing an antique, modern, or scratch-off maps (yes, really)…. My husband even made the frame from a weathered bench.
Whatever you choose, make sure you like it. You're going to be using the map for a while. At a rate of 1 country per week, it took us nearly four years to eat our way around the world … having a record of our culinary journey hanging near our dining table remains a source of pride and joy. We use it to identify countries, distances, and proximity to natural resources (like water, mountains, desert etc)… as well as to remember the places we've eaten.
5. Gemstones, thumbtacks, stickers
Speaking of a map or globe, find something to mark off the countries as you cook them. There's nothing more satisfying than seeing your accomplishments pile up. We used simple gemstone stickers of varying sizes to mark countries. They sparkle, making the map a real conversation starter, especially in the evening when the lights are dim.
6. One good piece of cookware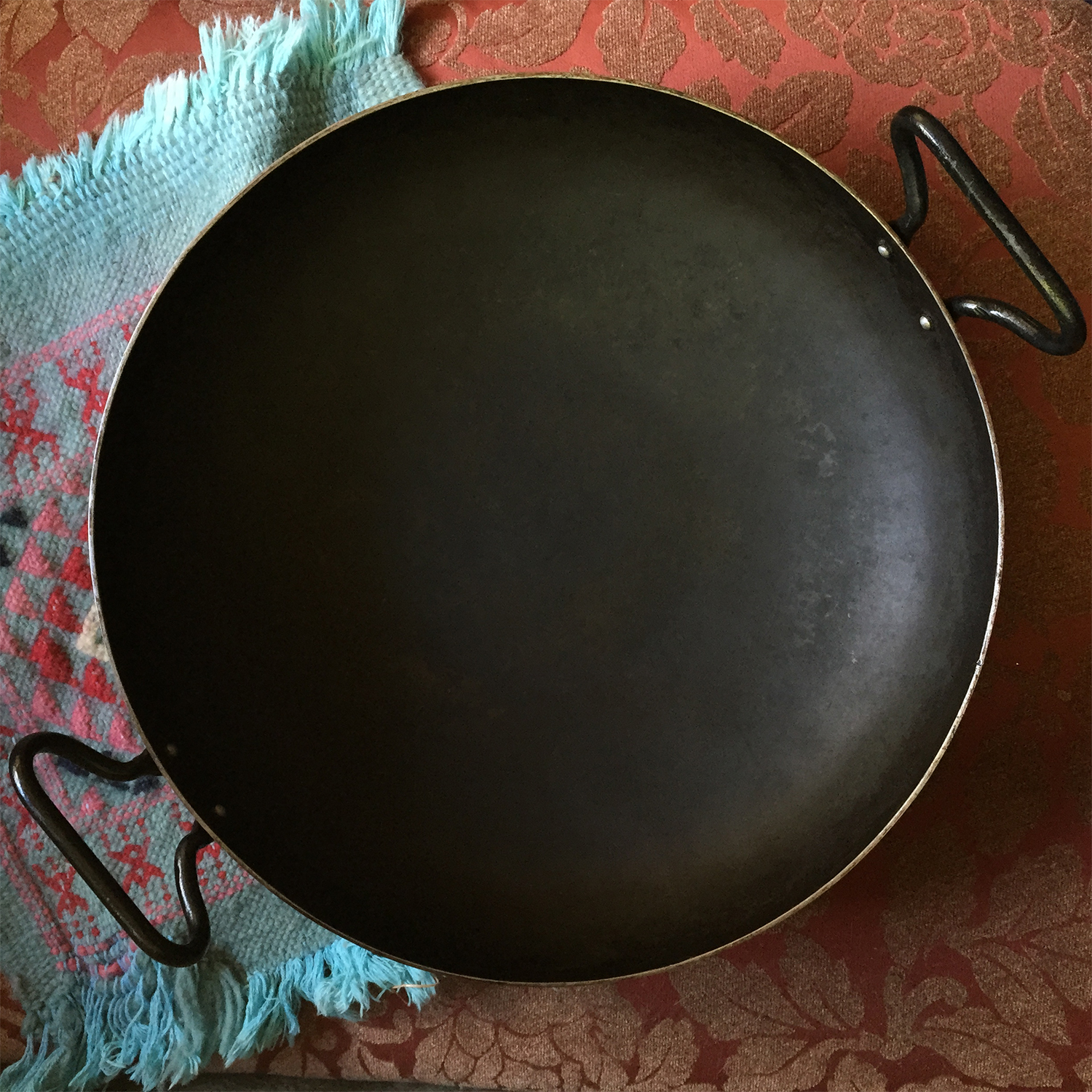 In all honesty there's very little required specialty cookware when it comes to cooking the world. While many Americans have at least 4 small appliances (microwave, toaster, blender, hand mixer), many parts of the world keep their kitchens simple. Sure – it's fun to add things like tagines to your collection. But if you only had one pot or pan, the most versatile would be a carbon steel wok. In a large wok you can boil noodles, make a stir-fry, braise meat, and even turn it upside down to grill flatbread on the domed surface. It can also go in the oven (with foil over the top) to make big rice dishes like Kabeli Palau from Afghanistan.
7. Steamer basket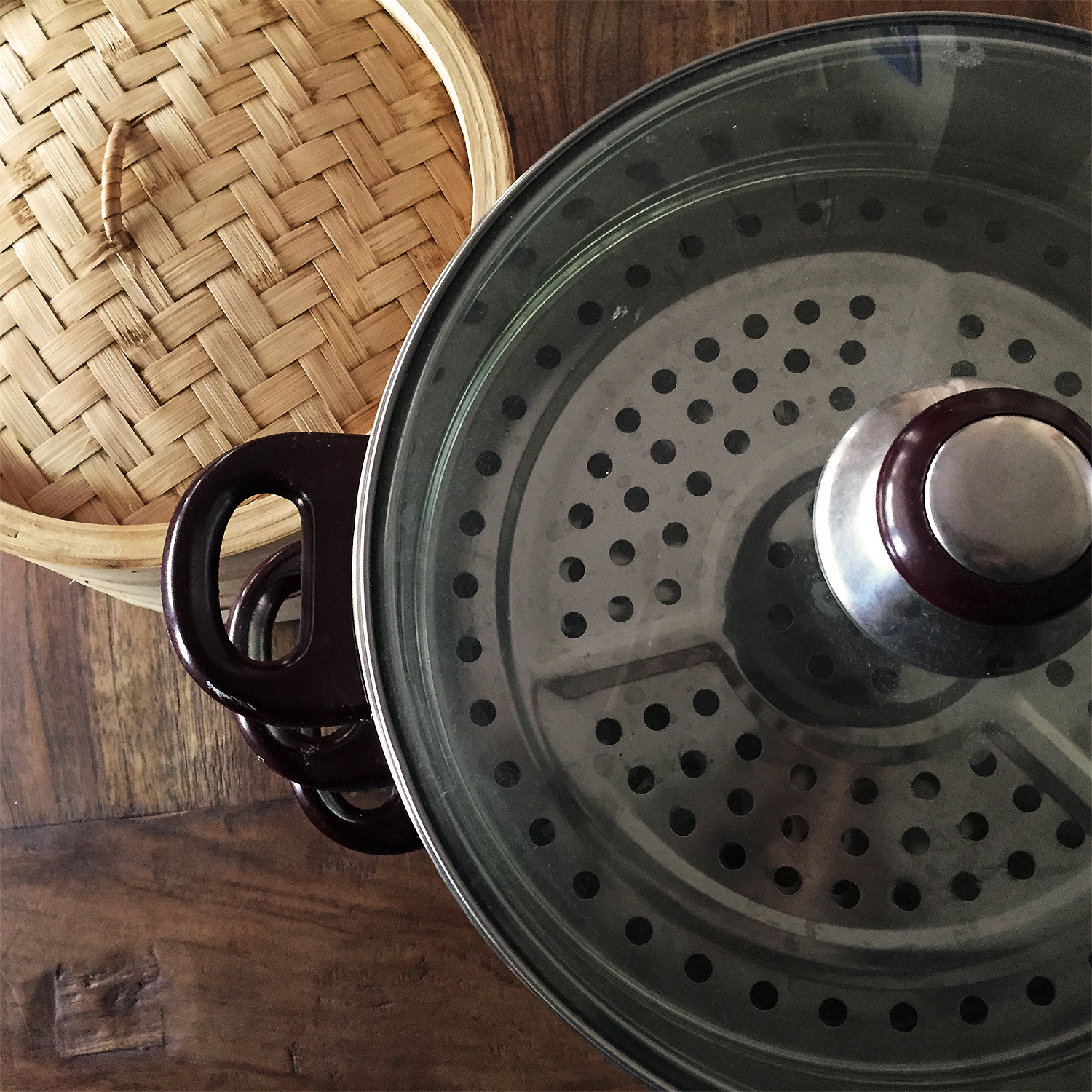 There were several times over the years of cooking the world that I had to steam food – as with fabulous coiled up pasta "Oromo" from Kyrgyzstan or vegetarian momos from Nepal. It's worth investing in either a bamboo steamer or a tiered metal steamer for these types of meals. I found both at my local Asian market. The bamboo gives a nice woodsy flavor to steamed foods, while the stainless steel doesn't impact taste at all.
A tip if the food is too big for a layered steamer, as with a stuffed artichoke? Use crumpled up foil at the bottom of a large pot.
8. A way to grind spices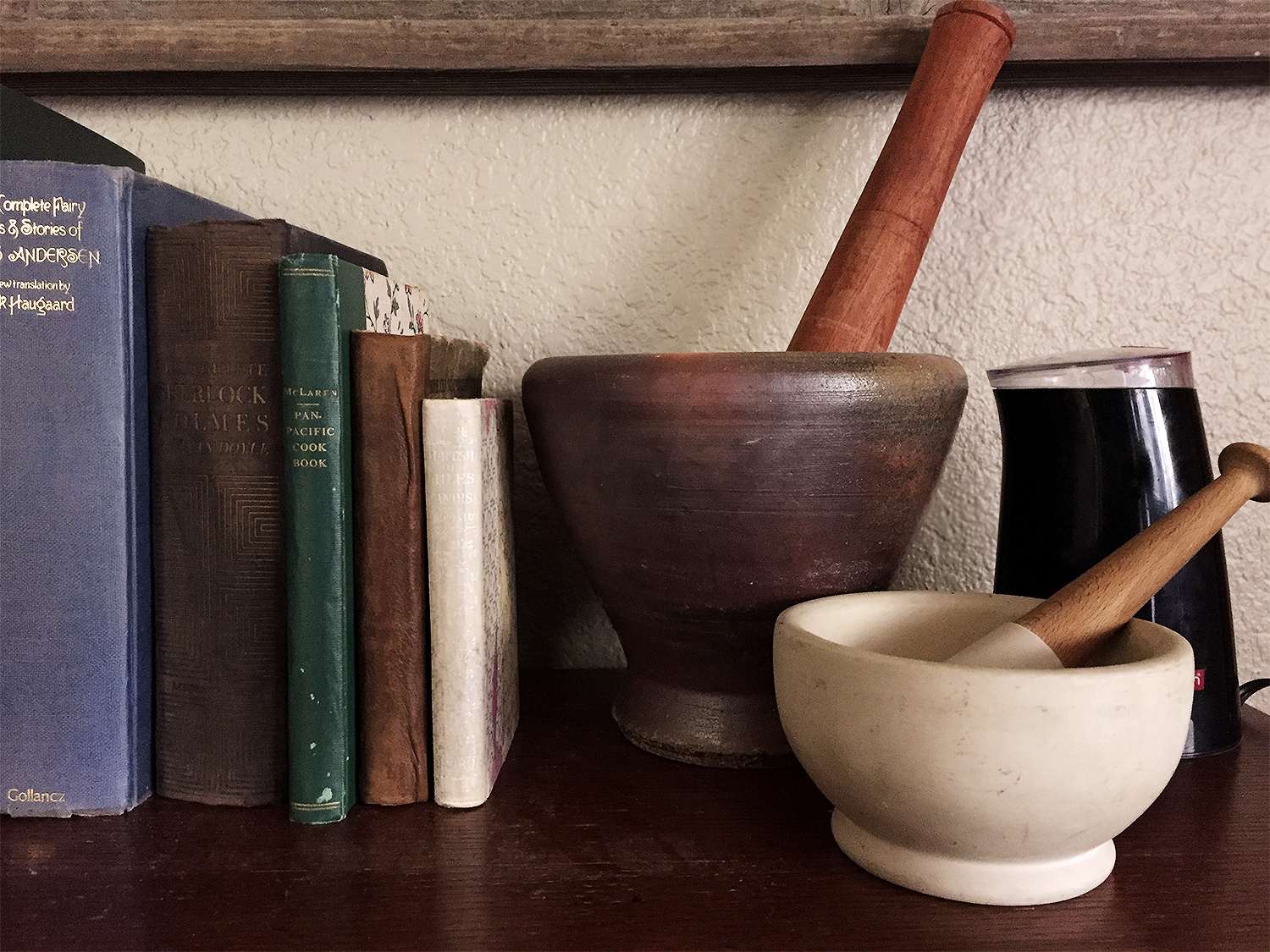 Many recipes from around the world require spices to be ground, cracked, or chopped. For light jobs you can use a rolling pin but for finer results try a mortar and pestle or electric spice grinder. I like a mortar and pestle for wet grinding (things like garlic, salt and hot peppers together to make green papaya salad), while I like the electric grinder to create fine powders for homemade seasoning blends (fresh ground has much more flavor than the stuff you'll find at the supermarket).
9. Portable Stove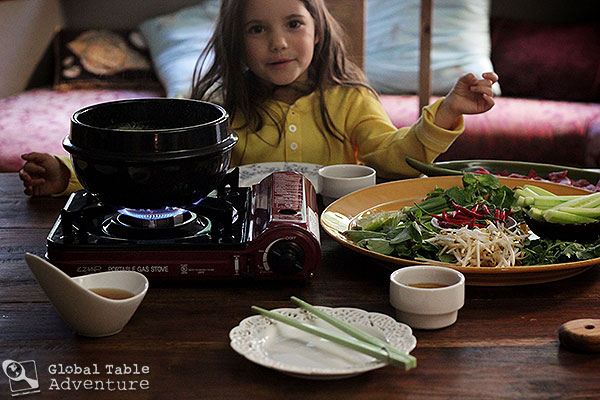 Now we're getting into the luxury supplies for cooking the world. For about $20 at your local Asian market you can purchase a small portable 1-burner stove (with carrying case) to use at your dining table. This is not at all required, but perfect for what I like to call DIY meals – where everyone gets to control their own plate and cook a little while they're at it. Examples include bibimbap, Vietnamese fresh spring rolls, and Lao Rice Noodle Soup. If you want to spend double the money, buy one online.
10. Just for fun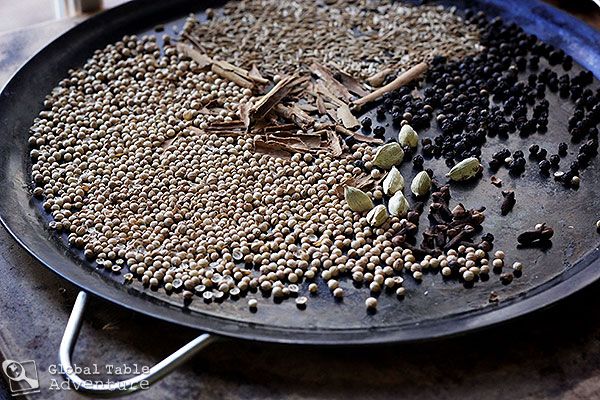 While a wok is the most versatile piece of cookware for your culinary adventure, my next favorite piece of cookware is my comal. I use it to char garlic and tomatoes for Laotian salsa or Mexican mole, toast whole spices for various spice blends, and to grill homemade corn tortillas, pupusas, naan, chapati, or coconut roti.
And no one is going to get mad if you own a paella pan …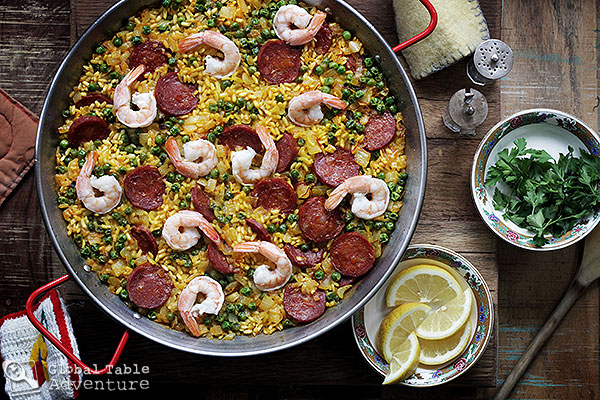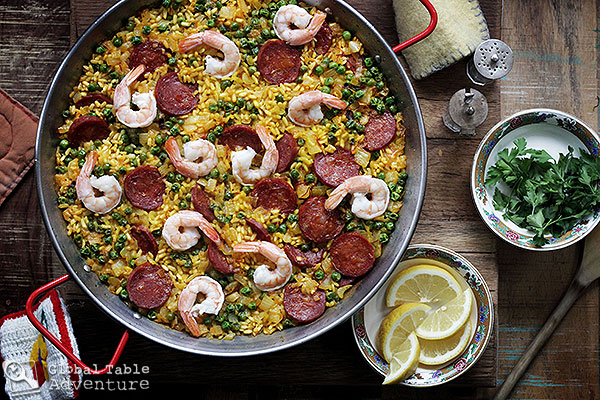 … or a tagine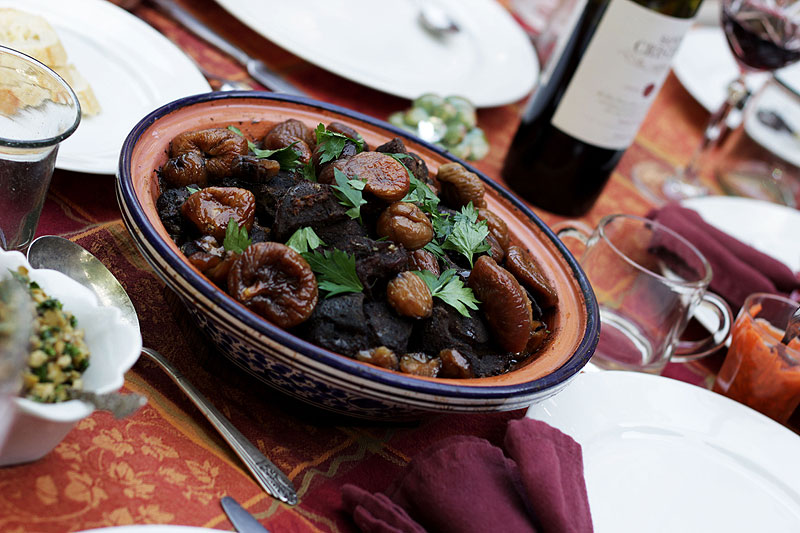 … especially if you make a Quick Paella or Moroccan lamb with honeyed figs for dinner.
Ready to start cooking the world?
No need to wait any longer. In my FREE "Global Table Adventure Starter Guide" you'll find the resources you need to start cooking the world today.
Your 45-page guide includes:
Tips for Starting Your Adventure
Getting Everyone Involved
Ideas for Potlucks & Parties
Frequently Asked Questions
Suggested Reading
List of countries (by continent)
List of countries (A-Z)
Get Social! (How to Connect with other Global Table
Adventurers)
Armed with my free online recipes and this guide, you'll have everything you need to take your loved ones anywhere in the world you'd like… by dinnertime.
P.S. Thanks to reader Andrea C. for asking about the essential tools and ingredients for cooking the world. Please email me with your questions – I'd love to help you out!