An Easter Tradition
Easter Eggs are a thing in our house. We dye them. We decorate them. We gobble them up in two's (it's funny how a purple or green shell can make an ordinary egg taste eggstraordinary). When I was little Mom hid these boiled treats in the yard and, after we found them we ate them, still-warm from the sun.
Today plastic eggs have taken over – probably because of one too many tummy aches after an overly hot Easter. But the kids don't seem to notice; they scramble to collect these plastic shells, cracking them open to reveal stickers, coins, and candy. Each year the plastic eggs become more elaborate. Now they aren't simply eggs, they're monkeys or giraffes, baseballs or footballs.
It's fun, yes, but also starting to feel a bit… gimmicky.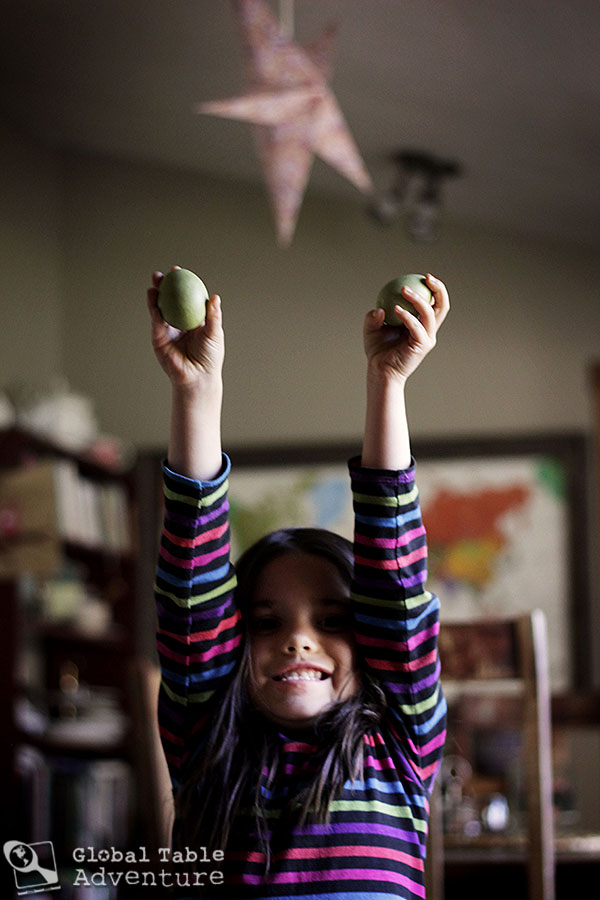 In the spirit of getting back to basics – to those real Easter Eggs of my childhood, I considered safe ways I could "hide" eggs for my daughter to find. Since it was 84F last week I knew the back yard was not  an option.
Then I remembered my Great Aunt. She used to hide whole eggs in braided  bread at Easter.  She'd flat out bury them in bread, so you never knew if your slice would contain an egg or not. I'm guessing she had a system though – I always ended up with an egg.
Excavating and peeling this beautiful treasure was the greatest delight.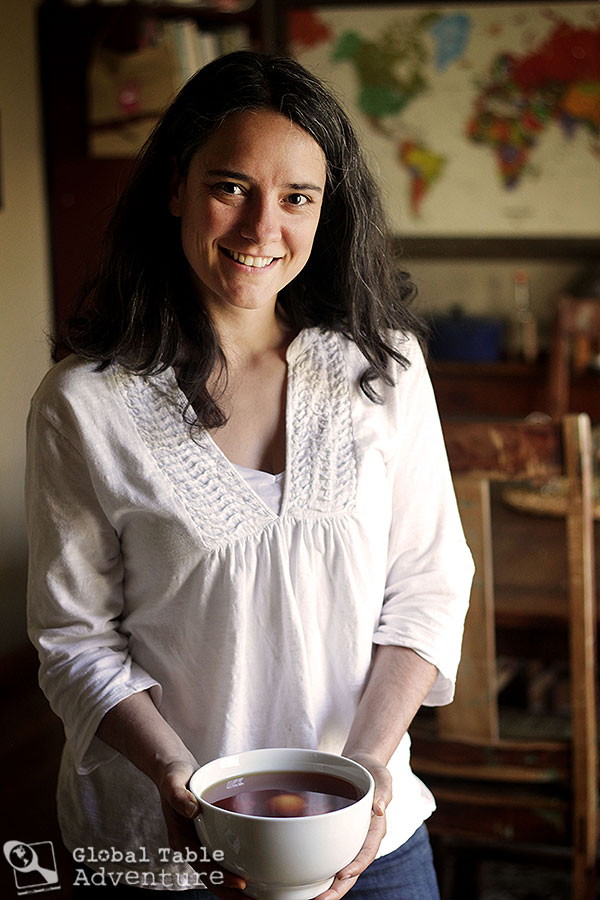 On the Hunt for Global Inspiration
I decided to take a look and see if there were any other recipes from around the world featuring "hidden" eggs. I am delighted to report that – yes- there are many countries that tuck their eggs, like little prizes, in sweet and savory foods alike.
You'll find traditional Easter recipes here. And you'll find recipes with no connection to Easter except for the fact that they "hide" an egg somehow within. Some of these are my recipes, and some of these are other bloggers' – either way I've linked to the recipes so that you can try whatever temps you!
 1. Tarta Pascualina (Easter Tart)
People in Argentina and Uruguay enjoy this Italian-influenced Easter Tart made with ricotta, spinach (or chard), Parmesan, and nutmeg. Some like to add chopped peppers, while others add chili flakes. But one thing is certain: the eggs within are the real showstoppers. The trick is to use a spoon to press a hole into the filling large enough to crack an egg into. When the pie is sliced, the eggs are revealed! From what I hear, gasps of delight are guaranteed.
Try this Argentinian recipe from Cooking From Scratch (pictured above – upper left) or this authentic Italian one, from Italian Dish.
2. Tsoureki (Greek Easter Bread)
Tsoureki is sweet, braided Easter bread from Greece. Tucked within the soft, doughy braids are whole eggs – usually bright red. Then – get this – the dough is perfumed with wild cherry essence. I can just imagine the scent – pure heaven!
Try this recipe from Diana Desserts (pictured above – upper right).
3. Sunflower Bread (Eastern Europe)
This stunning loaf is made with seven stacked circles of bread dough. They're snipped (almost like a pizza), then twisted together with an egg in the center. It sounds hard, but Jana's step-by-step photos make this recipe nearly foolproof. Sunflower bread is good news for those with a more… moderate sweet tooth: There's not much sugar in the recipe – though a slice would sweeten up nicely with a little jam and hot tea!
Try this recipe from Jana's Kitchen (pictured above – lower left)

4. Italian Easter Bread
While my heart and palate will always hold a special place for my Great Aunt's braided loaves, I love how Elaine from the Italian Dish has made individual Braided Easter Buns. The sprinkles and happy colors make them a child's delight even before they excavate their eggs.
Try this recipe from Italian Dish (pictured above – lower right). 
5) Century Eggs from Laura at Silk Road Gourmet and peeled photo from Fotoos Van Robin 6) Shakshouka from right here, on Global Table Adventure 7) Idaho Sunrise from Our Best Bites 7) Colombian Poached Egg Soup from right here, on Global Table Adventure.
And now for some… less than traditional Easter Specialties
5. 

China's Century Eggs
Don't worry – these eggs weren't buried before your great, great, great… ancestors. Simply bury a dozen duck eggs for a few months in a thick layer of caustic mud, rice chaff, soil, and lime (no biggie, right?). Next, add some rain and sun… and… the end result? Black, quivering eggs with a distinct, fermented flavor. Laura Kelly, from Silk Road Gourmet, says they're high in protein, too! (I'm still amazed she made these from scratch – she says the verdict post will be up soon. I, for one, cannot wait to read it). 
Try Laura's recipe (with great photos and description of the chemical processes) on Silk Road Gourmet (pictured above, top row). 
6. 

Shakshouka
Shakshouka is one of my favorite ways to wake up.  This Middle Eastern specialty features eggs, gently poached in a hearty tomato and pepper sauce – great with a crusty baguette. An easy Sunday brunch – and healthy, too.
Try our recipe here, on Global Table Adventure (pictured above, middle row).
7. American Egg-Baked Potato (Idaho Sunrise)
I had to include this treat from the United States in this global list (we're in the world, too, right?!). Simply scoop out a baked potato, add some cheese and bacon, crack a raw egg in it, and bake! What a fantastic breakfast idea! I think it'd be great with a bit of chopped spinach or basil. Yum.
Try the recipe from Our Best Bites (pictured above, bottom left).
8. Colombian Poached Egg Soup
This is another healthy and fun breakfast idea, this time from Colombia. Simply make a milky broth seasoned with fresh herbs, and then crack raw eggs in the liquid to poach. The egg all-but disappears in the broth, so when your spoon finds one, it is a delight! Gently cooked and seasoned, this meal would have as great a place on an elegant brunch as on a weekday table. Also wonderful with good, crusty bread.
Try the recipe here, on Global Table Adventure (pictured above, bottom right).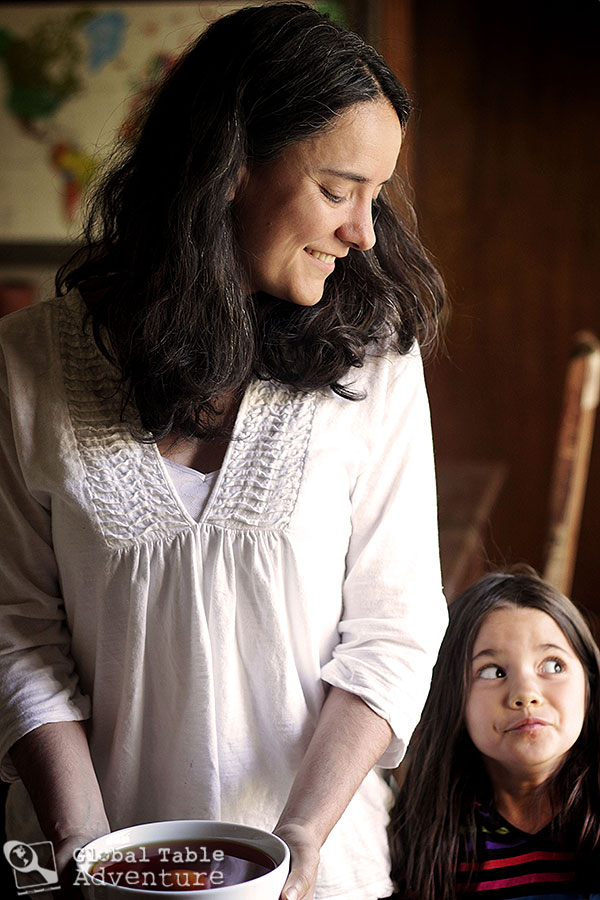 Did I miss any "hidden egg" recipes from around the world?
If you know of more hidden egg recipes, let us know by leaving a comment below. 
Also, I would love to hear about your plans for the weekend – what will you be serving on your Easter table? Will you be trying any new recipes? Or preparing some old, family favorites? 
xxoo