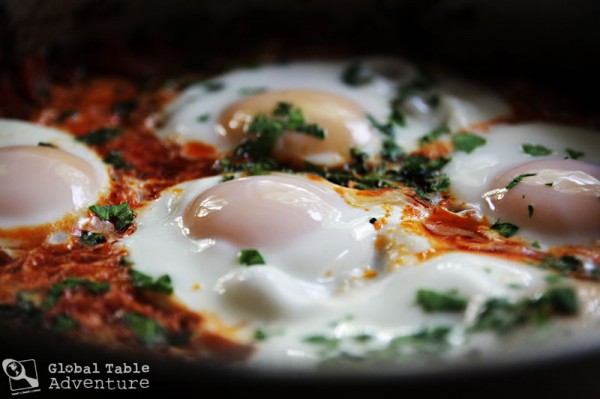 Serves 2-4
Ava's my little alarm clock. Most days we get up about 8 am (bless her). On the mornings that I wake up before Ava, I like to sit in the drowsy quiet, by the window. I'm not really asleep. I'm not really awake. I'm just glad for a few minutes to stare into the stillness and daydream.
Often my thoughts turn to people in other countries. Slowly, I sip my tea and wonder … what are they doing, right now? Are they sleeping? Awake? Are they happy? Sad? Do they Tweet? Are they obsessively checking their Facebook? Are they sitting by a window wondering about me?
Hello? Is any body out there?
And then Ava wakes up and the excitement of the day begins.
I can tell you one thing for sure – right now, somewhere in Israel, someone is eating Shakshouka, breaking their bread and dipping it in the rich sauce. This simple one-pot dish was once considered the working man's food and is balanced – loaded up with protein, veggies, and – with a slice or two of bread – carbs. So, go ahead, make this dish and sit at the Israeli Global Table.
NOTE: My version is mild, but feel free to kick it up with cayenne or hot paprika.
Ingredients:
2 large red peppers, chopped
2 large anaheim peppers, chopped
1 onion, chopped
5 cloves garlic, sliced
1/3 cup olive oil
1 28 ounce can whole, peeled tomatoes
2 tsp paprika
1/2 tsp cumin
salt
eggs, as desired, for poaching
bread for dipping, preferably baguette
chopped parsley, for garnish
Method:
Let's teleport to Israel for breakfast. First chop a mountain of veggies while sitting on top of a … mountain. Or at least a really big rock.
Here's the veggies…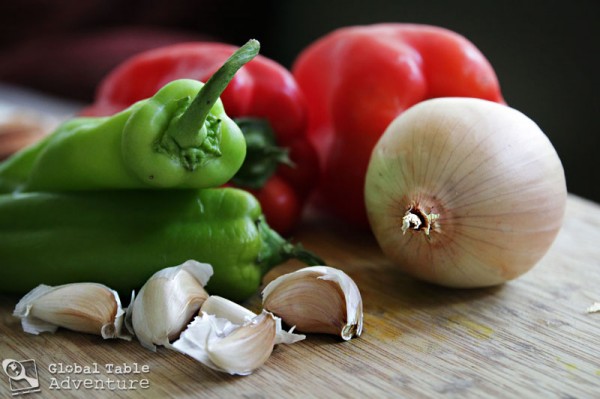 And here's the really big rock …
Get cozy on the rock – set up a little campfire. Brown all your veggies in a large skillet with plenty of olive oil.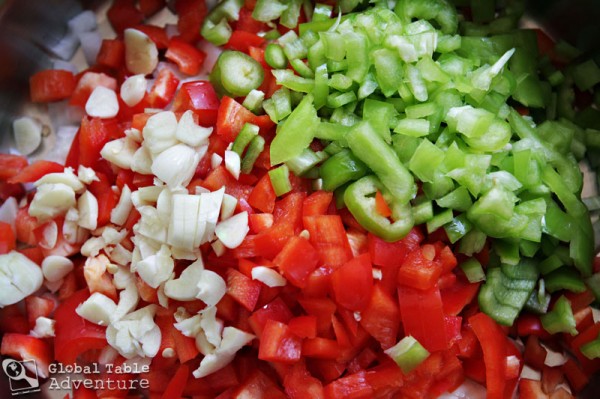 If you cook them over a medium-high flame, this will take about 15-30 minutes, depending on the size of the pan.
When everything is soft and brown and you're whole house smells like "good," add in the tomatoes without the juice. Crush them up with a wooden spoon. Reserve the juice for thinning the sauce later, if desired. Just keep in mind, Shakshouka is typically thick and chunky.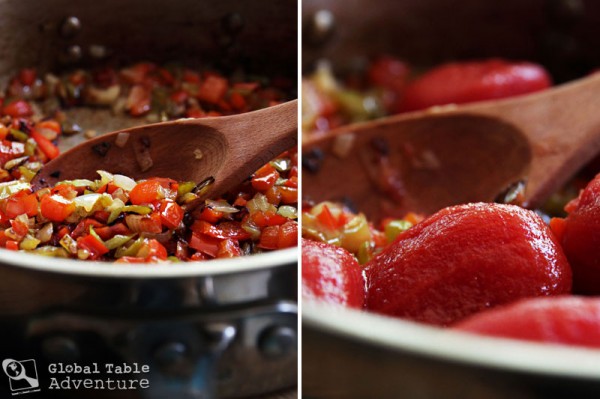 Next, season with paprika and cumin. Cover and simmer gently for about an hour.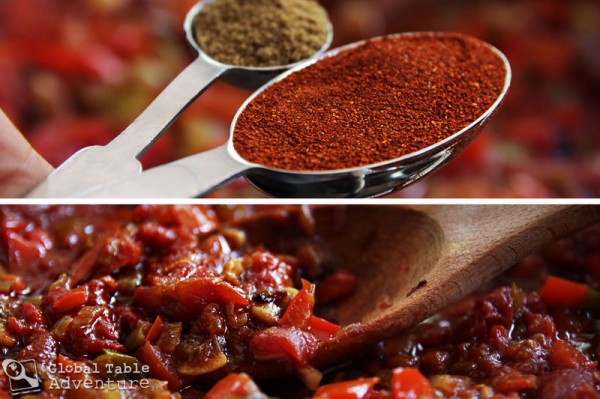 Right before serving, break eggs on top of the gently simmering sauce, cover with lid and poach. I like my yolks soft and creamy, but not runny. This took 3-5 minutes.
Garnish with plenty of parsley. A coarse chop is lovely in this rustic dish.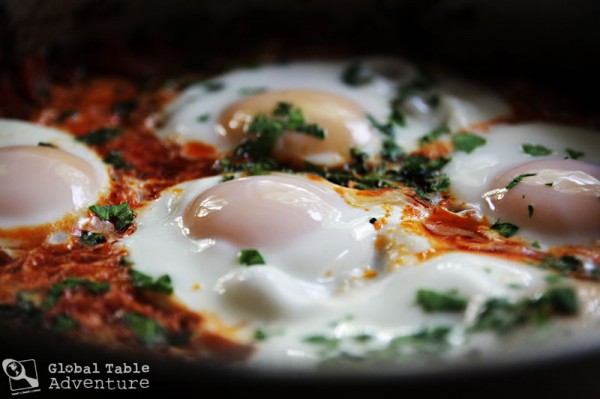 Bring to the table in the pot you cooked it in.
Eat, smile, laugh, love. And, to make it even better, dip some bread in the shakshouka and eat below the Timna Arch…
… with someone you love with all your heart.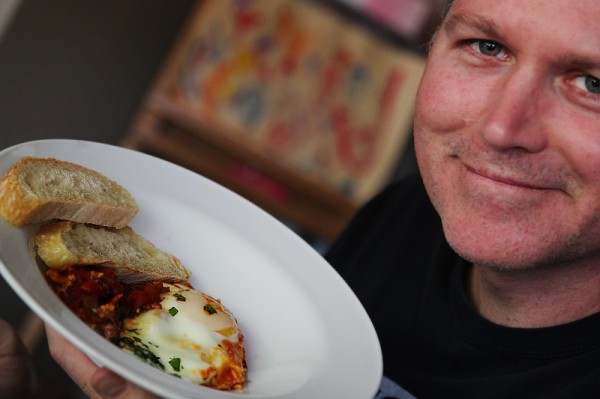 Thanks, Israel.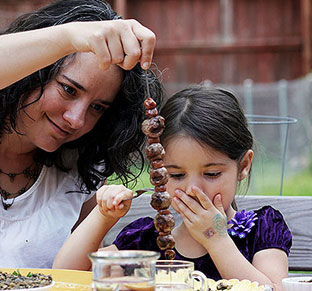 Hungry for more?
Be notified when National Geographic releases my memoir.
Simply fill in your details below.