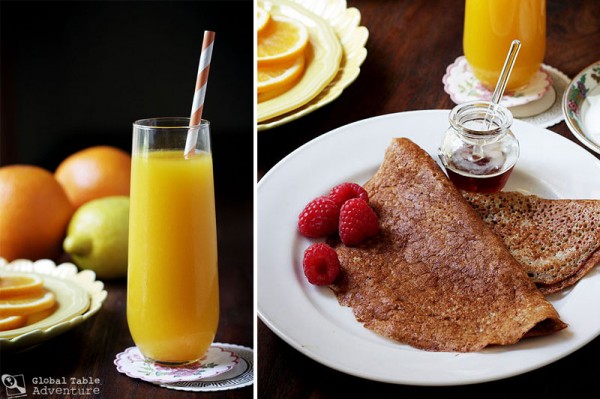 While I'm not usually much of a breakfast eater, the United Arab Emirates has me reconsidering. And the timing is perfect: I've been craving a good breakfast these last few days. I think it's because preschool started for Ava and we're all getting up earlier. I also started a workout program for the first time since … well… a while ago. Because of the workout program, I'm looking for early morning fuel, and it has to be nutritious.
I found all that and more in this UAE-inspired menu.
The recipes and the meal review will be posted throughout the week.
Emirati Date Crêpes | Muhalla [Recipe]
Whole wheat, yeast leavened crepes made with dates. Great with yogurt and honey. Add a little fresh fruit for even more healthful deliciousness.
Orange Blossom Juice [Recipe]
Wow your guests (and yourself) by spiking your orange juice with orange blossom water. Get ready for a romantic, beautiful drink especially worthy for breakfast in bed.
How do you start your mornings? Are you a breakfast eater or not? Do you take coffee? Or is the first thing you eat or drink at noon?