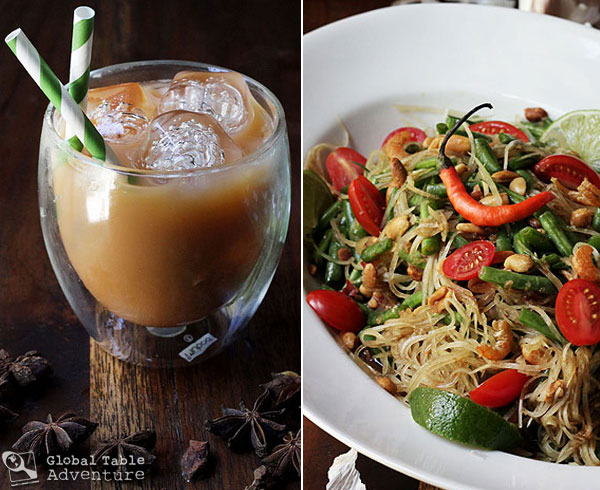 "Friends for a meal are easy to find, friends until end of life are difficult to find" (Thai Proverb)
Summer is the time of easy friendships, where the only things that matter are cold drinks, fresh food, and a patch of shade. Dinnertime is less strict, and I find myself veering towards later, lighter meals. Like this one. So now all you need is to find someone to share it with (P.S. Speaking of which, I can't decide if that Thai proverb is encouraging or discouraging, but there's one thing I know for sure. Whoever you make this meal for will certainly be woo'd for the summer, if not for life.)
The key to Thai food is balance. If you serve something hot and spicy, you must serve something sweet. Which is exactly what we did.
All recipes and the meal review will be posted throughout the week.
Green Papaya Salad | Som Tam [Recipe]
One of the easiest Thai dishes, with an orchestra of flavor. Think spicy, lime-tastic, and salty. This is salad all grown up, perfect for your impromptu back-yard chiminea night.
Thai Iced Tea [Recipe]
Oh, sweet goodness. This is Ceylon tea swirled together with sweetened condensed milk and a sprinkling of a super special Thai ingredient. It's all you need on a hot, hot day.