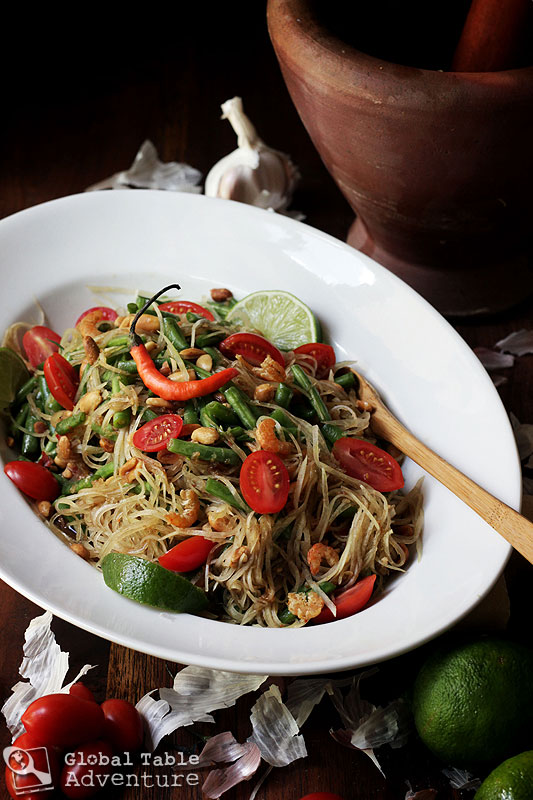 Whomp. Womp. Womp.
Everything worth doing takes a little bit of work.
And so it is with Som Tam. The mortar and pestle crushes the garlic, mashes a Thai bird chili peppers,  and wooshes the fish sauce and lime juice into the green beans and papaya.
I put the bowl on the table, dotted red with tomatoes. Ava thinks the papaya is spaghetti. The pale green shreds curl around her fork.
"It's something like that…" I say, hoping she believes me. She takes a bite, then another.
Soon the forks on plates are the only noise.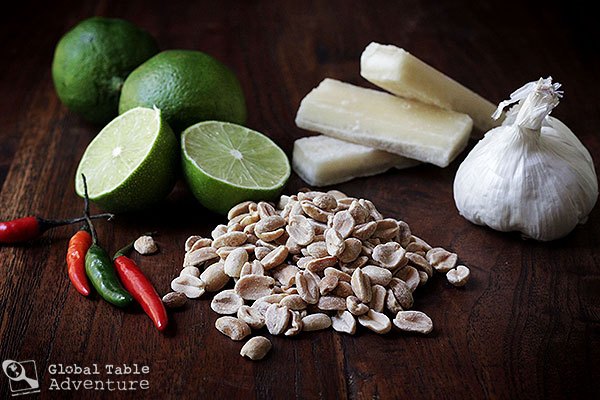 While I adore Thai food, I'd never had green papaya salad before this week. When several readers suggested I try it on our Facebook Page, I listened. First, I tried to order it at a local restaurant called My Thai Kitchen, just to see what all the fuss was about, but it wasn't on the menu. So, instead, I went to our local  Asian market, Nam Hai, and picked up what I needed, including some palm sugar, a green papaya (which they also sold pre-shredded – yay!), fish sauce, Thai Bird Chili peppers, and some dried shrimp.
There really wasn't much to it!
I was excited about all the ingredients, except for the dried shrimp, but when I opened my mind enough to chow down on one of them, I realized it was just a salty, chewy little bit of seafood. Good stuff!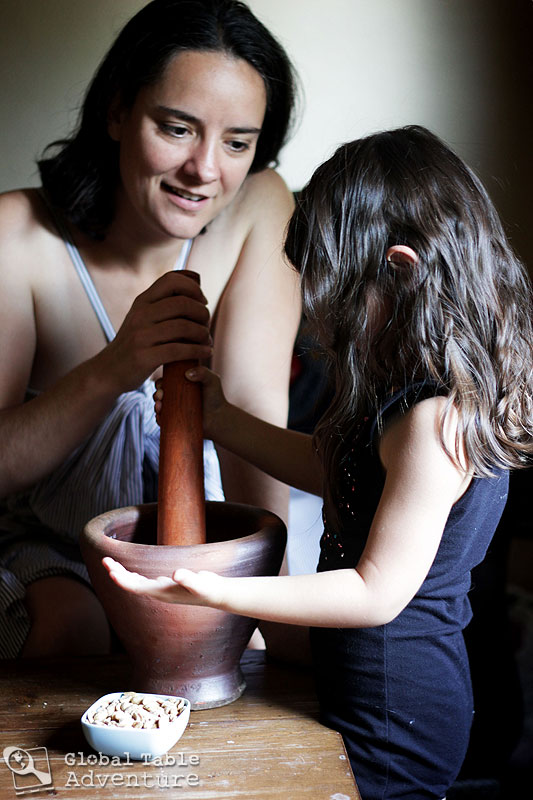 Some say you can't have a real Green Papaya Salad without a good mortar and pestle. The traditional set up is a clay mortar with wooden pestle. I bought a set at Nam Hai for $15 (they had a huge selection of them – I purchased one of the smallest). Still, I love how deep it is and the pleasant (rather dull) sound (much different than my porcelain on porcelain set which makes a sharp, clinking sound). If you can find a set at your Asian market, I highly recommend getting one.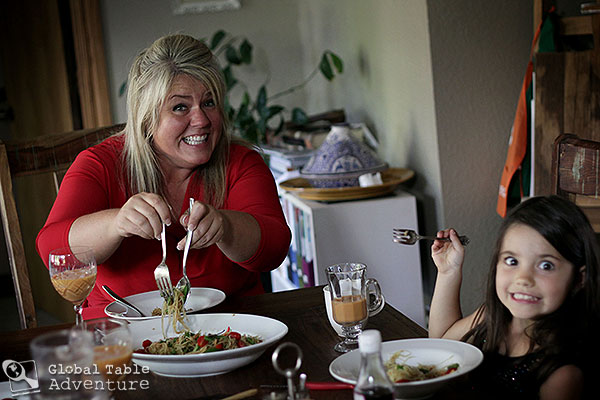 Ingredients:
4 large cloves garlic, peeled and quartered
4 thai bird chilies (or more, to taste)
1/3 cup palm sugar, cut in small chunks (or regular sugar)
1/2 cup peanuts
1/2 lb green beans, cut into 1 inch pieces
1 1/2 tsp tamarind paste
1/3 cup fish sauce
1/3 cup lime juice (about 2 limes, juiced)
1 lb green, unripe papaya shreds
cherry tomatoes
3 tbsp dried shrimp
Method:
First, let's go to the market and get what we need.
Oh, Thailand. You and your floating markets make me so very happy…
Anyone else wish they could shop by boat?
Ok. Next step. Pound the garlic with chilies and palm sugar until a paste forms.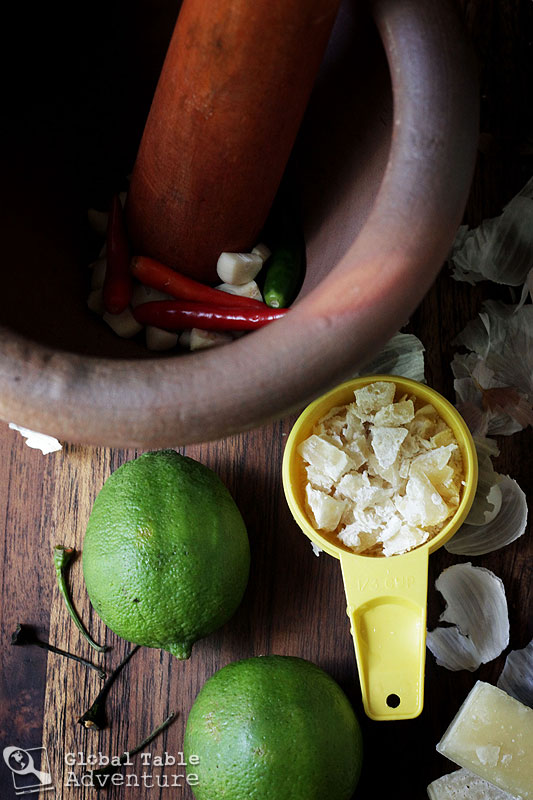 The palm sugar will resist for a long time, but just when you think it'll never happen, the whole thing will dissolve into a lovely paste. (You may need to use a spoon to loosen it from the bottom while you work)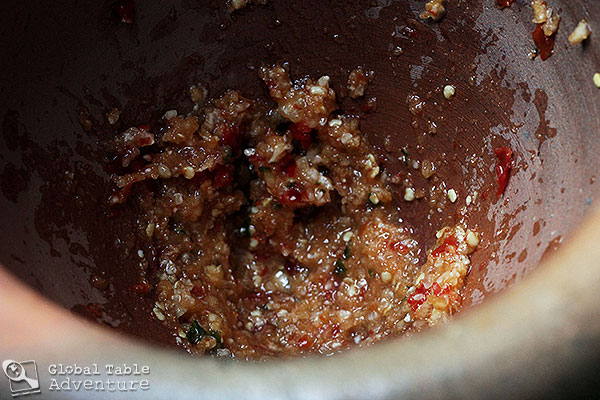 Next, give the peanuts several whacks until beginning to crumble, then add in the green beans. Whack them a few times for good measure.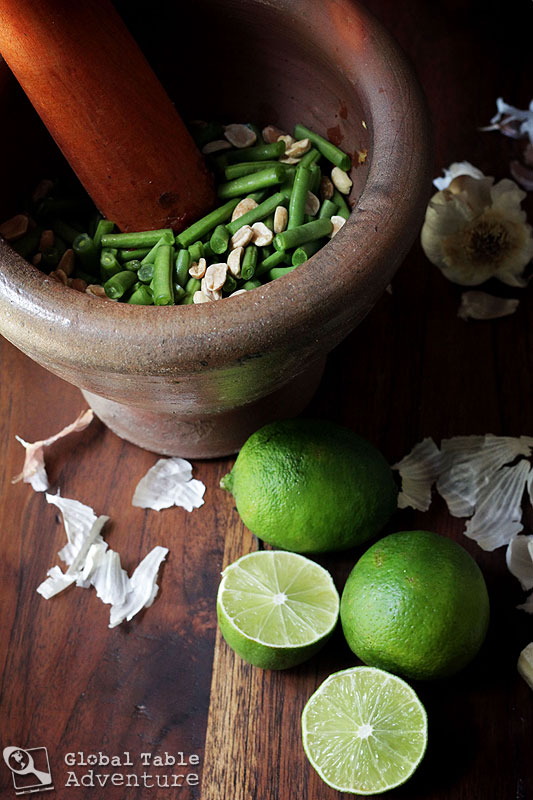 Stir in the tamarind paste, lime juice, and fish sauce  until the green beans are evenly coated.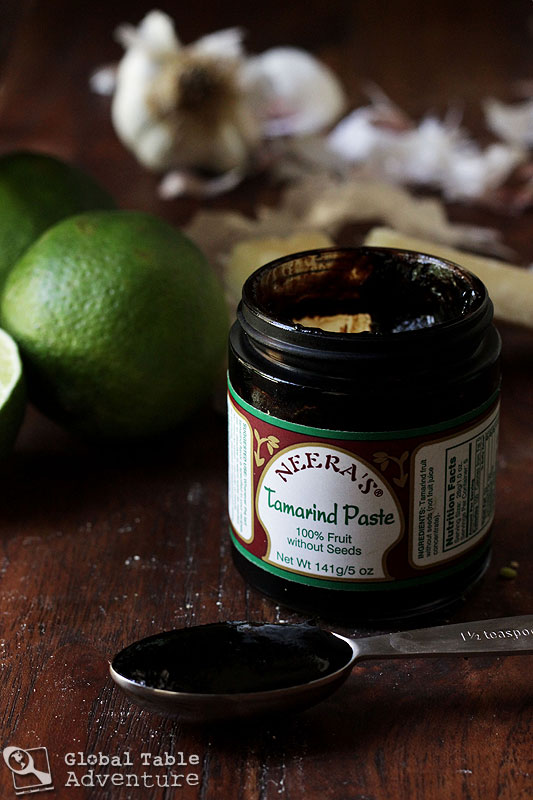 The mixture will be wet and spicy… and all kinds of irresistible.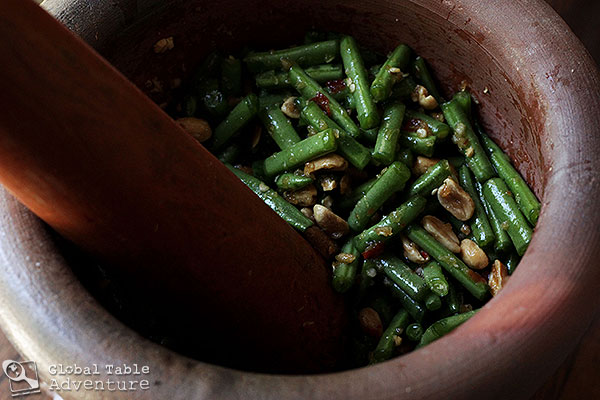 But wait. There's more!
If you didn't buy pre-shredded papaya, you can find a tool to shred it… it looks like a ridged vegetable peeler… which is exactly what it is.
Simply peel the papaya and begin shredding.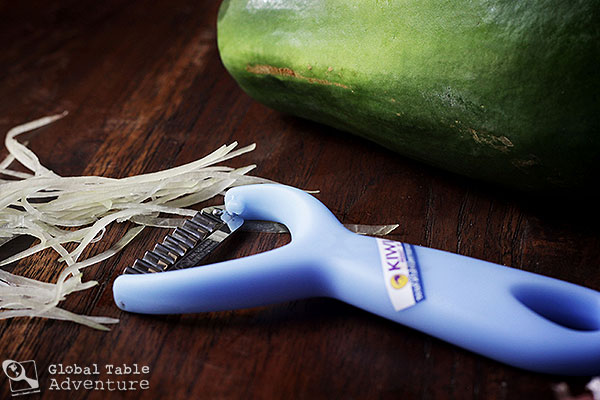 Finally, pile on the shredded green papaya and tomatoes and give them a few whacks with the pestle.
Uh-oh.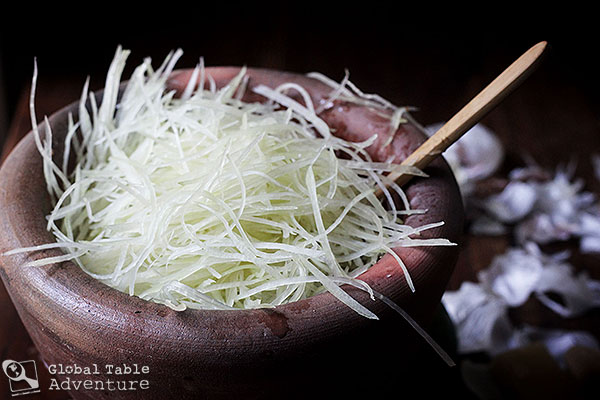 If you end up like me, and you run out of room, transfer the mixture to a large bowl and mix thoroughly. 

Garnish with lime wedges, Thai Bird Chili peppers… even a sprinkling of cilantro, if desired.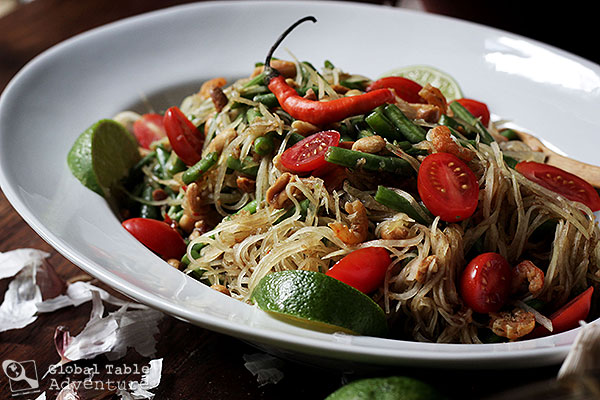 Enjoy with a friend…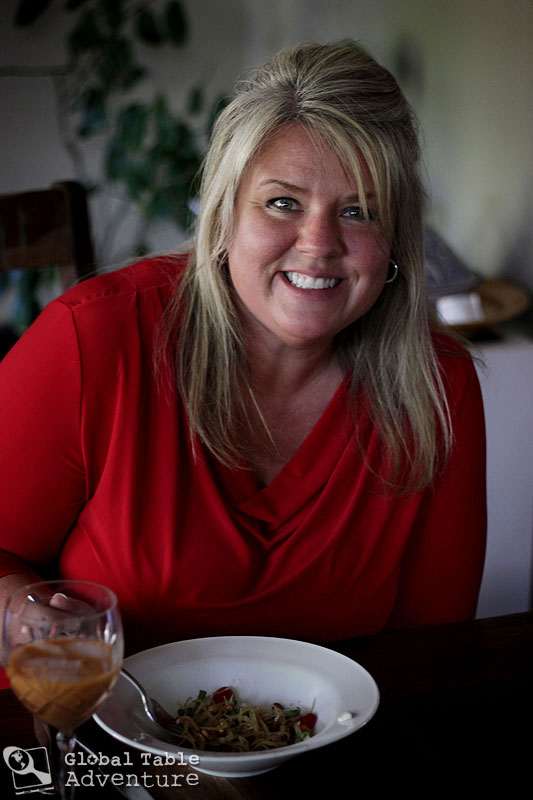 A sense of adventure…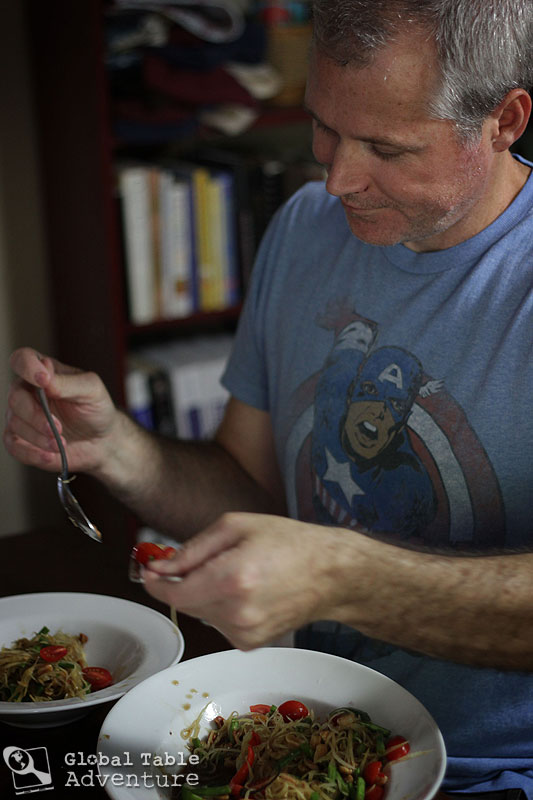 And a big dash of silliness…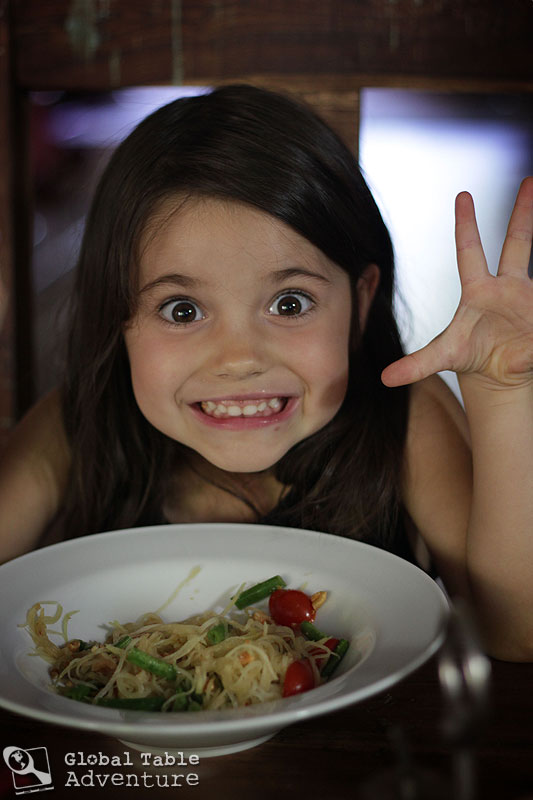 Have you ever eaten or made Thai Papaya Salad?
How do you like it? Spicy or sweet?
Do you have any tips for how to prepare it?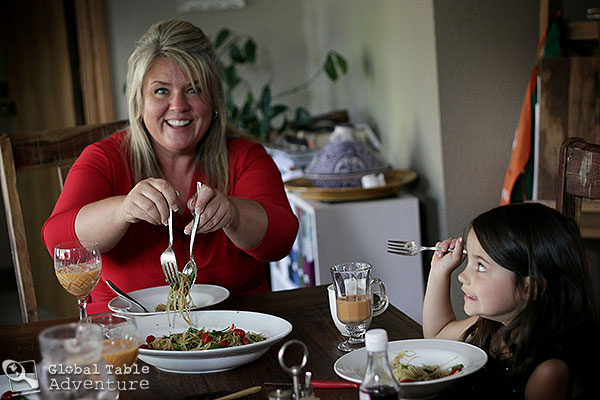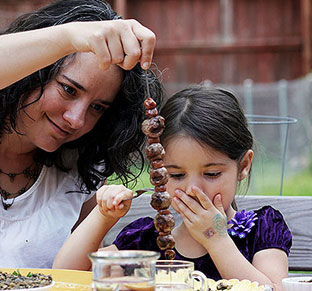 Hungry for more?
Be notified when National Geographic releases my memoir.
Simply fill in your details below.