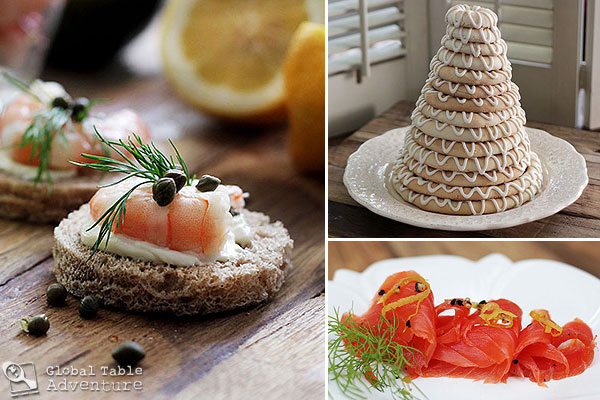 I watch the Olympics on the televisions at the gym. Synchronized divers catch my eye as I rappel down a climbing wall from two stories up. (Really, it's more of an awkward fall since I'm new to rock climbing). I watch gymnasts flip while pedaling with my heartbeat at 150 bpm. Since I don't have a television, this is my only option. Here's what I've learned: put five golden rings on a wet noodle and my eyes will well up with tears.
I love the Olympics.
The very logo has seeped into my subconscious. Just look at our Norwegian menu for this week's Global Table. I didn't realize it, but I filled our plates with circles, rings, and even the littlest bit of gold (in the form of lemon zest on the gravlaks). Sure, the cake needed to be made of rings, but the bread didn't have to be cut in circles.
Consider it my fun, accidental homage to all the beautiful athletes in the Olympics.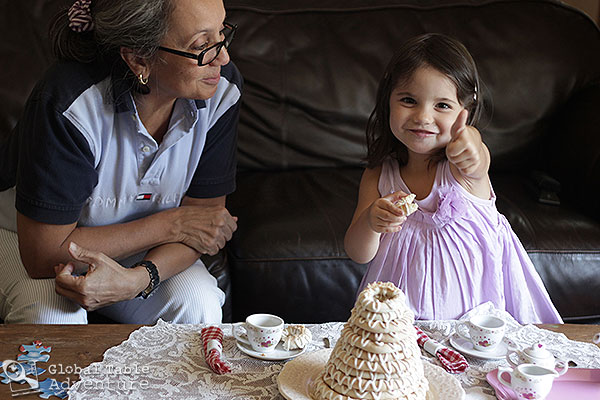 Norwegian Summer Shrimp Party [Recipe]
Experience summer like a Norwegian – load up the table with boiled shrimp, butter, mayo, bread, lemon slices,  and capers. Laugh and chatter as everyone makes messy work of making their open-faced sandwiches exactly how they want them.
Dill & Lemon Pepper Gravlaks [Recipe]
Homemade gravlaks with plenty of fresh dill, lemon peel, cracked black pepper and a bit of mustard seed for fun.
Scandanavian Ring Cake | Kransekake [Recipe]
A traditional Scandinavian celebration cake made with rings of sweet almond dough, then frosted with royal icing.
*All recipes and meal review will be posted throughout the week.
WEEKLY GIVEAWAY:
*Update:  Winner from this week's Norwegian Menu Giveaway was selected at random by random.org. There were so, so many wonderful entries – do go through and read them if you have time. Congratulations to Jenna who told us about her own Global Table Adventures:
"I've been "eating the world" in my own way for years…I love to travel, and whenever I visit a new country, I try to master at least one traditional dish that I can make at home. This enables me to share my experience with loved ones (in a culinary way) and reminisce my time there through my taste buds.I'm excited about Norway this week – though I've never been there, I'm 1/4 Norwegian and these recipes remind me of my grandmother. She used to have a ring cake form like this and I'm not sure what happened to it when she passed – would be a fun addition to my own kitchen as a tribute to her!"
Please email me (sasha@ globaltableadventure.com) to claim your kransekake mold.
Today, because I want you all to know the joy of making Kransekake and get giddy on sugar and smiles, I am giving away one Norwegian Kransekake mold. The mold is nonstick and will make perfect cakes every time.
If there are 50 entries, I'll give away two, so tell a friend!
Here are the product details from the manufacturer:
Honor a beloved heritage with this six-piece Kransekake ("ring cake") form, which offers a simple way to create an authentic version of the towering Norwegian and Danish delicacy. Traditionally made with almonds, sugar, and egg whites and served at weddings, baptisms, Christmas parties, or New Year's Eve celebrations, the special-occasion cake also makes a tasty centerpiece at family reunions or everyday events. Even more, it fosters a natural and hands-on way to introduce children to the special traditions cherished by their ancestors. Solidly crafted of heavy-duty tin for durable use from one holiday to the next, the form comes with various pieces that unite to create 18 concentric rings for building a pyramid-shaped cake.
TO ENTER:
Giveaway Question: Have you been eating the world? How are your international foodie adventures going? Leave a comment telling me about your recent Global Table Adventures and Mishaps. There's no right or wrong answers so tell me whatever is on your mind!
Bonus entries will be provided for those that tweet this giveaway with hashtag #globalgiveaway and/or share it on Pinterest and Facebook.
One winner will be chosen at random and announced in the Monday Meal Review. Contest closes Monday morning. There are no sponsors for this giveaway. I just wanted to share some Norwegian love, from me to you. Enjoy!