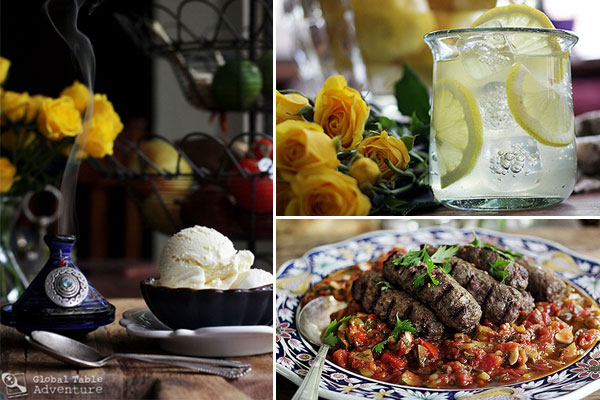 I love a good surprise. Today our Omani menu is full of hidden, sneaky treats. The ice cream? Laced with frankincense oil. The lemonade? As good as a garden of roses bathed in summer love. And the kofta are juicy and fragrant, hiding cinnamon and cumin, lounging on a bed of zucchini tomato sauce with a slightly cooling, sneaky handful of mint.
And then there's this kind of surprise:
This represents a portion of packages that came in the mail from my mom yesterday. They are binders. These binders contain every post I've ever written on the blog.
Every. Single. Post.
Every recipe. Every photo. Almost every comment.
Ever since the first week, she's been printing out my posts. Dutifully and unbeknownst to me.
If that ain't a mother's love, I don't know what is.
I'm completely floored.
Grilled Kofta with Zucchini Sauce [Recipe]
Hand rolled beef seasoned with earthy cinnamon, wild cumin, and coriander seed. Served with a quick tomato and zucchini sauce laced with parsley and a smattering of mint, the perfect way to use up your garden goods.
Frankincense Ice Cream [Recipe]
I'm not convinced this is legal. That being said, what could go wrong with creamy ice cream that tastes like exotic pine and heady frankincense? This is a show stopper and a conversation piece.
Rosewater Lemonade [Recipe]
A simple way to dress up lemonade. Each glass tastes like a thousand roses bathing in fresh squeezed sunlight. It's what lemonade should wear to black tie affairs.
WEEKLY GIVEAWAY:
Today, because I want you all to know the joy of making frankincense ice cream (or blueberry cardamom, or nutmeg), I am giving away one Cuisinart Ice Cream maker. You can choose whatever color you want, including white.
But how could you pick white when there's colors like plum and berry blue? It's a tough call.
UPDATE:
*Winner from this week's Omani Menu Giveaway was selected at random by random.org. There were lots of great guesses as to how many binders my mom filled with printoffs of every single post on this blog. We had several who guessed the correct number, which I find amazing! There were 15 binders … from those who guessed correctly, we selected a random winner.  Congratulations to Mary who said:
"My aunt did this for a blog I kept while traveling, though she chose only a selection of entries and pictures and created a scrapbook for me. It was one of the best surprise gifts I've ever received.

My guess: 15 binders."
To Enter:
The above binder photo contains a sampling of the binders my mom sent me. To win the cuisinart, I'd like you to guess how many binders my mom filled with my writing from Afghanistan through Norway. As I mentioned above, she included every recipe, most comments, and all photos.
Bonus entries will be provided for those that tweet this giveaway with hashtag #globalgiveaway and/or share it on Pinterest and Facebook.
To Win:
The first person to correctly guess the number of binders will win the Cuisinart Ice Cream maker. If there are multiple correct guesses, one of the correct guesses will be chosen at random. If no one guesses correctly, one winner will be chosen at random.
Winner will be announced in the Monday Meal Review.  Contest closes Monday morning 8/13/12. There are no sponsors for this giveaway. I just wanted to share some Omani ice cream love, from me to you. Enjoy!