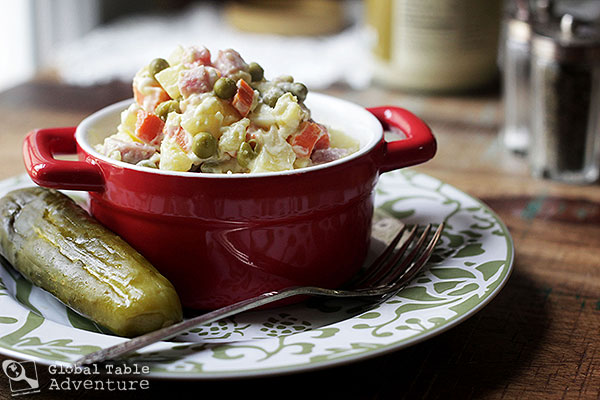 Winter doesn't just bite in Russia. It eats you alive.
In the far east of this great nation, temperatures can actually drop to -95F. In the west, things are nearly so dire – winter might only drop to -22F (!), with occasional warm spurts in past years reaching 50F.
50F isn't so bad. But the rest? Yikes.
By the time New Year's Eve comes, Russians are ready to break up the monotony with a blast of soul-warming comfort food. Major.
Everyone tells me New Year's Eve in Russia wouldn't be complete without a scoop of Olivier Salad (and the same goes for weddings, Christmas, and just about any other festive occasion). It's the "go to."
And by New Year's Eve, I mean both of them.
There's the classic December 31/January 1 New Year's Eve. Then, two weeks later is round two, a.k.a. "Old New Year's Eve" on January 14th, which hails from the Orthodox calendar.
P.S. Between the two? Russian Christmas falls on January 6th.
Don't think of it as complicated. Think of it as bonus Russian fun.
P.P.S. January 6 is also a time one could choose to go swimming, if one wanted to extend the festivities past the frozen surface.
Brrr.
The fact that this salad grips so tightly onto Russian hearts and holidays is amazing. After all, the potato has only been actively cultivated there since the mid-19th century.
Of course, I'm a fan of anything potato. And why not? From what I can tell, potato salad is an epic world traveler. These last couple of years I've found versions everywhere, from the Dutch Potato Salad with apples, New Zealand's version with bacon and sweet potatoes, and the Pacific version with bananas and sweet potatoes. Today's mega Russian version is loaded up with carrots, eggs, peas, pickles, and ham.
Doesn't that cover the four food groups? This calls for a squiggly straw.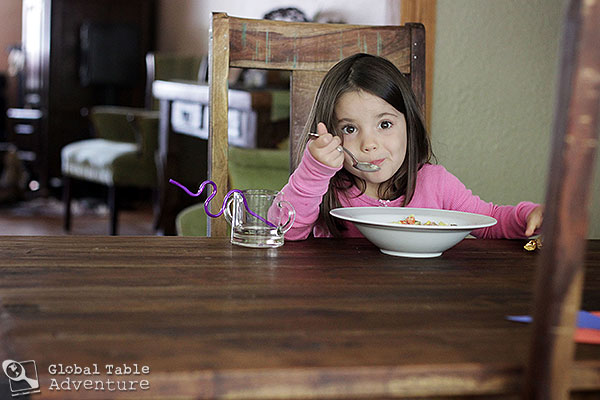 By the way, I read that some Russians like to call Olivier Salad a "Party Pillow" … a.k.a. a sweet, soft spot for those who can't hold their liquor. Good to know.  Good to know.
Makes about a gallon (serves 12+)
Ingredients:
4 yukon gold potatoes, boiled, peeled, then cubed (about 2 lbs)
3 large carrots, boiled, peeled, then cubed
4 hard boiled eggs, chopped
1 can peas (about 2 cups)
3 dill pickles, diced
1 lb diced ham or chicken
mayonnaise, to taste (probably need 1 – 1 1/2 cups)
salt & pepper
Method:
Let's find a sunny, snowy corner of Russia for our kitchen.  Let the glow and crunching snow inspire.
While breathing in the cool shimmer, cook all of the ingredients until just tender (if they get overdone they won't hold their shape)
– Hard boil the eggs (bring to a boil, remove from heat and cover for 17 minutes)
– Boil the potatoes (boil 20-25 minutes, or until an inserted knife slides in easily)
– large carrots (boil about 10-15 minutes)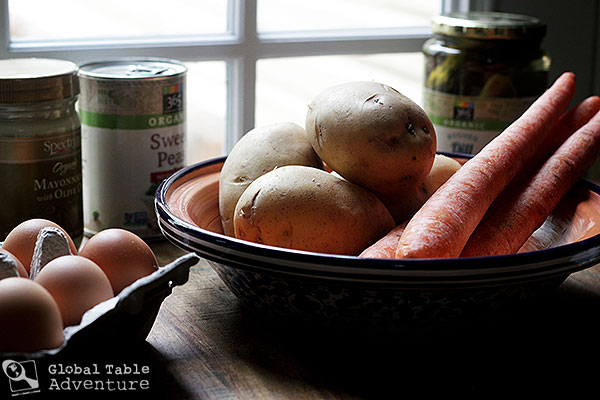 Peel everything, then dice into neat little cubes.
Toss with a rainbow of peas, pickles, ham, salt, and pepper.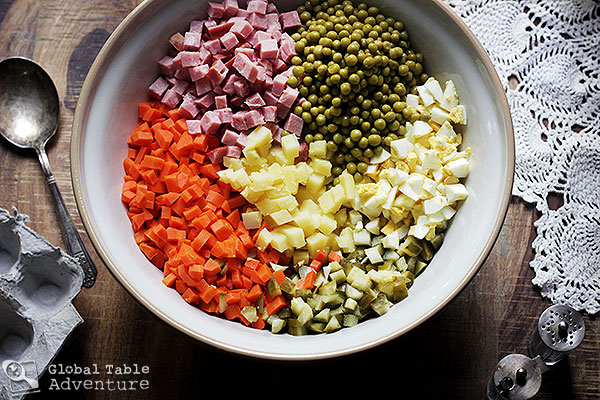 Mix with a couple of happy scoops of mayo. P.S.The salad keeps best without mayo, so only add mayo to the bit you'll be eating.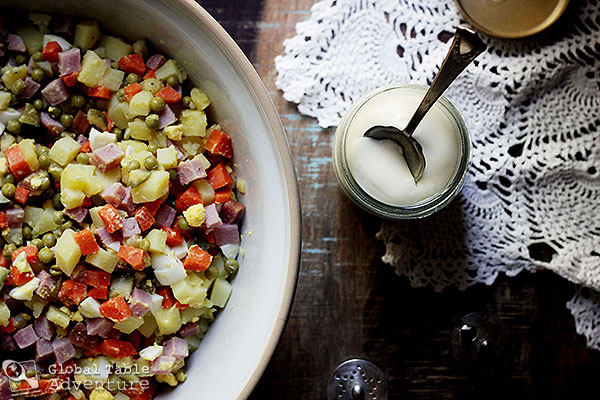 Delicious.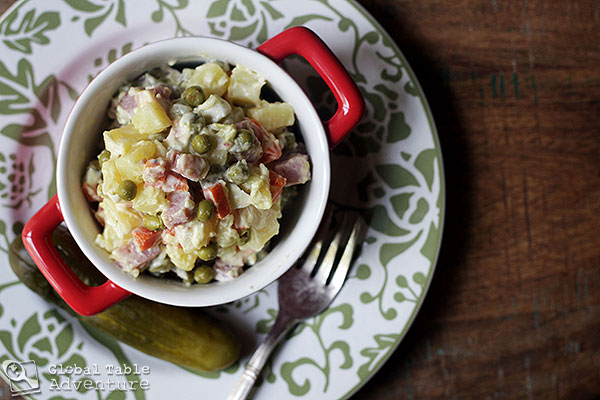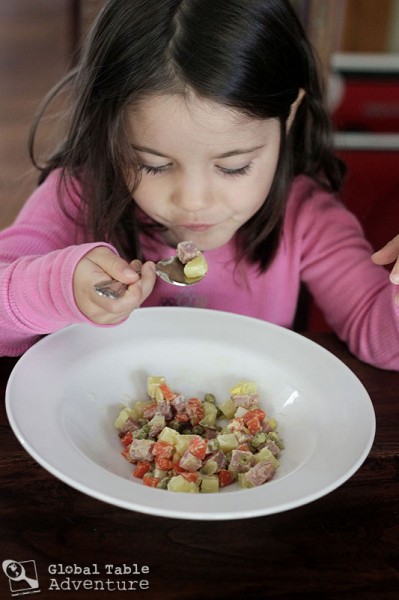 Especially those bits of ham.
Enjoy in the glow of Russian winter.
Shimmer on, my friends. Shimmer on.