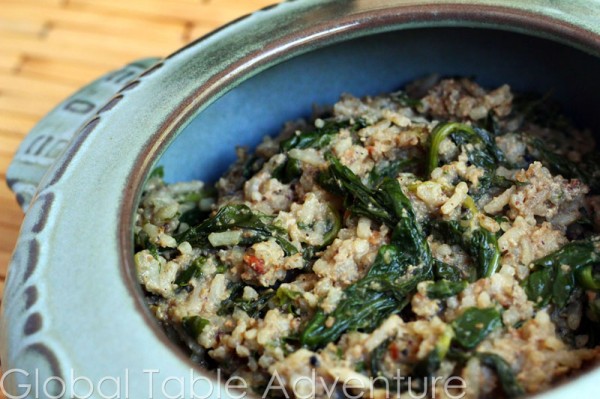 If you enjoy the flavor of funky blue cheese, dried or smoked fish, and bitter greens, then Babenda is for you!
I know. I'm asking a lot.
Although we might be a select group of people with such accommodating palates, this one pot meal is a common staple in Burkina Faso. Babenda is like a jazz orchestra in the mouth, making wild taste sensations and pungent high notes meander whimsically through mouth and home.
Ingredient Overview:
The Greens:
Any bitter greens can be used for Babenda, including spinach, kale, swiss chard, or mustard greens. Of these, swiss chard is the mildest. If you use a more intensely bitter green (like kale), Burkinabe traditionally add a dash of potash (or baking soda) to mellow the flavor out.
Soumbala:
Soumbala (also called dawadawa) is fermented locust bean. I found it frozen at a Tropical market in Tulsa. The dark brown bean smells like a sharp blue cheese and, just like blue cheese, will make your mouth tingle.
Dried Fish:
Dried fish are readily available in Burkina Faso, including sardines and dried anchovies. They add protein and a strong, briney flavor to the food. I found dried anchovies at the same Tropical market in Tulsa.
Ingredients:
1 bunch spinach
1/4 cup peanuts
1-3 dried sardines or smoked anchovies
1/3 cup soumbala, heaping (or 3 balls)
1/2 cup white rice
1 1/2 cups water
Method:
1. Clean and trim 1 bunch spinach.
You want to break off the root end (see right hand), leaving just the leaves and as much stem as you tolerate (see left hand). You can save the root end for stock or compost 🙂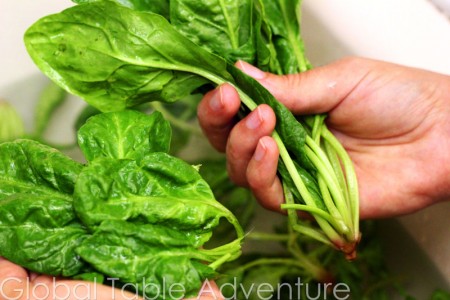 2. In a food processor, puree together peanuts, dried sardines, and soumbala.
Peanut pieces are much cheaper than whole peanuts, so I buy them in bulk for cooking.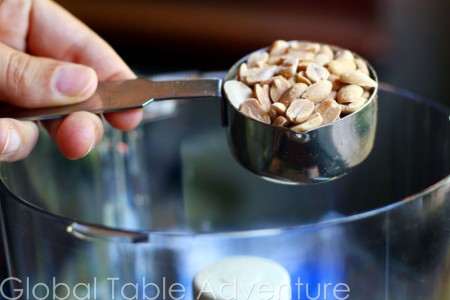 I couldn't find dried sardines, so I used smoked anchovies.
You can't tell from the picture, but I was telling Keith to "hurry up and take it already."
He took his sweet time, relishing the sight of me squirming about with the fishies.
I shouldn't have been so squeamish. I've filleted fish. I've boned a lamb shank (all at the Culinary Institute of America). But dried fish are on a whole other level.
I guess that's what this Adventure is for.
Hello little guys. Let's get acquainted!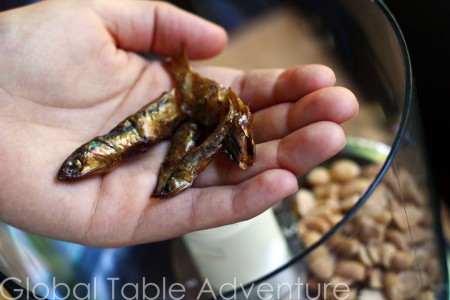 Here's the soumbala. It was frozen and I put it in the food processor that way with no problems. I really enjoyed this, despite the strong odor. But, then again, I love anything fermented – stinky cheese, wine, bread,…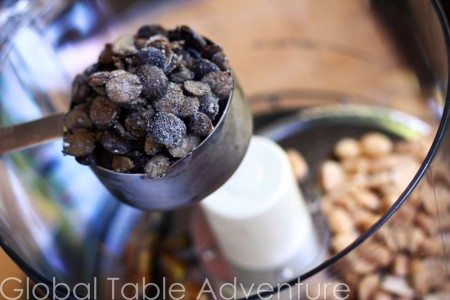 Puree until the mixture looks like coarse sand. Or fine gravel.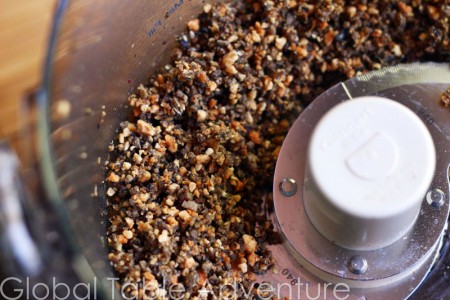 3. Add 1/2 cup white rice and process another 20 seconds.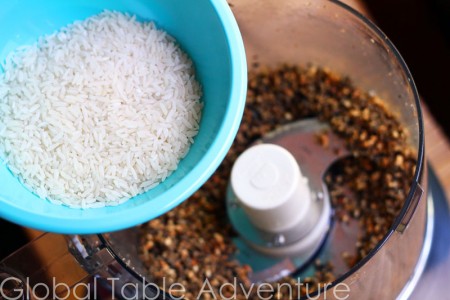 Some of the rice will break into smaller pieces which will contribute to the the characteristic gelatinous texture of the final dish.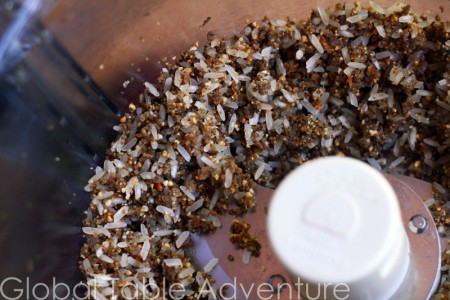 4. Add all ingredients (including spinach) to large pot with water. Simmer, covered.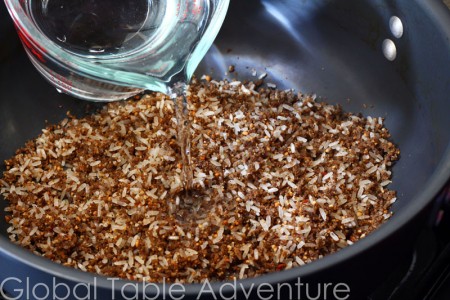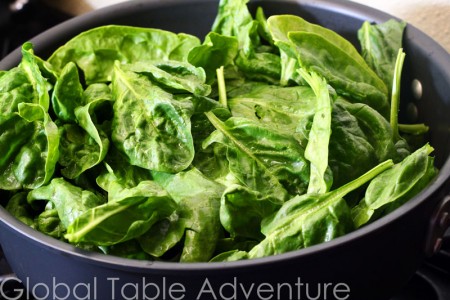 After about 15 minutes, give everything a stir to mix the spinach in.
Doesn't look too hot yet. Don't worry.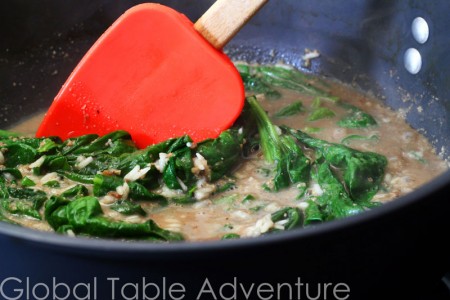 Simmer another 15 minutes.
The rice will have absorbed all the water, making for a pasty mass of spinach and rice.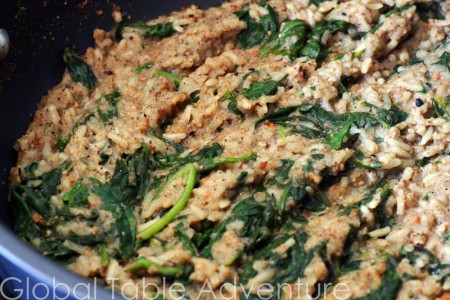 Serve immediately, with a confident smile.
This recipe was fascinating! Thank you Burkina Faso 🙂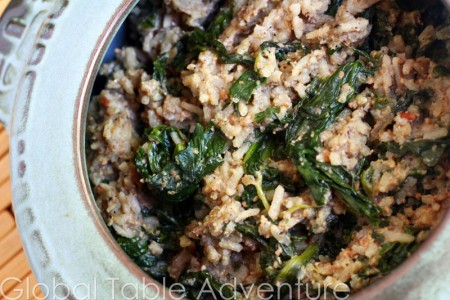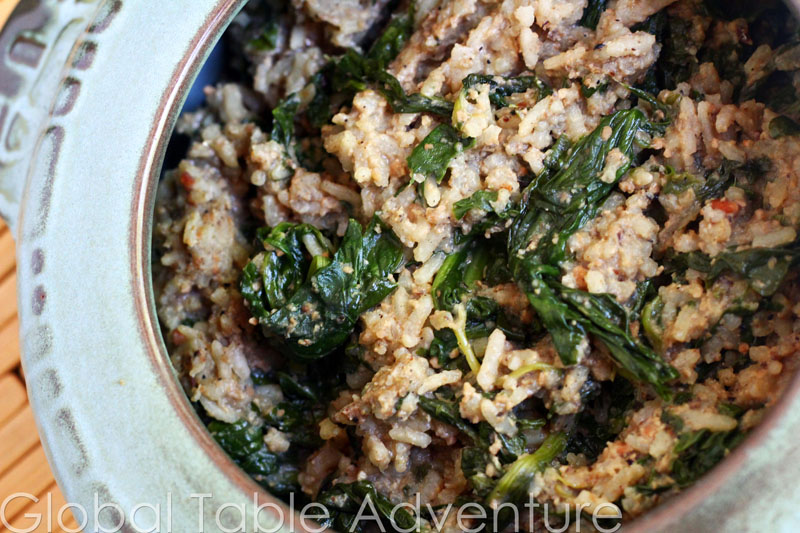 Special Thanks to Jeannette M. who helped clarify my rusty translation from the French. Without her, I very well might have thought this was a beverage. Ok. Not really. But thank you Jeannette for suggesting what greens to use. Your time and cheerful assistance made my adaptation a success !