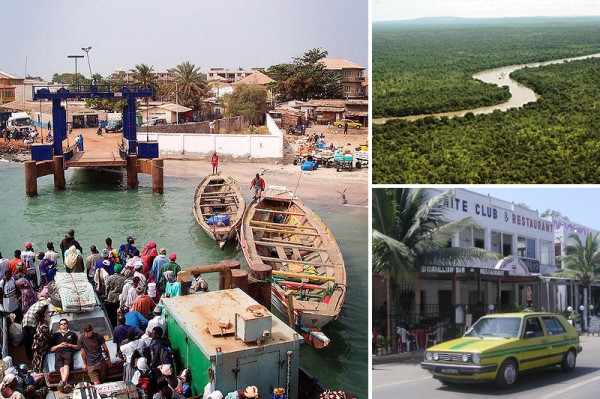 This week we're cooking The Gambia.
Not Gambia. The Gambia. I like that. It has presence. Has power. Did you know Facebook was originally The Facebook? It's true. I saw it in the movie "Social Network."
Edited to add: It's THE Social Network. I sort of love that I made this error while writing about THE Gambia.
So, back to The Gambia. Despite her grandiose name, this country is teeny tiny – the smallest country in Africa – 30 miles wide at it's widest. She looks rather like a wiggly worm inching into the continents western coastline, divided by the Gambia river and dividing Senegal.
Thanks to the river's fresh waters, Gambia has bountiful produce and abundant fishing.
Staples are fairly typical of Western Africa – peanuts, peppers, tomatoes, green onions (called mandinka) and more exotic fare like fermented locust beans (do you remember these funky, blue-cheese tasting tidbits, from when we cooked Babenda? [Recipe] Ah, memories.) Well, much like Burkina Faso, people from The Gambia also enjoy bitter greens cooked with strong flavors, especially peanut butter [Recipe].
There must be far fewer upset tummies in The Gambia because fresh ginger root is  everywhere. Grated and ground, you can slurp it up in spicy, cold drinks (rather like extra strong, flat ginger ale) [Recipe], or mixed with custard and fruit – like tropical, sweet mango [Recipe].
Photos: Steve Shaw, CIA World Factbook,  Ikiwaner, Atamari