A daydream worth dreaming
Cobblestone alleys flanked by weathered walls. Hilltop churches. Sunlight warm on fig trees and grapevines.  This is the Emilia-Romagna region of Italy.
Deep in the cellars there's Parmesan, balsamic, and prosciutto aging. They slumber in the dim recesses, the nuttiness and salt growing bolder, rounder. Waiting for the perfect moment to shine.
Waiting to become the perfect bite.
And by perfect I don't mean fancy.
I mean perfectly un-fussed.

The Art of Un-fussing
When it comes to entertaining, I constantly have to remind myself to un-fuss.
My friends don't have fancy expectations – they want laughter.
No one minds if elbows are on the table,  as long as there's a drink in every hand.
And when it comes to food? The simpler the better.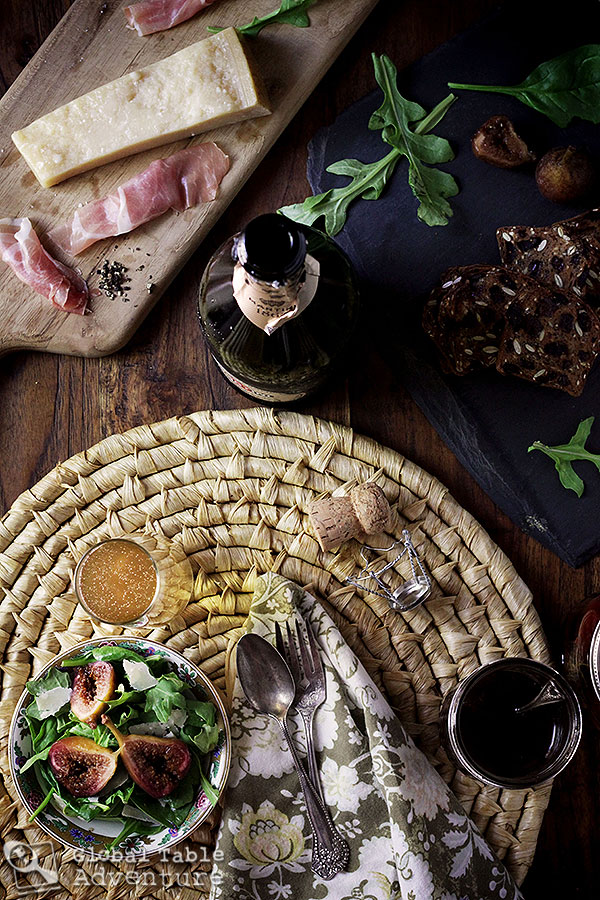 The perfect bite
I could take a lesson from the Emilia-Romagna region of Italy. There, antipasto is a way of life.
Antipasto is the embodiment of the pefect, unfussed bite: A leathery bit of dried fruit or the sweet squish of fresh fruit. A pluck of cheese and a shaving of meat. Some sort of soft pickled thing and a crispy crust.
In Emilia-Romagna, even the most ordinary antipasti are laden with the best of their local harvest  – figs wrapped in prosciutto, perhaps some microgreens, a drizzle of balsamic on a hunk of Parmesan. 

Place it on a board, call it a day. Something for everyone. 
The magic of Balsamic
This week Whole Journeys, Whole Food Market's amazing new travel division, challenged me to pickle something incredible with balsamic vinegar from Modena, a province of Emilia Romagna… to help bring in the summery goodness of Emilia-Romagna to light.
What an honor! And what fun!!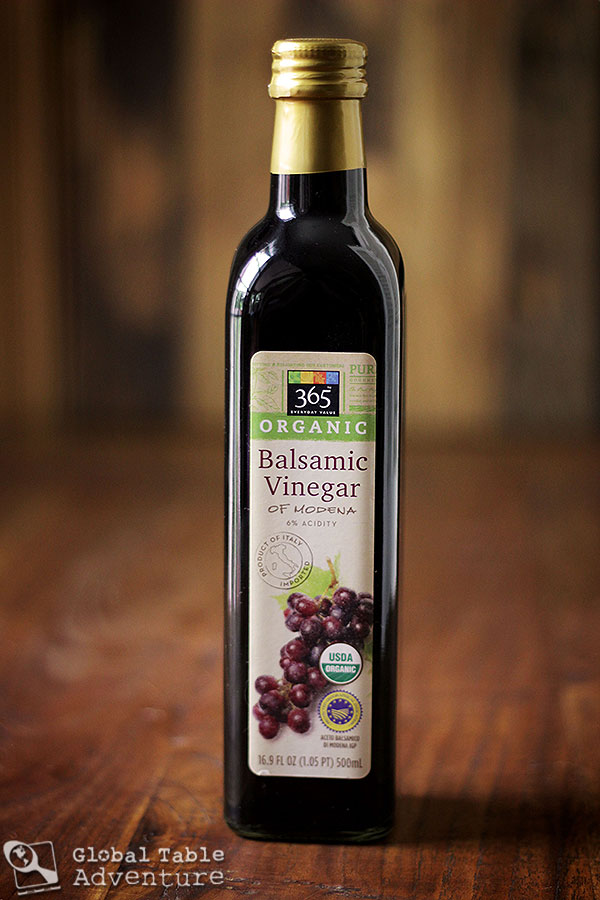 Whole Journeys is all about lo-key tours centered around the ingredients Whole Foods Market sources, in the countries where they source them. Think bicycle rides through the Italian country side, exploring markets and farms …all while cooking and tasting the best ingredients. And, of course, they have a tour of Emilia-Romagna coming up this fall, featuring local wines, step-by-step making of balsamic vinegar, Parmigiano-Reggiano, and Proscuitto di Parma.
I immediately knew what I had to do: marry the most beautiful ingredients in the region with Homemade Balsamic Figs.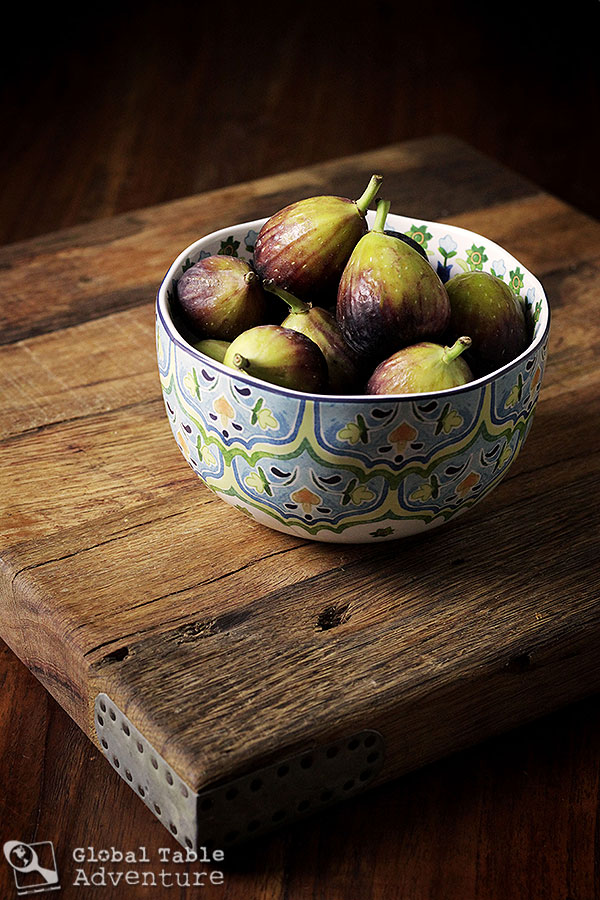 A seasonal delight
For the Whole Journeys challenge I picked up a pound of fresh Brown Figs, making sure the fruit was heavy and the skin velvety. Figs are in season right now – tender, mildly sweet bites of summer. 
A few nicks here and there told me the skin was fragile – one telltale sign of ripeness. Still – they figs should be fairly firm so as to not fall apart when pickled.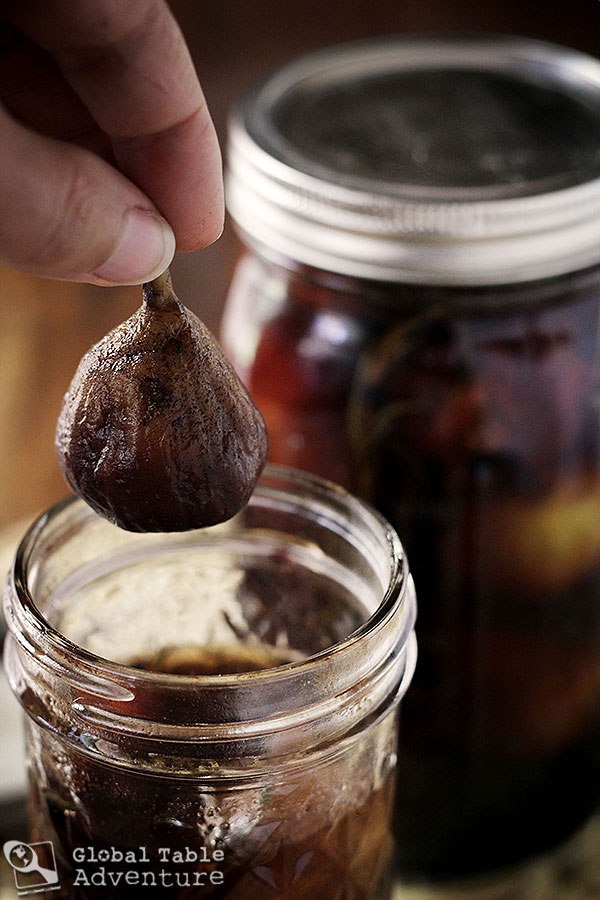 After a quick boil in honey and a pucker of balsamic vinegar, the figs find the perfect sweet/tart balance. But it's the rosemary and thyme infusion that makes the figs and their thin syrup hum… a fresh, earthy note, as though they were plucked from the trees moments ago.
And darned if I can't shut my eyes when I'm eating them and imagine myself in Italy.

What to do with pickled figs

Antipasto-inspired Salad: fill a platter with peppery leaves of arugula. Top with shaved parmesan, rolls of proscuitto, cracked black pepper, and slices of pickled figs. Fresh strawberries are a bonus. Drizzle with pickling liquid and olive oil. You can see my rendition on Instagram.
Snacks: As the weeks go by, the ripest figs will soften into the pickling liquid. Smash them on a cracker or over a salty piece of Parmesan.
Hostess Gift: Have a friend that loves figs or balsamic vinegar?  A small jar of pickled figs will wow them. Bonus? Bring some on the antipasto salad to share (and convince them of the figs' winning flavor), then give your friend their own jar as a parting gift.
Sweet Balsamic Fig Salad Dressing: 

The leftover pickling liquid can be used to make the most divine salad dressing. Just add olive oil and season with salt and fresh cracked pepper!

Prosecco Mixer: Add a drizzle of the honey-infused pickling liquid to a cold, bubbly glass of Prosecco. This treatment is inspired by the folks in Emilia-Romagna who add straight balsamic to their glasses. Ah-mazing.

THE GIVEAWAY
UPDATE: Congratulations to reader, Kelly D.! After running everyone through Random.org, she's our lucky winner! Send me an email to claim your gift certificate, Kelly
I invite you to capture the essence of Emilia-Romagna yourself… especially the art of un-fussing your feasts. To help with this, one lucky winner will get a $50 Whole Foods Shopping Spree to create the un-fussed antipasto of their dreams… thanks to the generosity of Whole Journeys.
How to win:
1. Leave a comment on this page and tell me how you un-fuss your feasts – especially how you keep entertaining simple during the summer.
2. Share this post on your favorite social media (Facebook, Pinterest, Instagram, or Twitter) and link to it in your comment for an extra entry.
3. That's it!
The contest runs through Wednesday, July 16, 2014. A winner will be chosen at random the next day.

Balsamic Pickled Figs with Fresh Herbs & Honey
Recipe inspired by Food & Wine.
Ingredients:
One quart canning jar OR three to four 1/2 pint canning jars with lids and rings
1 1/4 cups honey
2 cups water
3/4 cup balsamic vinegar
1  pound small firm-but-ripe fresh brown figs (18-20)
1 teaspoon black peppercorns
a sprig rosemary and/or thyme per jar
Method:
Sterilize the jars and tongs.
Prepare jars, lids, and tongs by running through the sterilize setting on the dishwasher or covering them with water and boiling for 10 minutes. Do not remove from sanitized pot or dishwasher until needed.

Cook the figs
Place the  honey, water, and balsamic vinegar in a pot ad bring to a boil. Add the figs, simmer 1-2 minutes, and remove from heat.
Jar & season the figs
Divide the figs evenly among the jars with sterile tongs. Cover with cooking liquid (leave about 1/4 inch at the top of the jar). Divide the peppercorns and herbs between jars. Attach lids.
Tip: If there's any extra cooking liquid, save it as the base for a fantastic salad dressing!
Cook the figs again
Boil a large pot with water. Place the sealed jars in the pot, completely submerging them. Start a timer and boil this way for about 10 minutes. Let rest in the hot water about five minutes, then remove with tongs and let cool at room temperature.
Check the seal
The next day make sure each lid is sealed (there should be no flex up or down when you push down on the lid (same as with a tamper proof lid). Store in a cool, dry and dark place for up to 12 months. Tip: If jars have not sealed refrigerate immediately and eat them up within a week.
Enjoy!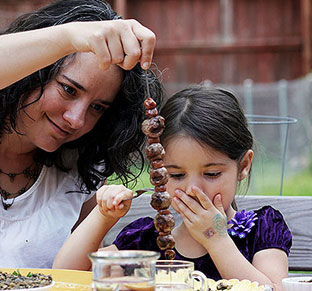 Hungry for more?
Be notified when National Geographic releases my memoir.
Simply fill in your details below.