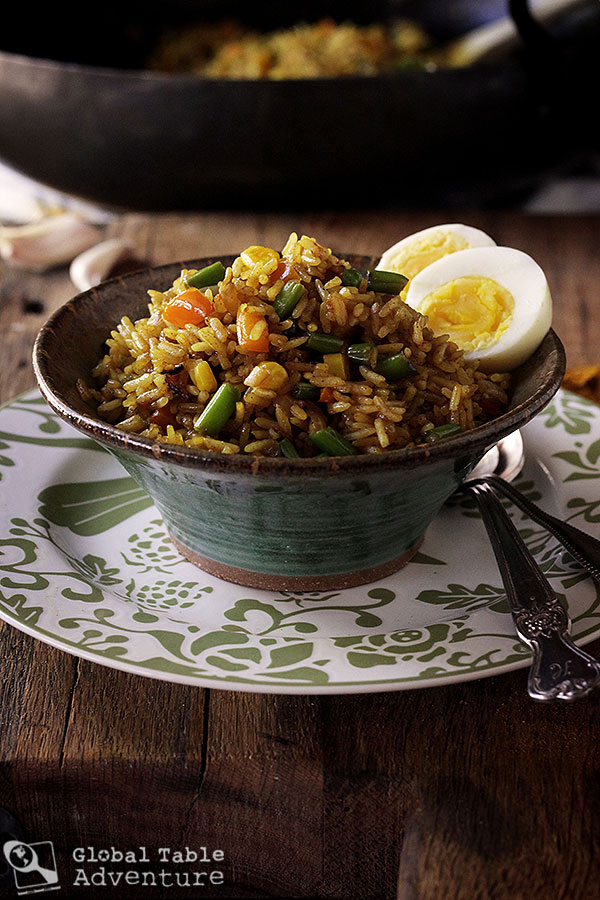 This Shall Not Die
In Yoruba culture, in southwestern Nigeria and Southern Benin, the naming of babies is of the utmost importance – one that the Yoruba people believe will help determine their child's future – their fate. That's how a baby might come to be named Kokumo, or "This Shall Not Die."
I'll be honest, the first time I imagined a baby with the word "die" in their name, I got the chills.
But Kokuma is an optimistic, prayerful name. A wish for their child's well-being – not some morbid statement.
Today, in honor of international Name Yourself Day (April 8) I'd like to explore if we can find such power in our names – whether or not where we end up in life can be manifest through clear and purposeful intention repeated like mantra, with something as basic as our very own names.
If it is true, then the meaning and sentiment of our names can have a big influence on who we are and what we do with our lives. So we should choose them – even if just for one day – wisely.
Does your name define you?
You all know me as Sasha, but I was born Musashi.
That's right – when I was a little baby my legal name was the same as the famed Japanese Samurai from the 1600's who wrote The Book of Five Rings.  Musashi is the Asian equivalent of a knight in shining armor – full of proper warrior etiquette, sage advice, and centuries of public admiration. He believed martial arts was – at it's core – about mastery of the mind. The man never lost a battle, including the first he fought at age 13. He was fierce.
Funny name for a girl who cooks the world for peace, right?
I used to think so. But today I love my warrior name.
In fact, I believe we're all warriors.
What are you fighting for?
We're all fighting for something – some people fight to give people access clean water, some people fight for stability in their personal lives, some people fight to make sure we get our taxes sent in on time.
But these aren't the real fights.
There's a deeper fight in each of these actions. A fight to be loved, acknowledged, cared for. A fight to feel useful, to matter, to help.
This is the deeper fight that drives us.
It becomes our passion, heart, motivation.
My deeper fight
For me, the battle is for peace. Inner and outer. Of the heart and of the mind. Because of various circumstances out of my control – many of which occurred when I was a child – I'm hungry for peace.
At the risk of sounding like a plastic figurine – knowing what drives me is, indeed, half the battle. It allows me to move forward, heal, and even find a meaningful calling (cooking for peace – so others can know peace, too).
The first step to a life fulfilled is to know what we're battling. Once we figure out we can get down to the business of enjoying ourselves and our brief time on this planet. We can get down to living and loving.
A Call for Fancy Names
Perhaps your name is filled with similar meaning for you. Or perhaps your name doesn't seem to fit your personality.
Perhaps it's your nickname that tells the bigger story.
People called "Chief," "Buddy," "Sunshine"  – we instantly understand a sliver of their character.
My name was legally changed to Sasha eventually. As beautiful as the name Sasha is, none of my friends ever came up with a nickname for me. 
When my daughter was born I inadvertently gave her a short name, too – Ava. As far as I know, there are no nicknames for Ava. I suppose I overlooked this detail because the name "Ava" sounded so lovely – so unusual. Turns out I was wrong. Whenever we go to a fair or other crowded venue, we inevitably hear a couple of parents call out Ava.
Our Ava whips her head around, confused.
Frustrated with the lack of nicknames for her short name, we gave her what I like to call a Fancy Name.
Avalon.
Avalon is the place where King Arthur's sword Exclibur is forged, where he goes to heal, where the ground sprouts up grapes, apples, and grass – a bounty that needs no cultivation. In the spirit of the Yoruba tradition, Ava's fancy name is filled with creativity and spirit and a touch of magic. It is filled with intention.
Plus, we can call out "Avalon" in crowded places and she's the only one who turns her head.
I wonder if this name will somehow come to play in her later life the way Musashi has in mine.
Name Yourself
So, this Name Yourself Day, invite you to choose a fun name or nickname for yourself – maybe just for today, maybe forever. Perhaps the name will catch on with your friends… perhaps they'll even join the fun.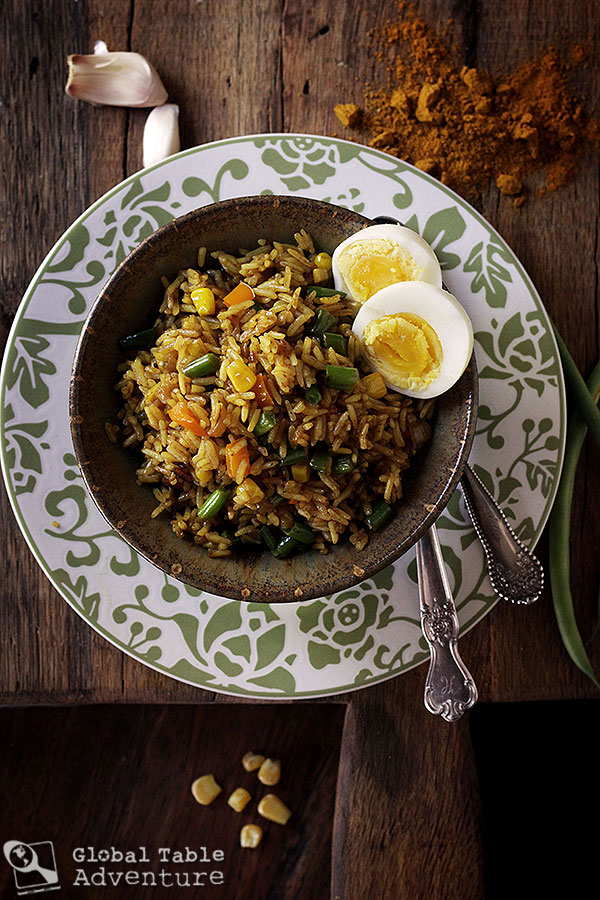 To commemorate the moment, I invite you to celebrate with the Nigerian Fried Rice – a bowl of sunshine thanks to a happy heaping of curry powder. The yellow rice smacks of savory fried onion and garlic, and loads of veggies (almost any will do – I've seen some recipes that use peas and carrots along with what I've included).
Bottom line: my house smelled amazing while I was cooking.
The secret (actually, very typical) West African ingredient is a dose of bouillon cubes which add salt and savory goodness.
Serving suggestions: Nigerian Fried Rice goes great with hard-boiled eggs or Beef/Shrimp Suya. (We made that back when we cooked Nigeria). If you want to make a meal of only the rice, try adding a hefty dose of chopped cow liver or shrimp to the recipe – this would be a very traditional way to amp up the volume.
Serves 4
Ingredients:
1 1/2 cups white rice
1 1/2 cups water
2-3 Tbsp vegetable oil or butter
1 onion, chopped
2 cloves garlic, chopped or crushed
1 Tbsp curry powder
2 cubes chicken or other stock
1 red, orange, or yellow pepper, chopped
8 ounces green beans, chopped in small pieces
1/2 cup corn kernels
Method: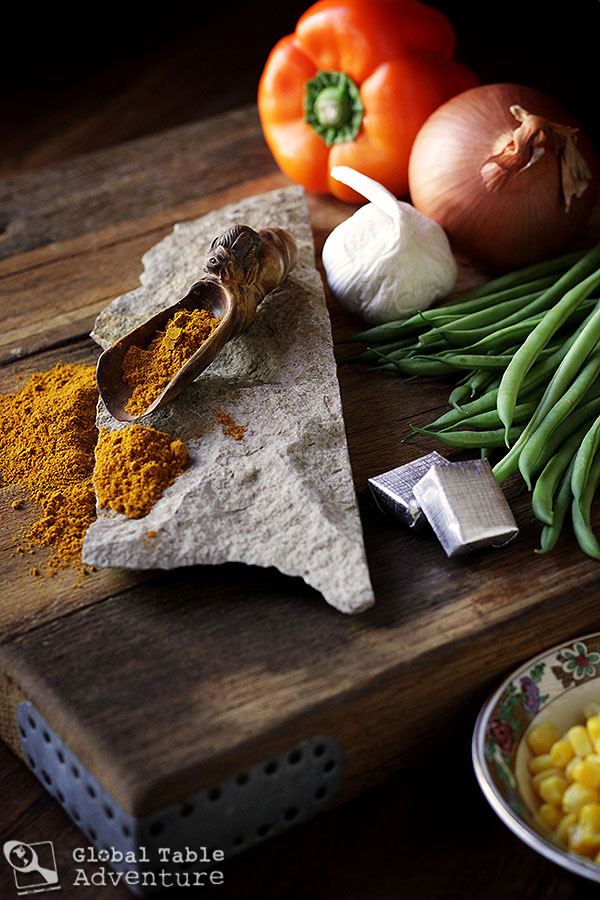 Rinse the rice several times under running water  until the water is clear. This will help keep the grains from sticking together later,when they're fried. Drain well. 
Add the wet rice along with 1 1/2 cups water. Bring to a boil over high heat, reduce heat to low, cover, and simmer until all the water is absorbed (about 16 minutes).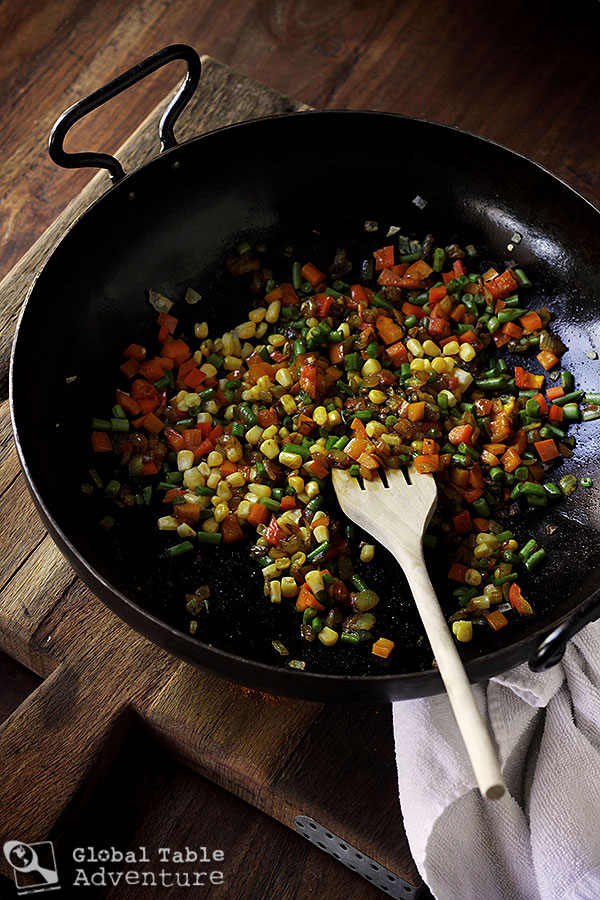 Meanwhile, add the vegetable oil to large wok over medium-high heat. Cook onion until translucent, then add garlic, curry, and bouillon cube. Cook a minute until fragrant, then toss in the diced pepper, diced green beans and corn.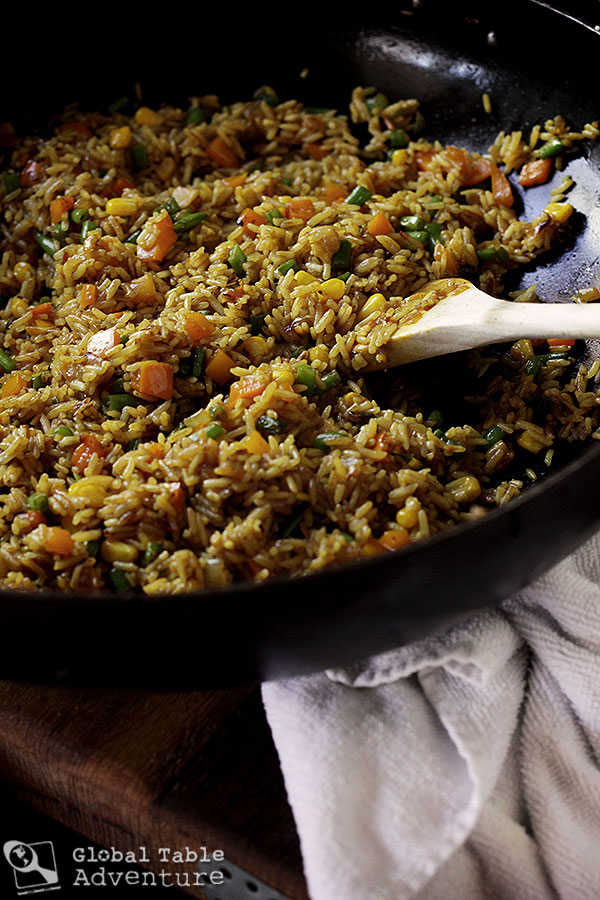 Add on rice with an extra tbsp of oil, if needed. Stir fry until rice and all vegetables are cooked through. Enjoy immediately!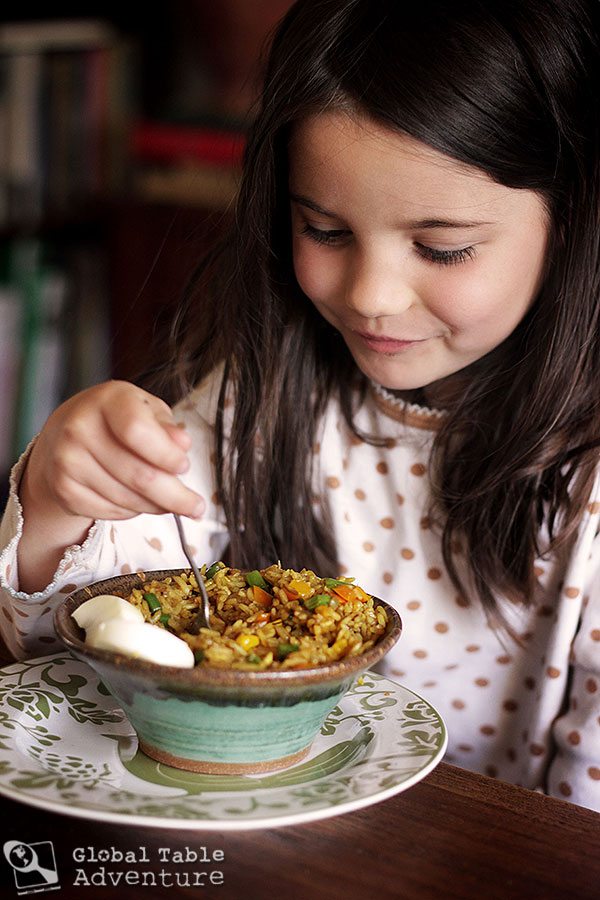 P.S. Be sure to add in the comments what your name means, if you think it has an effect on you, and if you could name yourself any other name – even just for today – what that name would be.
P.P.S. Happy Name Day!