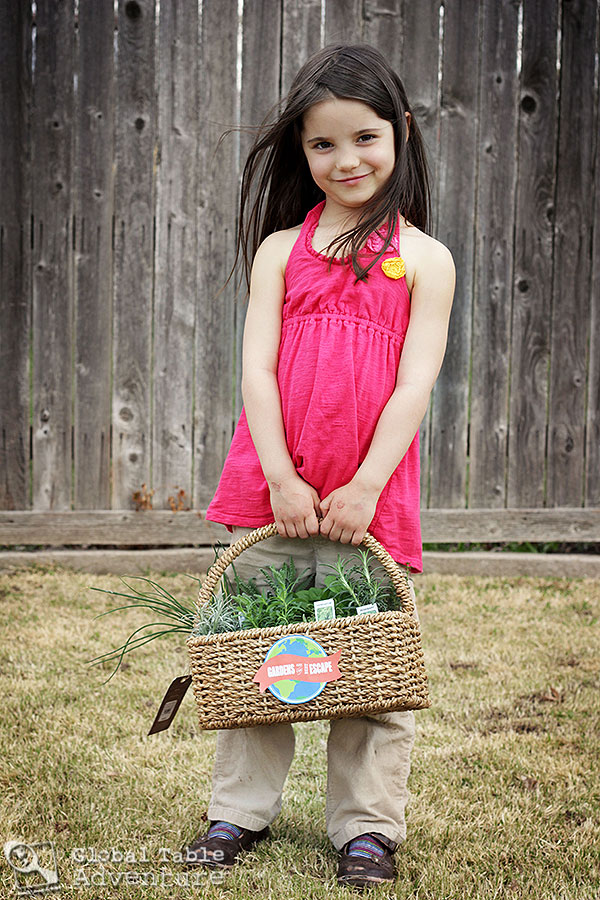 I'm already Gone
Herbs are heaven. A few clippings of lemongrass into a pot of pho, some rosemary in a ball of bread dough, or  a sprinkling of cilantro over rice and I'm transported to another place entirely. Another continent.
I don't even have to eat the herbs – I can shut my eyes and breathe in their aroma and … ahhhh… I'm already gone.
It doesn't help that I've been digging in the garden for these last couple of weeks… early spring is my favorite time of year because anything is possible. Everything is about to take off and grow!
A world of flavor
Imagine giving your friends an herb starter plant from every continent so they can experience some of the edible, craveable bounty the world has to offer? Whenever they take clippings of those herbs and add them to their meals they'll be eating their way around the world –  an easy way to make their lives a little happier and tastier.
Yes, there are herbs from every continent. At the end of this post I share a partial list of those herbs to help take the guess work out of your shopping trip.
But first let's talk about why potted herbs are a great gift.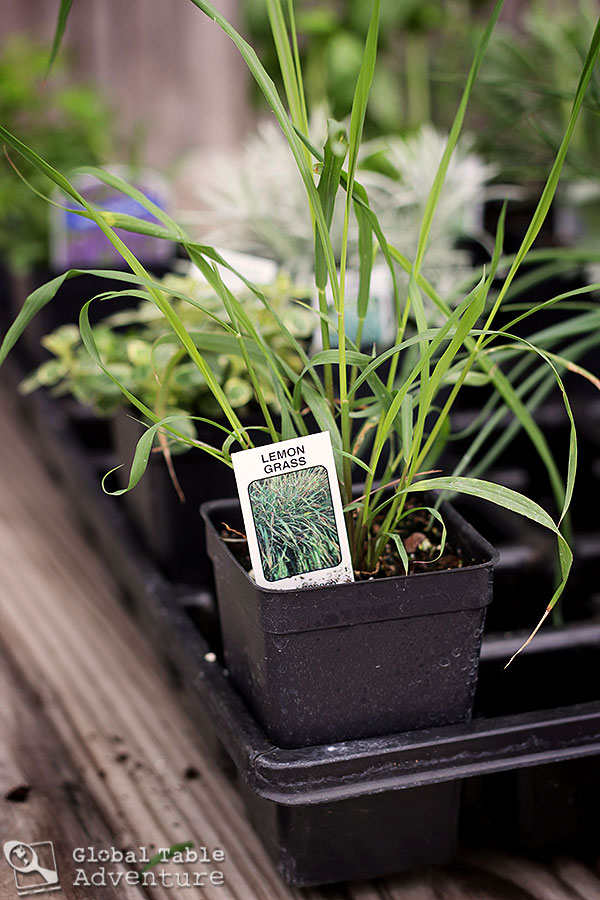 The gift of flavor
Herbs are fantastic gifts because they keep giving throughout the growing season and there's no clutter involved. By the end of the year your loved one will have eaten them all up! Give herbs for a no-fuss housewarming gift, when a friend invites you over for dinner as a host/hostess gift, as a thank you (maybe for your child's favorite teacher?), or even for mother's day/fathers day.
Best of all, many herbs will last several years when cared for properly.
Case in point: After 2 years my tiny lavender starter was a full-blown shrub. Every time I brushed by those silvery leaves on my way in the front door, their fragrance made me smile. Shortly thereafter, lavender became the scent of home for my entire family.
THE GIFT IDEAS
1. Mapped Starter Plant
For a personalized thank you or hostess gift, try wrapping a potted basil starter in an old map of Italy, or lemongrass in a map of Thailand. A small detail like this makes a simple gift quite special. Consider including a recipe that uses the herb to tie it all in together.
If you don't have any maps, check out your local flea market or thrift shop. The thrift shops around  me aren't allowed to sell atlases or magazines because they could be out of date.
The upside? They may be willing to give them to you for free! My neighborhood thrift store gave me a couple of discards and I now have over-sized atlases I can cut up and use for craft projects.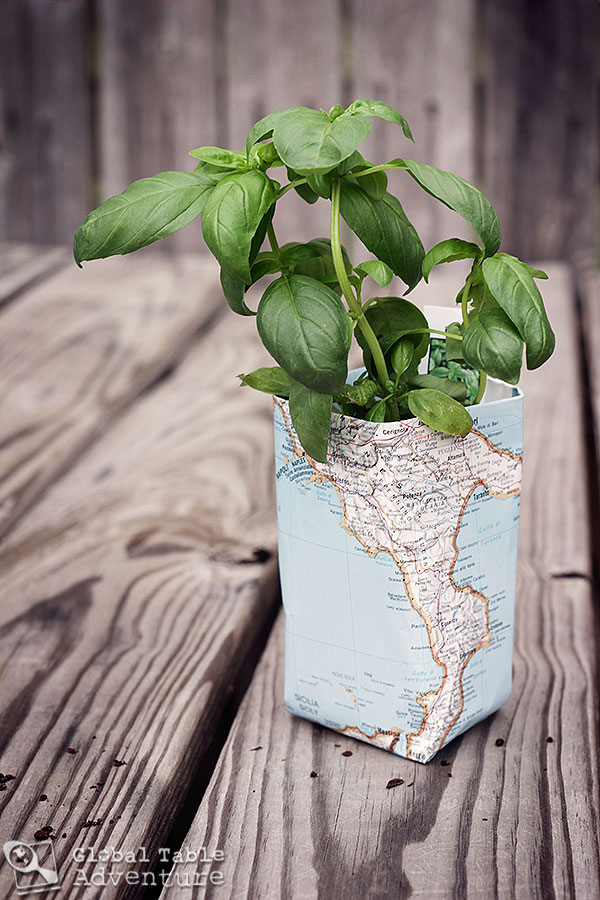 Create this look:
Cut a piece of map that fits around the starter pot (I like to make it 2″ taller than the pot). Fold the top edge over to create a nice edge.  Roll it around the pot and use tape or hot glue to seal the seams. Fold the bottom like a Christmas present and seal.
Resources:
1 Starter Plant $1.99-2.99/ea.
1 Up-cycled map (Free)
List of Herbs by Continent (Free – just keep scrolling!)
2. Bamboo Fruit Basket
For just a little more investment, try gifting several herbs in a fruit basket your beloved can reuse for years to come. This two-layered bamboo basket is a wonderful addition to any kitchen. I use mine to hold apples, oranges, bananas and other larger fruits in the bottom. I put limes, lemons, and other small fruit in the top. I think it would be particularly cute with an assortment of Asian herbs (hence the lemongrass on top!).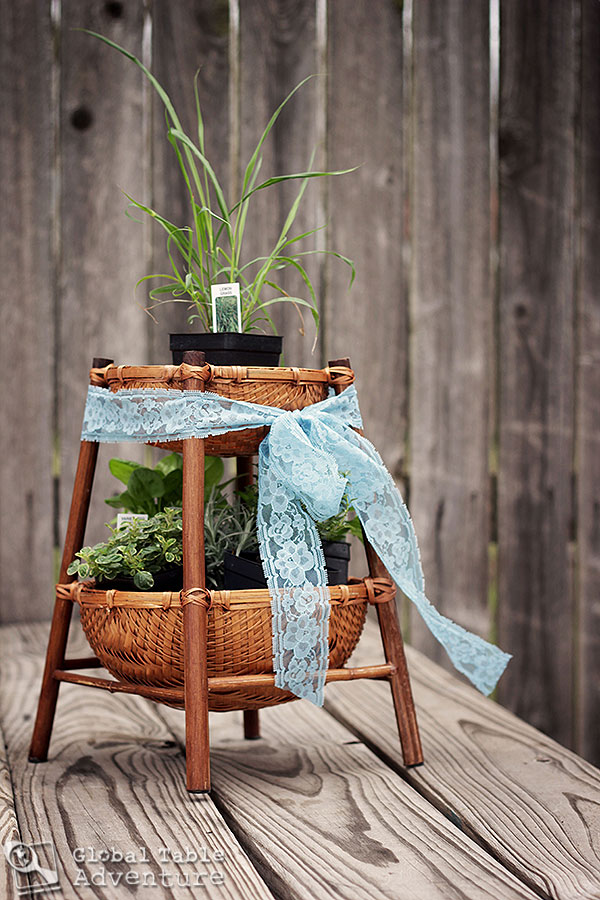 Create this look:
Tuck as many herb starters into a fruit basket as you can muster.  Try filling it with Asian herbs such as lemongrass, cilantro, lemon balm, and mint. Put the tallest herb on top. To make the gift festive, tie a ribbon around the basket – use sewing scraps (like a soft piece of blue lace) for a shabby-chic vibe.
Resources:
Bamboo 2-tier $14.95 (Pier One)
About 6 Starter Plants $1.99-2.99/ea.
1 Up-cycled ribbon or trimming scrap (Free)
List of Herbs by Continent (Free Inspiration – Just keep scrolling!)
3. Galvanized Kitchen Tote
This tote holds 4 starter plants and gives the recipient a fun gift to use when they harvest their herbs for backyard feasts. The tote is designed to hold everything from silverware to napkins or condiments. The chalkboard front provides an adorable spot to write a happy housewarming message – or maybe you'd rather draw them a silly picture!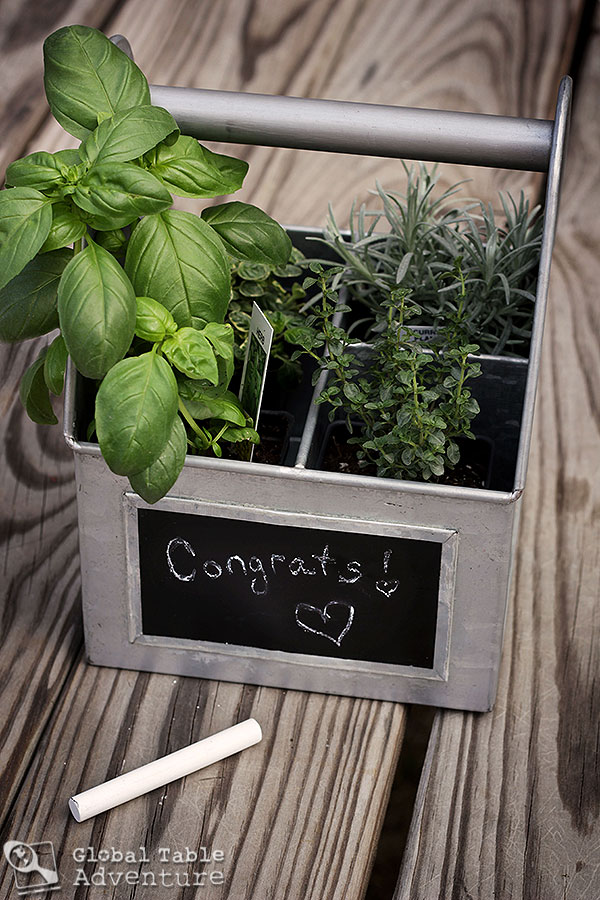 Create this look:
Plunk 4 starter herbs into the tote. Write a cute message on the side. Voila! You're done!
Resources:
Galvanized Caddy $29.50 (Pottery Barn)
4 Starter Plants $1.99-2.99/ea.
Chalk $2.54 (Amazon)
List of Herbs by Continent (Free Inspiration – Just keep scrolling!)
3. Woven Seagrass Kitchen Tote 

Like the galvanized caddy above, this kitchen tote can hold silverware, napkins, and other miscellaneous goods to simplify outdoor dining. This one has four large dividers that easily hold 8, 2.5-inch starter plants.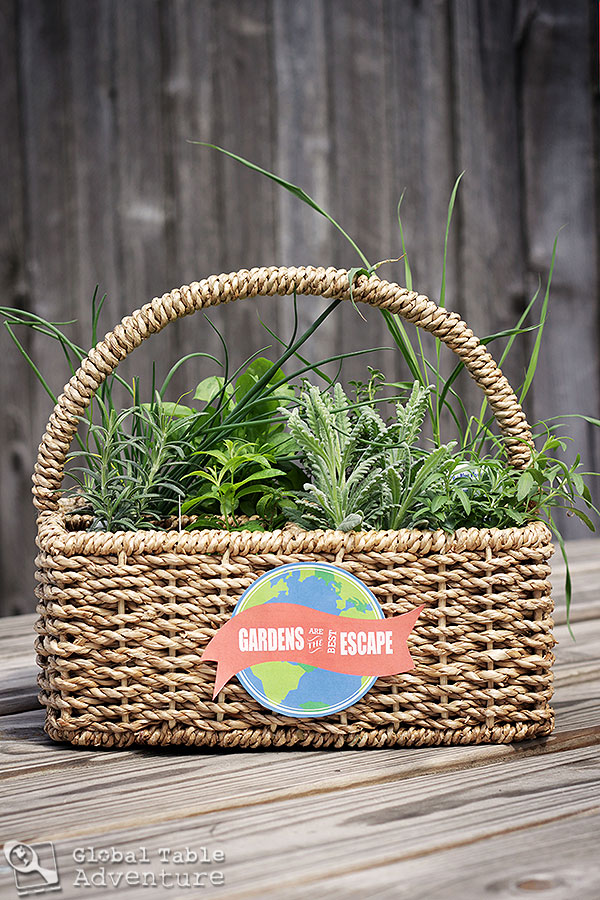 Create this look:
Pick out 8 herbs. For a truly Global experience, choose 2 herbs each from three continents, and 1 herb from the remaining two continents. Place them in the four basket compartments (be sure to use some tissue or foil on the bottom to protect the basket from bits of dirt). Decorate with a handmade or printed tag (see below to download the ones I made).
Resources:
Woven Seagrass Collection – Cultery Caddy – $49.95 (Williams Sonoma)
8 Starter Herbs – $1.99-2.99/ea.
Printable Gift Tags – $0.99 (Etsy Instant Download)
List of Herbs by Continent (Free Inspiration – Just keep scrolling!)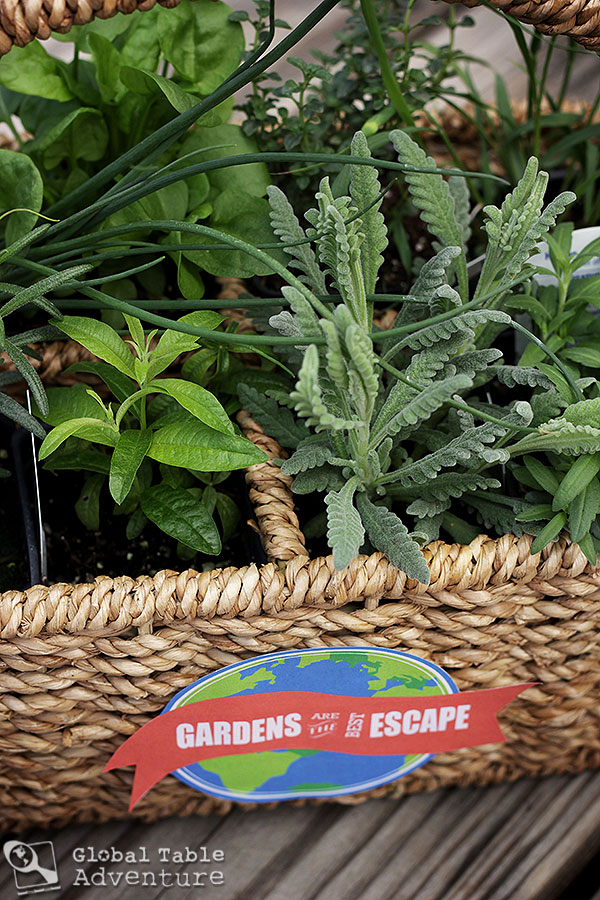 4.  Serving Wheelbarrow
Anything you find that is cute, reminds you of your friend, and you think they can use – try it out. Just bring a ruler with you and make sure at least one 2.5-inch herb planter will fit inside. I found this functional wheelbarrow at Pottery Barn – they sell it for holding fruits and vegetables. Cute!
While this might not be for everyone, I think it'd be fantastic for an avid gardener (especially if that gardener loves quirky serving vessels).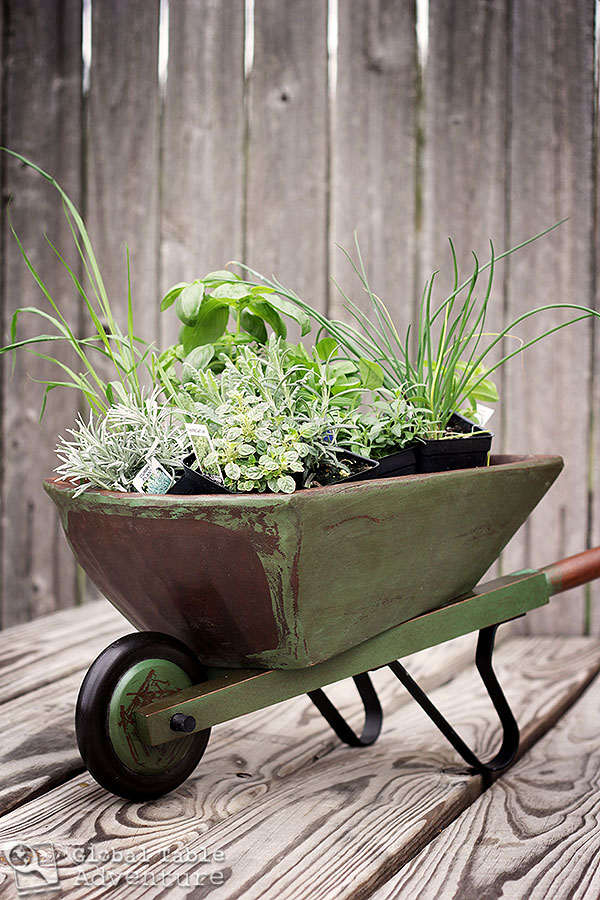 (Remember there's no need to stick to the brand names: Flea markets are well-known for many unexpected and delightful finds. Dig around and you might find something in line with your friend's tastes)
To finish off the look, tuck in some tissue and one of my custom labels.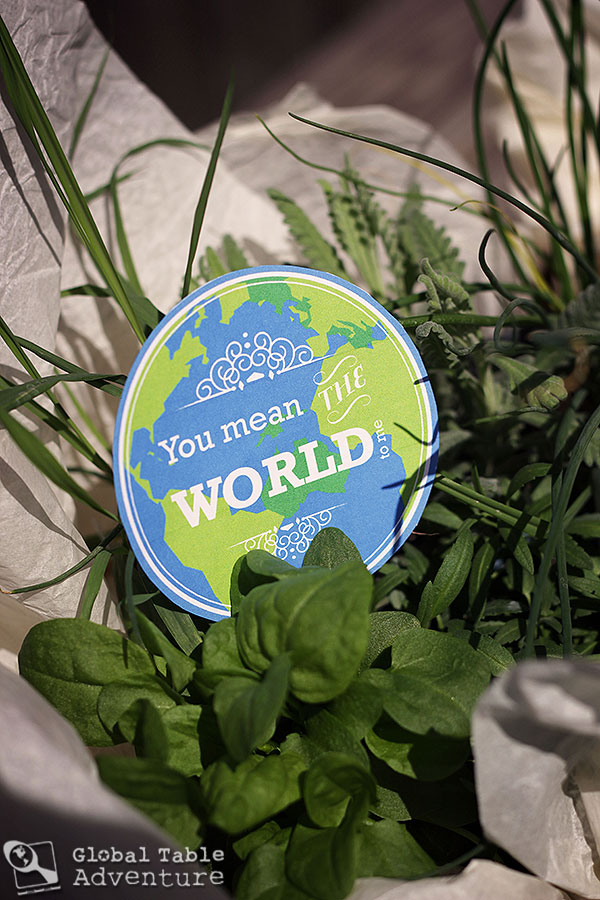 To create this look:
No matter what vessel you find, add some tissue around the potted herbs to help anchor them and give them festive flair. Also, print off a pretty gift tag, cut it out, glue or tape it to a Popsicle stick, and press it into the dirt. Super cute!
Resources:
Wooden Wheelbarrow Serving Bowl – $78.99 (Pottery Barn)
6-8 Starter Herbs – $1.99-2.99/ea.
Printable Gift Tags – $0.99 (Etsy Instant Download)
Tissue Paper – varies
1 Popsicle stick – varies
List of Herbs by Continent (Free Inspiration)
A little behind the scenes: At any given moment it is safe to assume there is a cat and/or child just out of frame.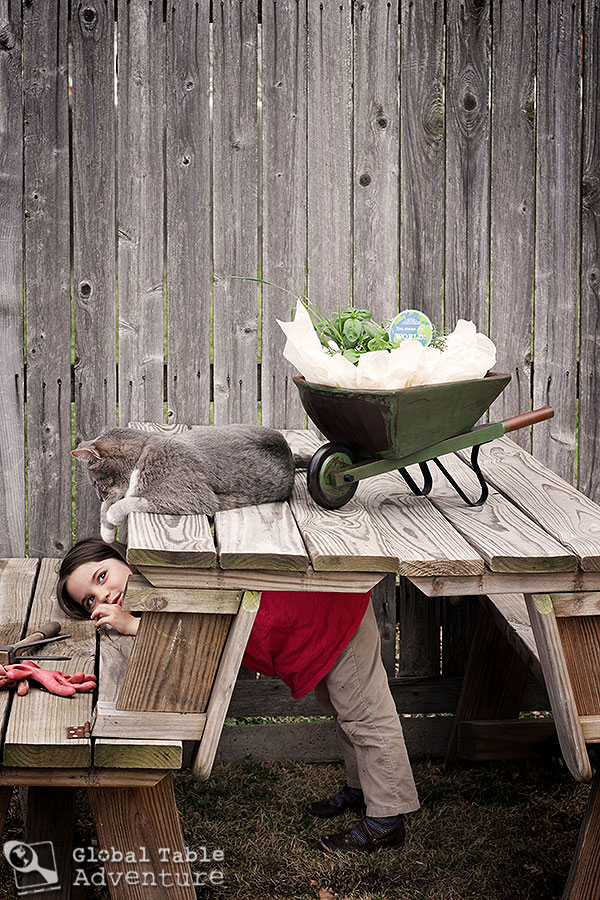 These are just a few ideas for gardening gift baskets … perhaps something else will strike your fancy.
I found adorable things everywhere!
Case in point: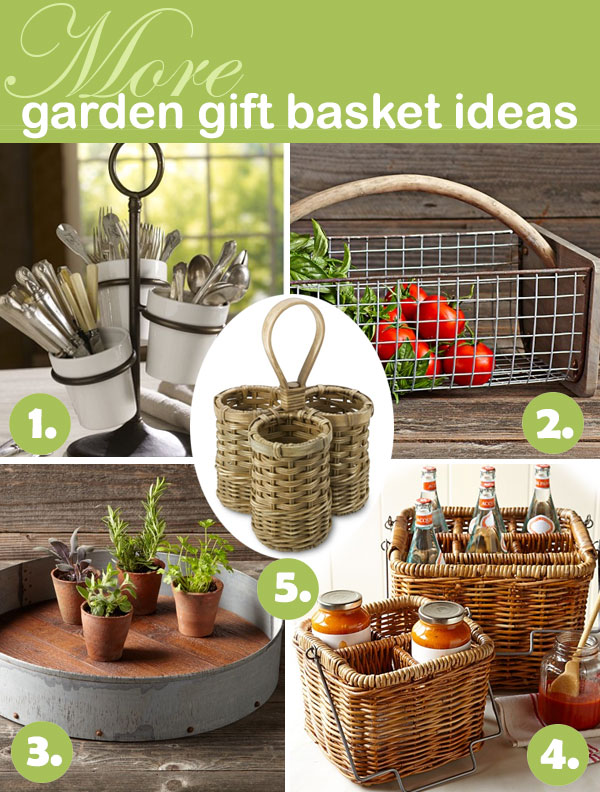 1. Rhodes Utensil Caddy I think I'd fill this one with seed packets. Cute, cute, cute.
2. Gathering Basket This one isn't for the kitchen but it'll definitely bring your food there. Ah-dorable.
3. Vintage Galvanized Herb Caddy Great way to move plants in and out of the sun – or inside in anticipation of a frost advisory. 
4. Woven Caddy for bottles, jars, etc.
At the time I wrote this, these were on sale!
5. Double Weave Rattan Flatware Caddy – just right to gift three little potted herbs.
List of Herbs by Continent (Free Inspiration)
There are herbs everywhere, on every continent … so no matter if you're creating a basket all from one continent or from multiple continents, you'll find what you need here to simplify the decision making while also creating a nice assortment.
Important Disclaimer: Some of these plants – or parts of the plants – may be classified as toxic. Also, there are multiple plants with similar names, some of which may be edible and some of which may be toxic. If you are unsure whether a plant is edible, be cautious about eating any plant part – and always ask the advice of your local nursery. Even well-known food plants such as rhubarb and potatoes can be poisonous if eaten raw. If children or pets can access your garden, take extra care with plant selection.
Herbs rooted in North America
Bay
Bergamont/Bee Balm (Native American)
Chives
Cilantro (Coriander)
Cinnamon Basil (Mexico)
Claytonia (winter purslane)
Mugwort
Marigold
Mexican Oregano
Mint (Anise Hyssop)
Parsley
Rosemary
Sassafras (Native American tea)
Herbs rooted in South America
Cilantro (Coriander)
Lemon Verbena (Native to Chile & Argentina)
Parsley
Herbs rooted in Europe
Angelica (Scandinavia & Russia)
Bay
Catnip
Chevril (southern Russia, Caucasus, SE Europe)
Chives
Cilantro (Coriander)
Dill (Mediteranean, Russia)
Fennel
Lavender
Lemon Balm
Lovage
Marjoram
Marigold
Mint
Mugwort
Orach
Oregano
Parsley
Rosemary
Sweet Cicely
Sweet Basil (Genoese Basil)
Sorrel
Sage
Savory
Thyme
Wild Celery
Herbs rooted in Asia
Basil/Thai Basil/Purple Basil
Cilantro (Coriander)
Dill (Western Asia)
Hyssop
Lemon Balm
Lovage
Marjoram
Mint (Korean Mint, A. rugosa) S
Mugwort
Orach
Perilla
Rau Ram (Vietnamese Mint)
Rice Paddy Herb
Sorrel
Syrian Oregano
Tarragon (Siberia/Western Asia)
Vietnamese Balm
Herbs rooted in Africa
African Blue Basil
Cilantro (Coriander)
Hyssop
Lemongrass (used to make tea)
Moroccan Mint/Spearmint
Myrtle
Savory
Thyme
Herbs rooted in Oceania
Climbing maidenhair fern (external medicinal uses)
Green Perilla
Red Perilla
Phyllanthus niruri (Stonebreaker) (medicinal)
What am I missing? Leave a comment with more of your favorite herbs and where they're from.  I'd love to hear from you! We can all learn together.