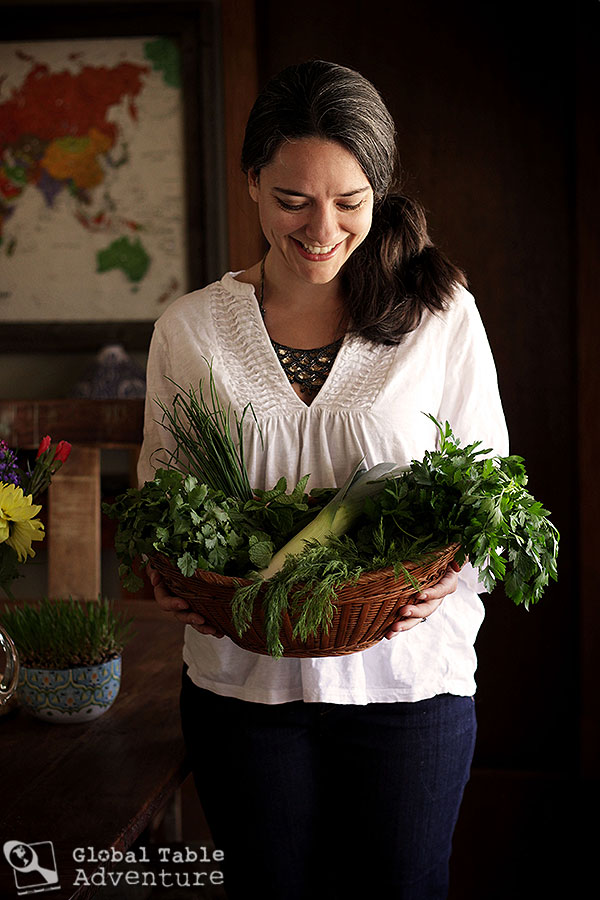 The first picnic of the year is a thing of beauty: tender daffodils and hyacinths poking through last season's dusty, yellowed grass. Herbs getting bushy and fragrant. The air is cool, but the sun is warm. If you're looking for an excuse to get outside and celebrate, you're in luck: the Persian New Year, known as Nowruz, is the time to do it.
But before you scope out a sunny patch of grass, there are a few things you should know.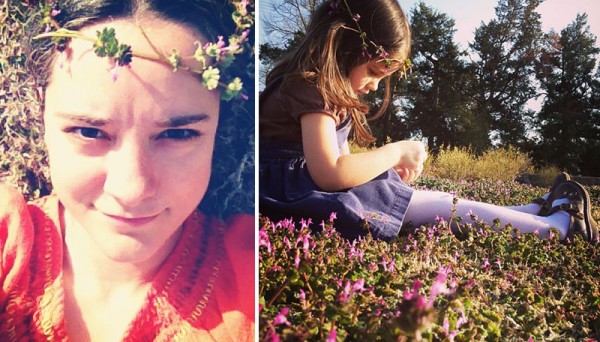 Why Nowruz?
Sure, you could just plunk down a blanket and pull out a pb&j sandwich, but there's a reason people have been celebrating Nowruz for centuries, all over Iran, Afghanistan, India, Armenia, Azerbaijan, Georgia, Iraq, Kazakhstan, Pakistan, Kyrgyzstan, Russia, Syria, Tajikistan, Turkey, Turkmenistan, China, and Uzbekistan.
Nowruz is FUN.  This is more than a picnic – this is a mega picnic – full of ULTIMATE meaning and all kinds of joy.
What's the big deal?
Nowruz means "new light," which is the kind of giddy statement people make after a long, dark winter:
"Yay! The sun is finally out!"

or

"I'm doing my happy dance because it's not pitch black out when I'm eating dinner! Hurrah!"
Suitably, Nowruz coincides with the Vernal Equinox, when the day and night last the same length of time. From this point onward, the days just get longer and longer.
What does this mean for you? More time to run barefoot in the grass!
This is more than a quick-and-dirty holiday. The celebration lasts 12 days surrounding the Vernal Equinox plus a thirteenth day – this year on March 20th. Each day signifies one of the 12 months of the year (there are even corresponding constellations for each month). The thirteenth is the big conclusion of the celebration – and that picnic you've been waiting for.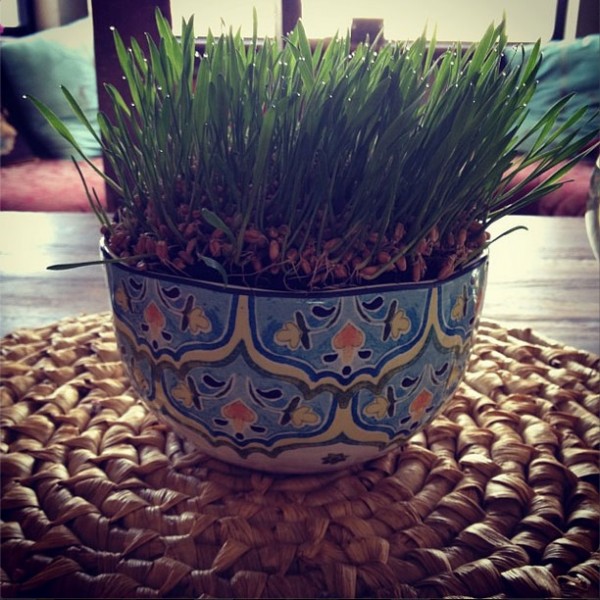 Days 1-12

:
To really enjoy a picnic, I need to relax. And I can't relax if I haven't done my chores. Persians know this all-too well. The first 12 days of Nowruz is the prep time you'll need to completely relax on that soft, sunny blanket. Try one or more of these typical pastimes to get the most out of the holiday:
"S"ymbolic Spread. Somewhere in your house create a "Haft-Seen."  This is a table topped with dishes that begin with the letter "S" in Persian. The most important is "Sabzeh" or wheat germ, which is sprouted and grown in decorative pots.  There's also sumac (the tart spice, for the color the sunrise), garlic (for medicine), apples (for beauty), and vinegar (for patience). Don't forget the flowers – especially hyacinths. Easy – no cooking!
"Hello!" Take your children visit their elders (aunts, uncles, and grandparents) – have them bring along a bouquet of spring flowers. This Persian tradition is an adorable way to connect generations.  (Don't have children? You can still bring a beloved friend or family member flowers). Traditionally, the elders will greet you with a bountiful spread of sherbet, baklava, and other treats on their Haft-Seen. Yum – and, again, no cooking!
Clear out the old. This one's my favorite. Everyone cleans house. This isn't just a regular dusting and sorting – this is a genuine effort to put life in order by getting rid of the clutter that holds us back from the life we are meant t live. It's a spiritual cleaning, full of intention.  It's the notion that what we surround ourselves with matters. i.e. Do I really need five empty picture frames "just in case"? What about that book I bought 15 years ago and I still haven't read? (both items I donated in the spirit of Nowruz).
Fire-hopper. Build small fires in a safe area and … jump over them! This is to "get over" any fears or ill-luck for the new year. This guy clearly has no fear.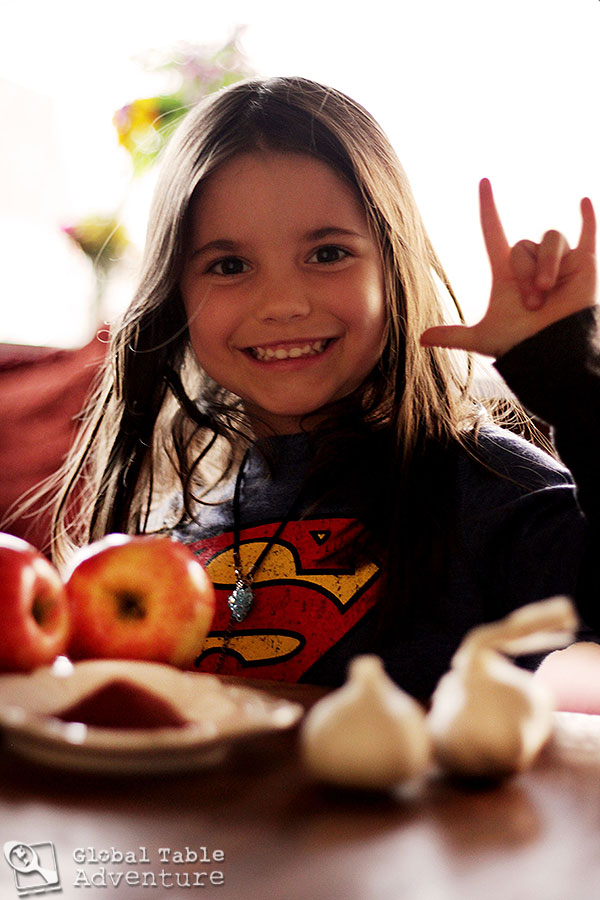 Day 13

: (Sizdah Bedar)
So the cleaning is done. And the wheat grass is getting tall.  Today is (finally) the day for the big, outdoor picnic.  You earned it!
On the thirteenth day, Persians set order aside and have fun outdoors. New clothes are worn. The sprouts are symbolically thrown in the water. And a green menu is prepared.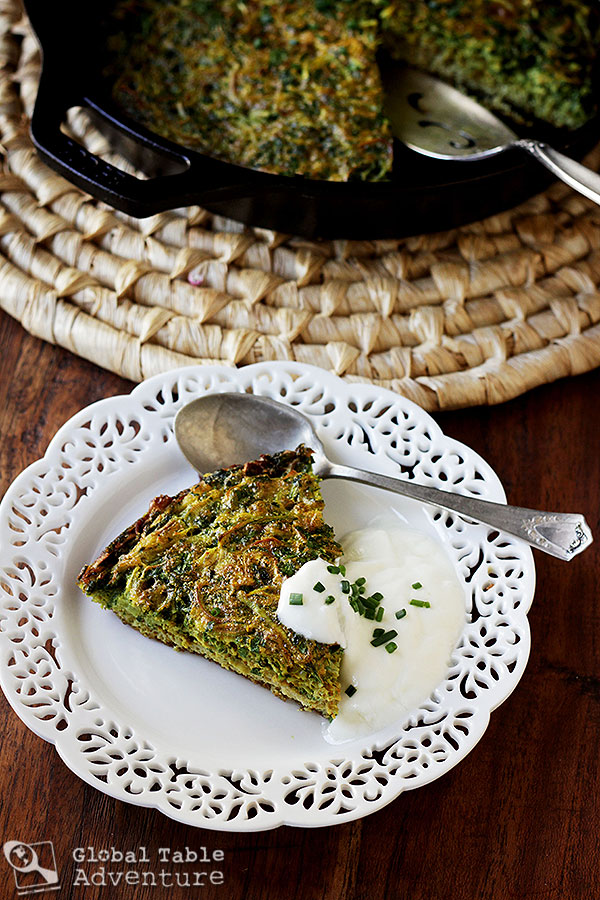 Wait, what? 
That's right – a green menu. In keeping with the spring theme of Nowruz, the abundance of fresh herbs is shared in dishes like rice pilaf with fried fish, noodle soups, or egg fritata (called kuku). These dishes are recognized as restorative foods of life. Saffron tea might wash the meal down.
To make saffron tea, pour boiling water over a small pinch of saffron threads and a cardamom pod. Steep about three minutes. Serve hot with honey.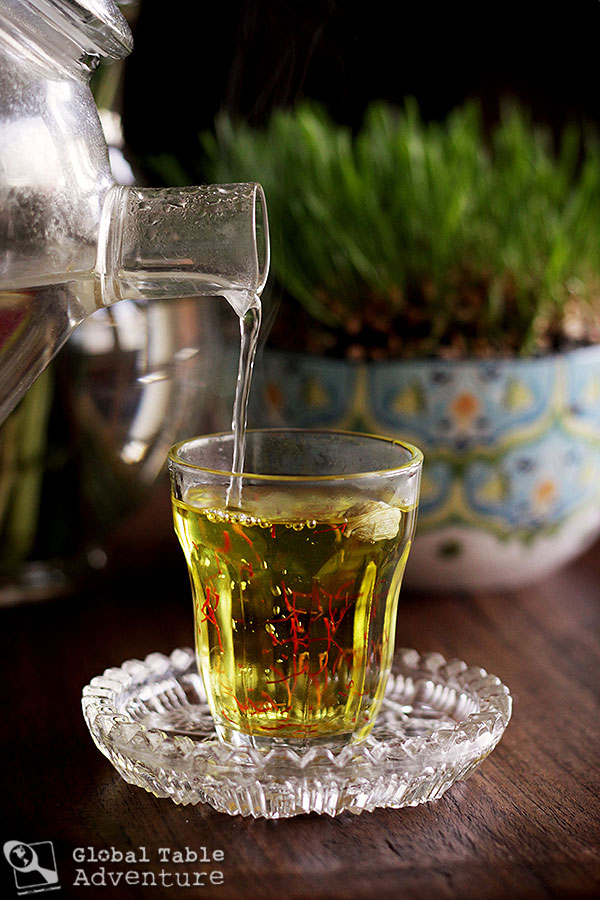 But my favorite is the KuKu, or omelet, loaded with the fresh flavor of nearly a half dozen herbs, golden turmeric, and a touch of cardamom. No one herb dominates the flavor (just ask my cilantro loathing husband – he loved this kuku, and had no idea there was cilantro in it!). That being said, feel free to try different combinations of herbs – the only rule is to add enough to make the kuku green!
Kuku is delicious at room temperature. Perfect for nibbling on that blanket, while daydreaming about youe clean house and all those happy family gatherings you just had!
Herb and Leek Kuku
Ingredients:
6 eggs
1 Tablespoon flour
1 teaspoon baking powder
1 teaspoon turmeric
1/4 teaspoon cardamom
salt & pepper
herbs:
1/4 cup chopped cilantro
1/4 cup chopped dill
1/4 cup chopped parsley
1/4 cup chopped chives
1 small leek, white part only, sliced thinly
4 Tbsp ghee or canola oil, for frying
garnish with dried or fresh barberries, pomegranate seeds, walnuts, yogurt and/or more fresh herbs
Method:
Place 4 Tbsp of ghee in a cast iron skillet or 9-inch pie dish and place it in the oven while it preheats to 350F.
In a large bowl, mix all the ingredients except for the ghee and garnish.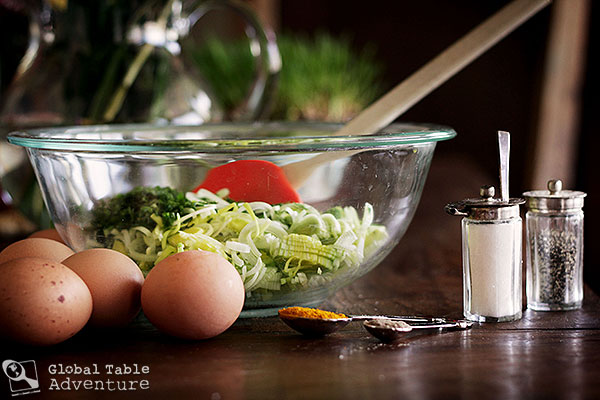 Pour into the skillet and bake for 30-35 minutes.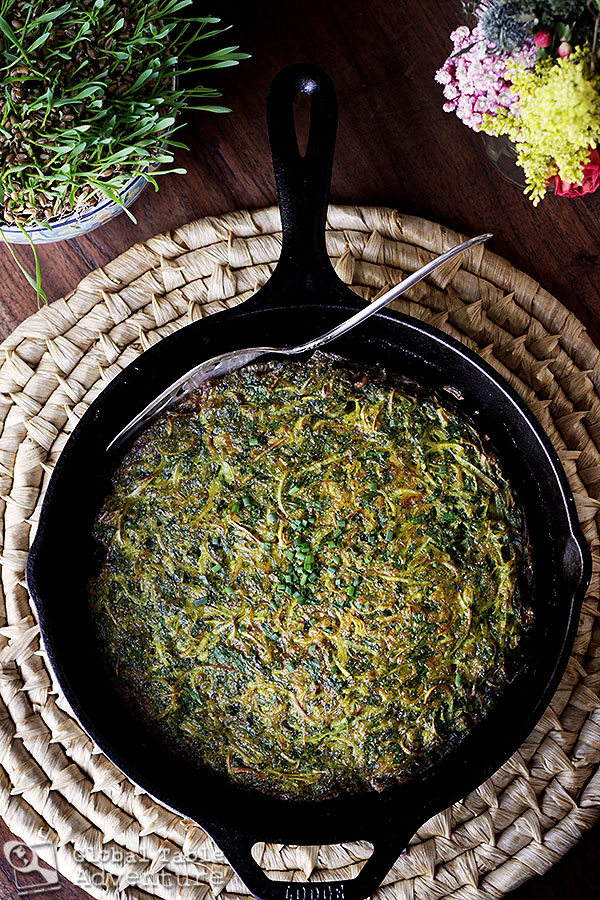 Serve at room temperature, by a bubbling brook, with your loved ones nearby.
Top with yogurt and a sprinkling of more chopped herbs (or other garnish), as desired.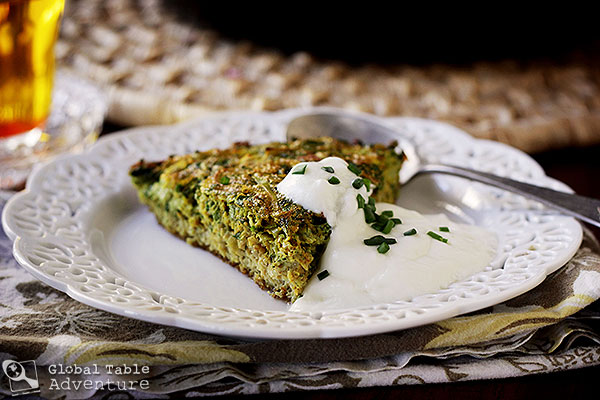 Happy picnicking!
(P.S. Anyone know what Ava is signing with her right hand? That's our message to you!)