There's no way to dance around it… In Turkmenistan, you can come face to face with the "gates of hell"…
The only catch? Darvasa is no supernatural place. This "hell" is manmade.
Way back in 1971 this crater was formed while drilling for natural gas. There was a collapse and, to prevent the escape of fumes, some people decided they should … set the gas on fire.
(Had I been around, I would have definitely been against throwing a match* in a giant pit of natural gas… am I alone in this?)
Geologists claimed the fire would burn off in a few days.
More than forty years later, here we are.
The gas still burning, burning, burning.
(Something about this feels like a Jim Morrison lyric.)
Darvasa is now a major attraction, with tour guides flicking cigarette butts around the place, laughing over flare ups.
Sounds like the beginning of a sci fi movie.
This week, we're skirting past the "gates of hell" and diving into the fresh summer bounty of Turkmenistan.
Sure, this puppet shaped country in western Asia is better known for her comfort food, like meat pies and boiled mutton soups.
This might seem like strange food for a mostly desert country. Sure the winters are cold, but this comfort food isn't about the weather.
These are foods nomads can easily cook.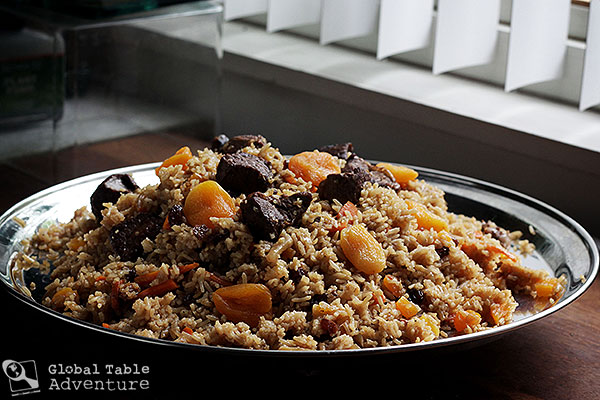 You could get lost in her giant platters of palav – steamed rice and meat. Lovely.
Palav is also known as plov; we made a delicious Lamb and Carrot Plov with dried apricots and carrots when we cooked Tajikistan).  The meat isn't always lamb, though. It can also be beef or, for those living near the lakes and rivers, it can even be fish.
Palav is so good, city folk eat it, too.
And don't forget about pasta – the ultimate comfort food. Those looking for a bit of noodle action, can rest assured Turkmenistan doesn't disappoint. Perhaps her most popular noodle is steamed manti, or pasta filled with lamb, pumpkin, or even sweet potato.
Looking for something more sweet? Try a mound of honey drenched chak chak – a sweet that gives rice krispie treats a run for their money (we made it back when we cooked Kazakhstan and loved it).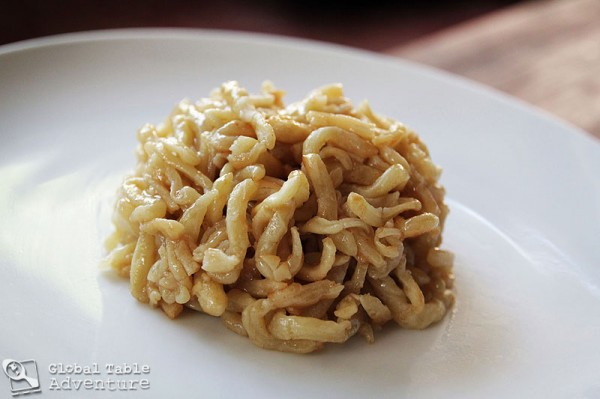 But. Today we're looking at Turkmenistan's summertime bounty.
The produce is lovely, and is made into all manner of salads, slaws, and pickles.
And there's nothing better than the fruit. The Turkmen harvest is amazing; think pomegranates, apricots, grapes, and all manner of melons. In fact, Turkmens love their melons so much that they celebrate it every year with an official melon festival. The entire country dances, sings, and – most importantly – eats tons and tons of  juicy, sweet melon.
And when they're done?
They simply sit back and relax with some hot tea. For a proper Central Asian Tea Party [Recipe], the tea might be accompanied by fresh nuts, more fruit, dried fruit, pastries (think baklava), or even bread with jam.
What kind of jam, you ask? Oh, plum, grape, apricot… and don't forget jam from the mighty melon [Recipe].
Yum.
* Truth be told, I'm not entirely sure how they caught it on fire. A match, a lighter, a torch… who knows. But I like the visual of dropping a match in there 🙂