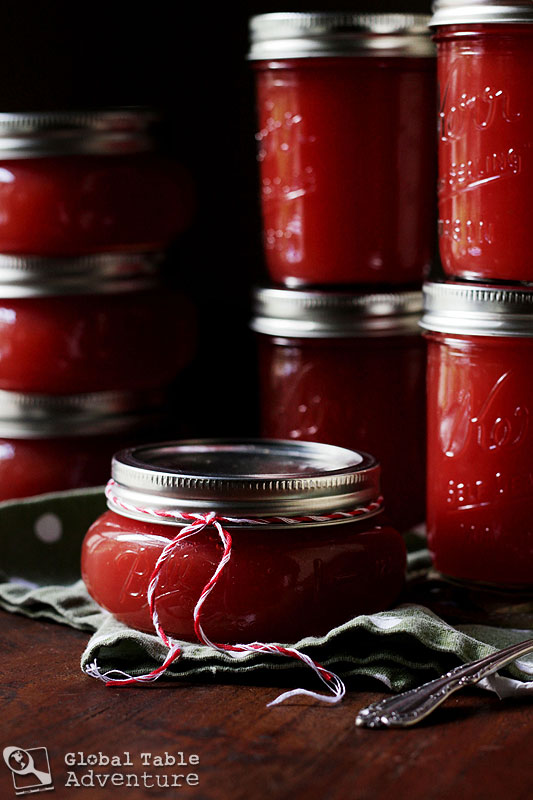 Imagine living in a place that has a National Holiday called "Melon Day."  You could be surrounded by more than 400 kinds of melon, including some 50 varieties of watermelon.*
The cool, sweet flesh would fill your belly and spirit.
Eating it would definitely make you smile.
And spreading it on bread?
Even better.
If any of this appeals to you, you might want to consider moving to Turkmenistan.
These lovely people have celebrated Melon Day since 1994, and they don't plan to stop eating the sweetness anytime soon.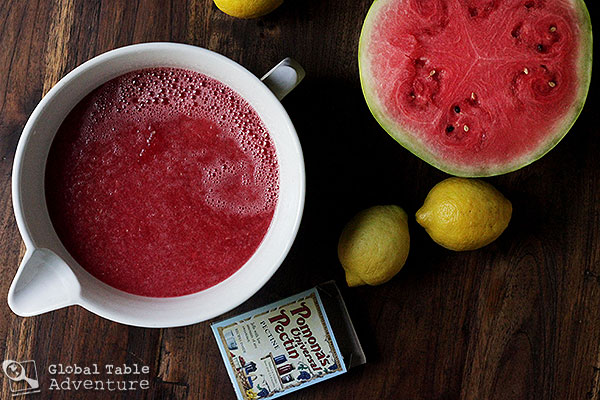 When I read in The World Cookbook for Students that Watermelon Jam is a thing in Turkmenistan (particularly when served on toast with tea), I knew we had to try it.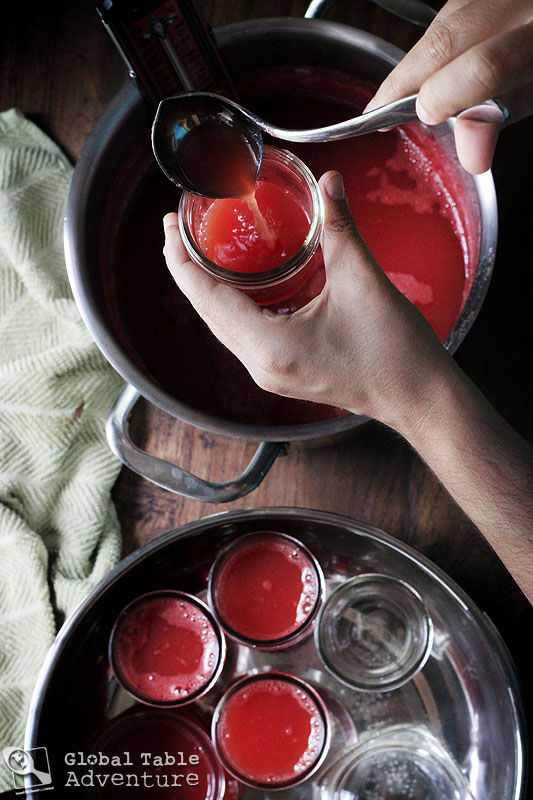 I made a nice batch of jam from half a regular watermelon.
Tastes like jarred sunshine.
What a great gift to share with friends and family!
Perhaps with a spot of tea…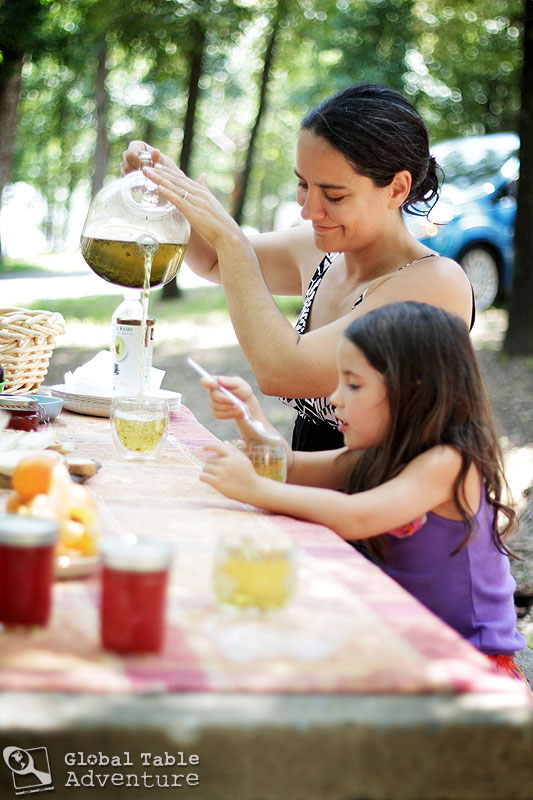 NOTE: I used Pamona's Universal Pectin because it allows me to add less sugar to the mix (just 2 cups). I found Pamona's at Whole Foods, though Williams Sonoma also sells it online. If you can't find Pamona's Universal Pectin, no worries. Simply buy whatever pectin you can and follow their instructions for making jam from 8 cups of pureed fruit. They'll have a chart that will tell you how much of their pectin to add (plus how much sugar they require). Generally, it's 2 packets of pectin and 4 cups sugar. Note that if you use regular pectin, you won't need the calcium powder)
There's a lot of science in jam making, but don't let your grocers limitations keep you from trying this recipe. It's basically boil-and-go.
Makes about 10 cups.
Ingredients:
10, 8 ounce canning jars
8 cups pureed seedless watermelon (about 1/2 a medium watermelon)
2 cups sugar
1/2 cup fresh lemon juice (from 2-3 lemons)
2 Tbsp Pomona's Universal Pectin powder
1 Tbsp calcium water (measured from 1/2 tsp Pomona's calcium powder mixed with 1/2 cup water – the calcium powder is provided in the box as well)
Method:
First things first:
Sterilize your jars either by boiling them in a pot on the stove or running them through the sterilize cycle of your dishwasher.
Do a little dance while they get cleaned.
Leave them in the pot or dishwasher until needed, so they stay as clean as possible.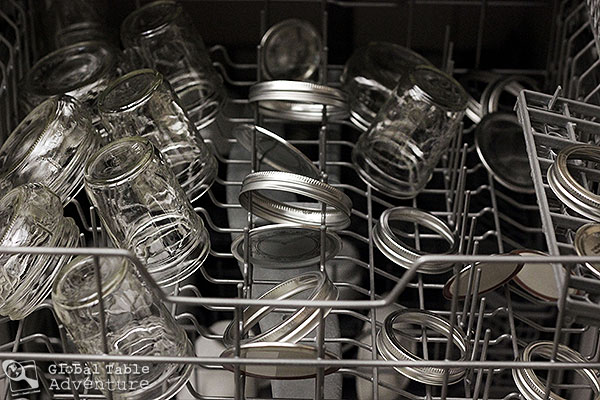 Next, stir the pectin powder into the sugar. This will keep it from clumping when you add it to the liquid.  If you're using Pamona's, also make the calcium and water mixture. Set both mixtures aside.
Now for the fun!
We're going to puree the watermelon. You have three options for this.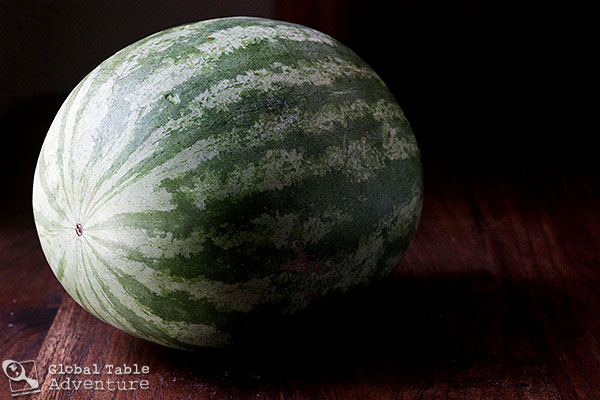 a) If you have an immersion blender, scoop about half the flesh of a medium watermelon into a large bowl.  Pulse away, then scoop out any of those little white seeds that may remain. Measure and make sure you have 8 cups.
b) If you have a regular blender, blend in batches. Again, scoop out any of the little white seeds and measure.
c) Mash it by hand. Remove seeds and measure.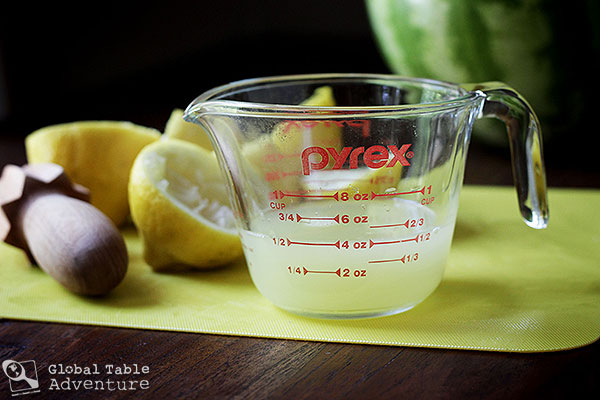 3. Next, add the watermelon, lemon juice, and calcium mixture to a wide, deep pot. Bring to a boil. Stir occasionally.
Add in the sugar mixture, stir, and boil for about 2 minutes.
NOTE: Keep a close eye on the pot; temperatures can take a while to heat up, but then can change very quickly. Also, the watermelon will foam somewhat. Stirring will help keep that at bay.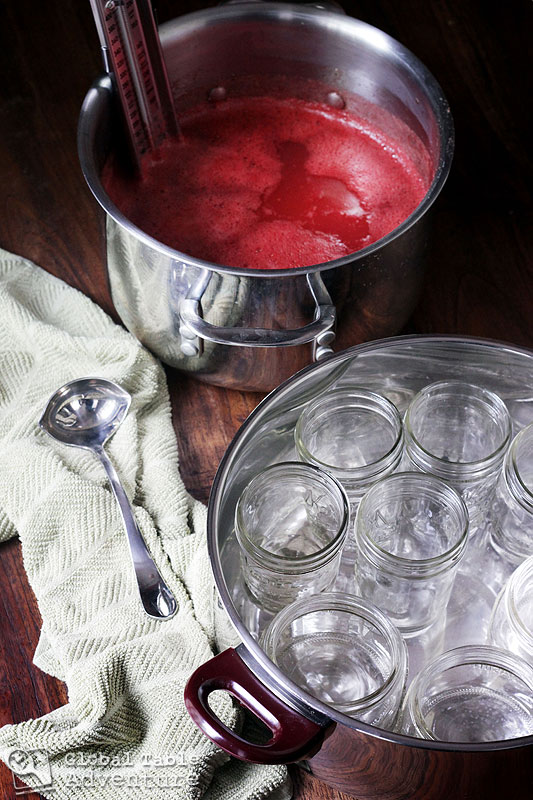 4. Ladle watermelon jam into sterile jars and seal with lids.  The jars should still be warm from the dishwasher; this will help prevent cracking.
5. Cook the Jam
OPTION A)  Place sealed jars into clean pots. Completely cover with boiling water (an inch above the tallest jar is best). Boil about 10 minutes. TIP: For this method, I found it easiest and safest to place the pot on the stove, then use a pitcher to fill it with boiling water. No need to carry a heavy, sloshing pot across the kitchen.
OPTION B) Fill the pot with water, bring to a boil, then add the filled, sealed jars of jam. Make sure they are submerged, then boil 10 minutes. This is the traditional method.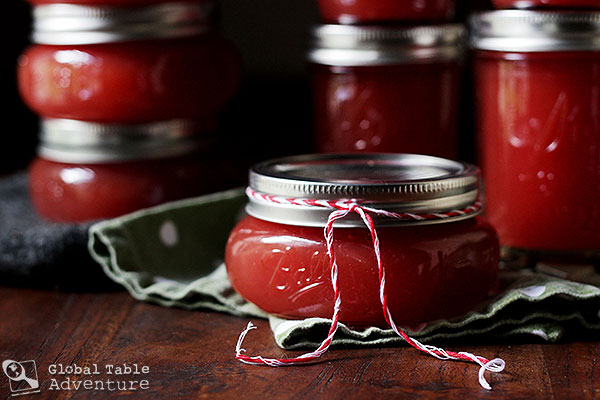 5. Let cool, remove from water, then test the seals by unscrewing the ring part of the cover and gently lift the remaining flat part of the lid. If the seal holds, these jars can be stored for a year.  If a seal doesn't hold, refrigerate and enjoy within three weeks…
…Perhaps with a dusty, dreamy sort of view.
Please Note: This jam will be runny until refrigerated.
*Numbers from Turkmenistan by Paul Brummel.
Have you ever made jam or jelly? What do you think of the process? Does it seem doable? While I've made chutney before, this was my first time to make a real jam.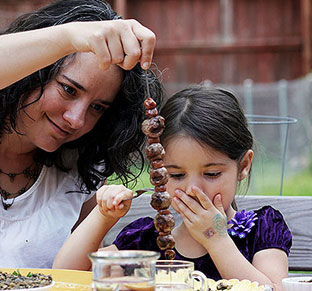 Hungry for more?
Be notified when National Geographic releases my memoir.
Simply fill in your details below.