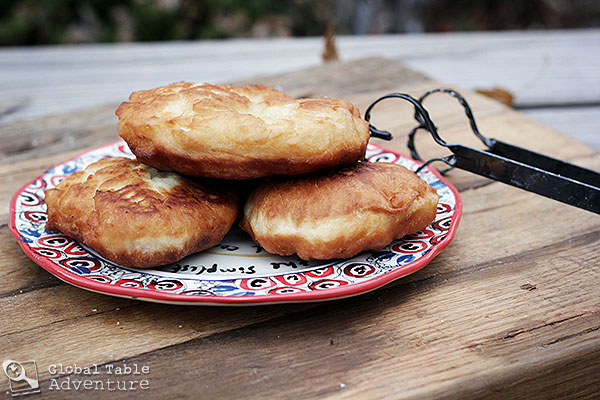 This week I've completely given up:
- shooing the cat off our bed
– working so hard, I can't see straight.
– being in a hurry
– doing the laundry
– eating boxed cereal
Instead, I'm now:
- snuggling my cat
– not-so-accidentally forgetting my phone at home
– dancing with my daughter with the curtains wide open
– playing board games with family
– gobbling up bakes
Thanksgiving week is a time for a little closer look at what matters. It's about family, not work. It's about noticing each other and taking the time to interact without twitching, finger first, towards our cellphones. It's about looking each other in the eyes. And it's about cooking together.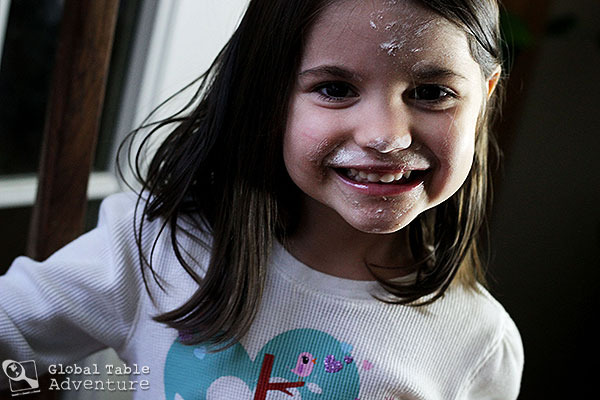 While I value a good pancake (and even a good Russian-style pumpkin pancake) most of the time, I'm a new convert to the Caribbean breakfast treat called "Bakes." I've made three batches in as many days. Despite the name, bakes are only occasionally baked. More often than not, Bakes are fried discs of dough.
Confused? Don't worry.
The only thing you need to know is that they are soft, doughy, and all together impossible to put down. Bakes are most enjoyed in the morning – think Sunday morning brunch – while the birds chirp and the ocean breeze ruffles your hair. That's how they enjoy them in Saint Lucia, anyway. Nibbling on warm bakes, fresh from a skillet of bubbling oil, is a reminder that simple can often be the best thing there is.
Everyone has their own recipe, although I find they taste even better when made with a little helper.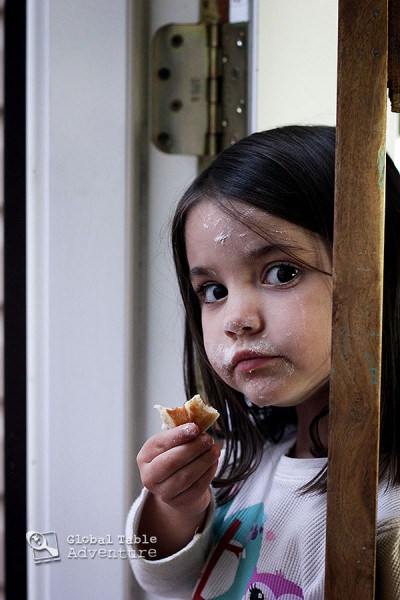 Enjoy plain or split open with anything from jam, cheese, lunch meat,  salt cod salad, or even spam. Whatever floats your boat. (Just don't forget a dash of gratitude today and always.)
Ingredients:
4 cups flour
1/4 cup sugar
2 tsp salt
2 tsp yeast
2 tsp baking powder
1 1/2 cups water, or as needed to bring the dough together
Method:
Put on your smile. You're just a few steps away from bliss.
Add all ingredients to the bowl of a stand mixer fitted with dough attachment. OR you can do this by hand.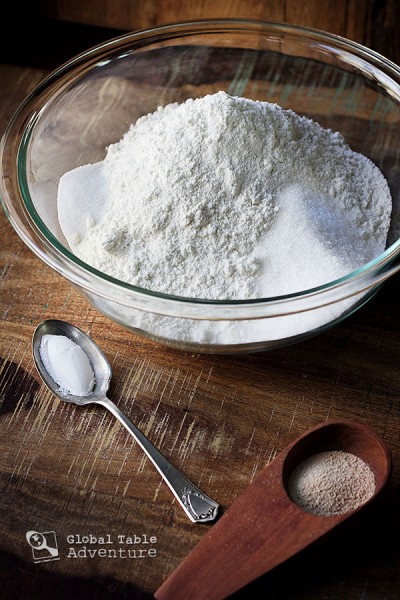 Mix until a soft dough forms.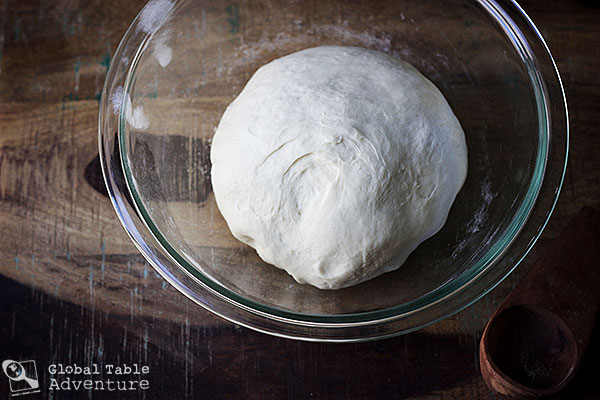 If you can stand to wait thirty minutes to an hour, let the dough rest and rise.
(Two different times, I could not stand to wait. Turns out these bakes taste great even if you cook them up right away)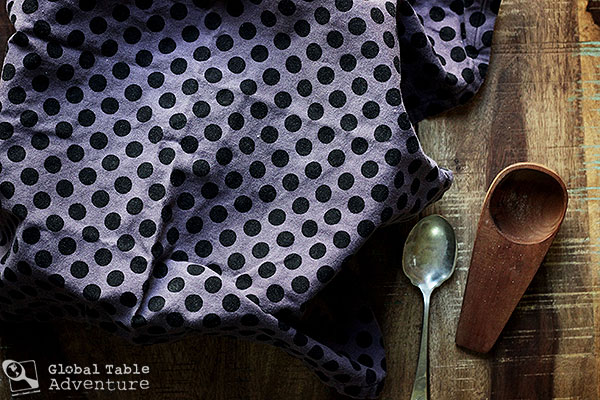 But they do become rather lovely little pillows once they do puff up. Right before cooking, pat them down into relatively thin discs (about 1/4 inch thick).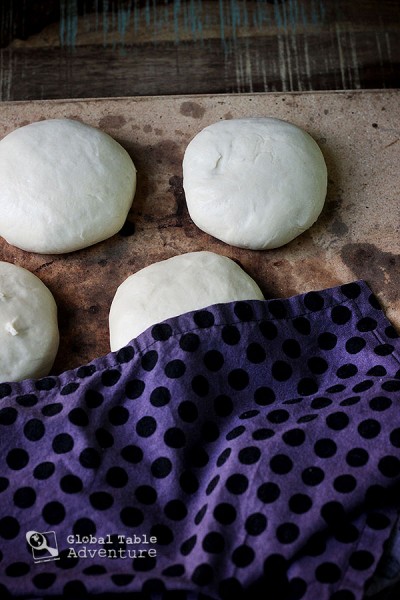 Fry in a 1/4 inch of oil on both sides until puffy, browned, and cooked through. I had my heat set to medium and this was about perfect. You might need to play around with your temperature to get it to cook through on the inside before the outside gets too dark.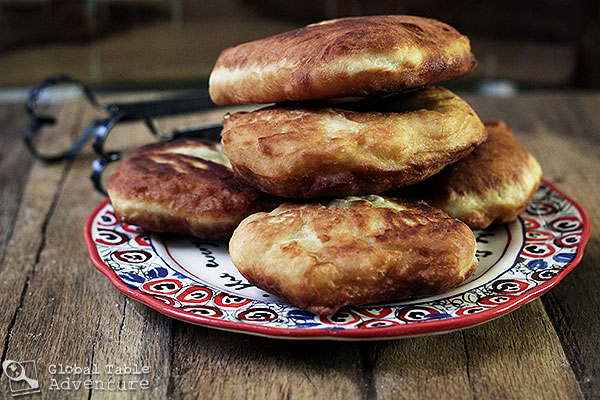 But really. Don't fuss much. Towers eventually all fall down…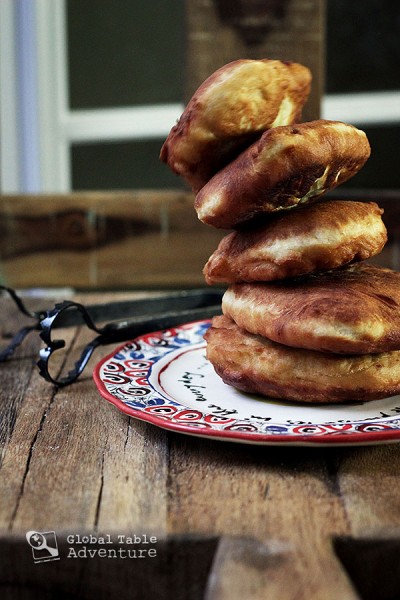 OR get eaten.
Speaking of which, just try to keep the kids away from these…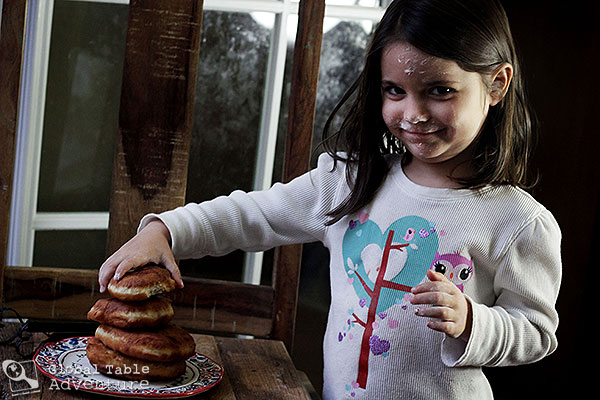 Seriously.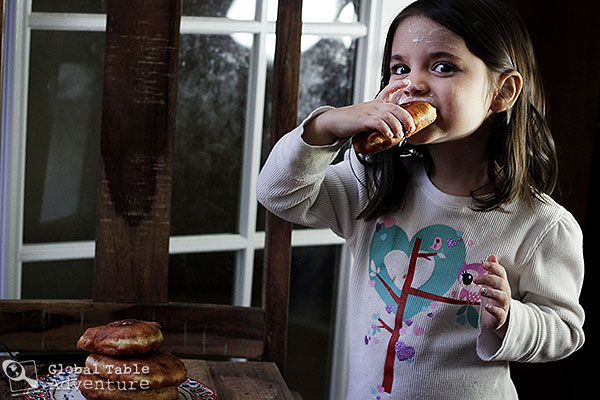 (and even after being told no, someone had to go hide behind the chair to sneak a little bit more).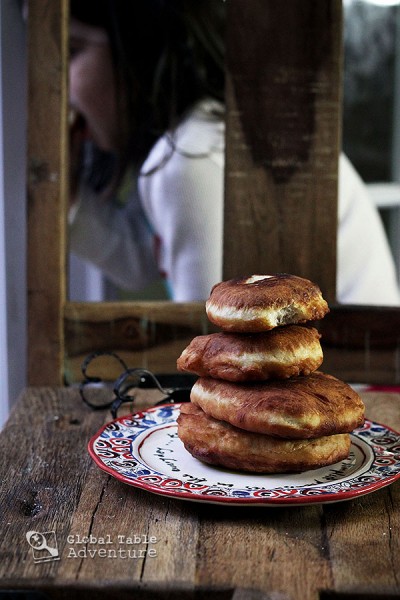 I guess she thought I couldn't see her.
Too funny.
P.S. Here's the video that inspired this recipe:
P.P.S. Happy Thanksgiving, friends. Much love to you and yours!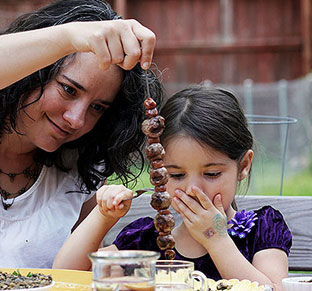 Hungry for more?
Be notified when National Geographic releases my memoir.
Simply fill in your details below.