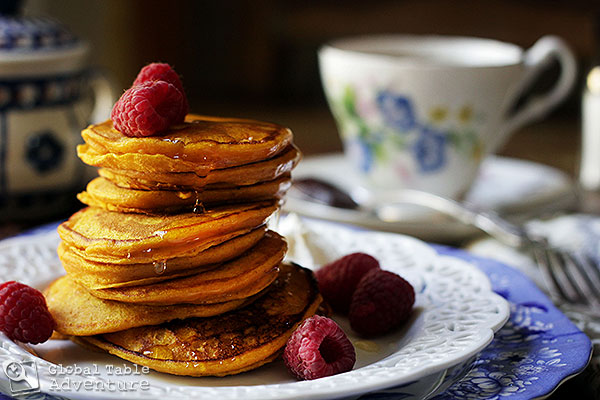 Sometimes it's hard being a mom. Take this week, for example. People I don't even know have been throwing candy at my daughter from giant parade floats. They call it Halloween, but I call it "the reason why my daughter is still awake an hour and a half past her bedtime, thrashing around like a junkie in withdrawal."
You see, I don't let Ava eat all her candy in one sitting. She gets a couple of pieces at snack time for a few days in a row. That's it. Any candy that remains gets donated to the Laura Dester Shelter, for kids in crisis situations. Ava's reward for sharing? A fun adventure to either Incredible Pizza or the Zoo. Her choice.
All this to say that Ava clearly hasn't consumed a ton of candy but what she has eaten went straight to her crazies.
Now is the time for something wholesome. Something nutritious. Something unabashedly Russian to sort her out.
Enter Pumpkin Olad'yi.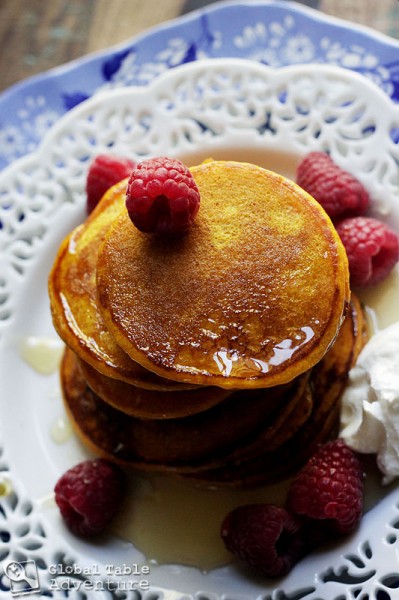 It's practically science: whenever I mention Russian food, 9 out of 10 people suggest we try Blinis, a giant crepe-like treat often filled with sweet cheese or any number of savory fillings.  If I'm talking to a genuine Russian, however, 9/10 will also suggest we try Olad'yi. These are Russia's answer to the pancake. Small and moist, these griddle puppies are made with either keffir or buttermilk and can be served with fresh fruit, jam, sour cream, honey, or even a heaping drizzle of sweetened condensed milk.
The pumpkin gives her vitamins, the dairy gives her calcium, and fruit is proven to remove the crazies in three year-olds.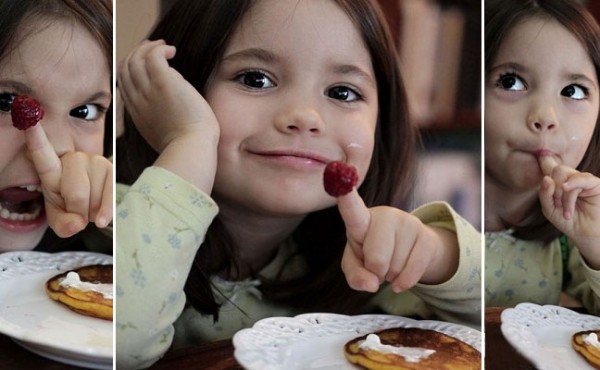 Ok. Maybe that's a bit of a stretch.
Regardless – this morning (because I can't spend yet another night rocking my sugar-crazed daughter to sleep under the watchful eye of two rapidly disintegrating, glitter covered pumpkins) I'm making these Pumpkin Oladyi.  I could come up with another, more poetic reason – something about the crisp air and the magic of weekly trips to the pumpkin patch, but the simple truth is this: it's simply that time of year.
We're living in pumpkin town.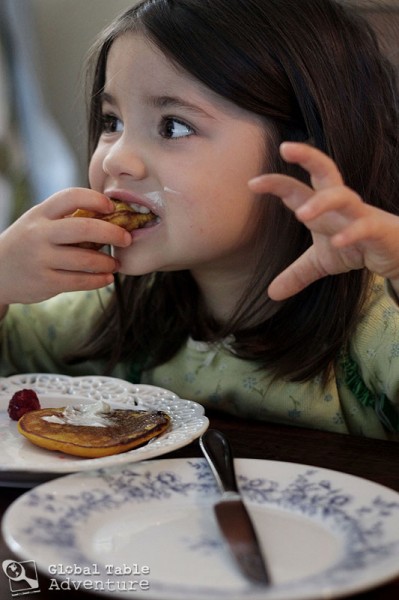 The recipe was inspired by the one in Please to the Table.
Serves 2
Ingredients:
3/4 cup flour
1/2 tsp baking soda
1 Tbsp sugar
pinch salt
3/4 cup buttermilk
2 eggs
2 Tbsp butter, melted
3/4 cup canned pumpkin (about 1/2 a can)
butter, for frying
Traditional topping suggestions:
Sweetened condensed milk
Jam
Sour cream
Honey
Berries
Method:
Good morning! Or, as they say in Russia: Доброе утро  (pronounced "doh-brah-eh- oo-trah").
Let's go to pumpkin town!
Saint Petersburg in the morning will do, for sure. Just look at her glow.
Once there, whisk together dry ingredients in bowl. Add buttermilk, eggs, and butter, beat until smooth. Finally, stir in that glorious pumpkin.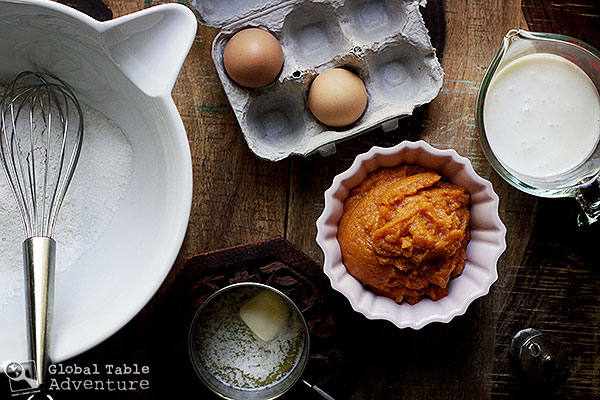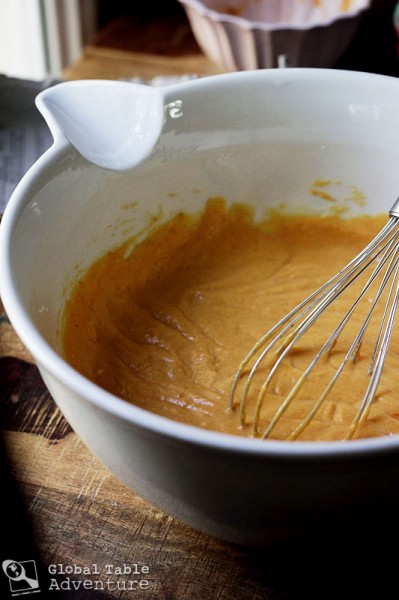 Slowly fry the olad'yi in a lightly buttered pan, over medium heat for about 2-4 minutes per side (if they burn, your stove is up too high, adjust accordingly. you're looking for the top to change from shiny to dull before you flip it).
TIP: Transfer the coins of pumpkin glory to a 200F oven until they are all fried up. (This has the bonus effect of helping the extra moist interior continue cooking a bit.)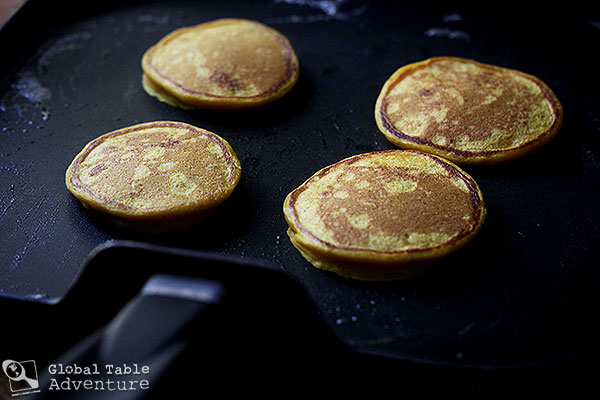 There's nothing quite so grand as a stack of pancakes with fresh fruit…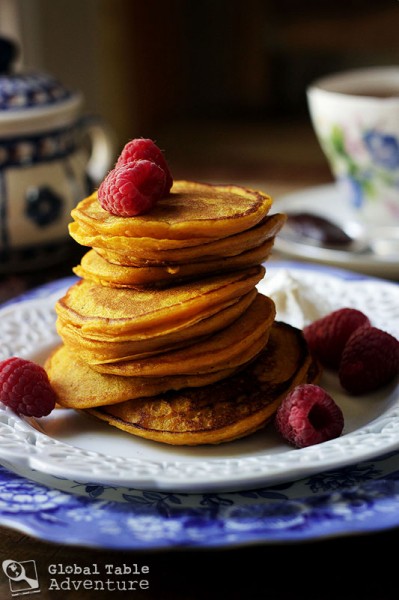 … unless it's a stack of pancakes with fresh fruit and honey.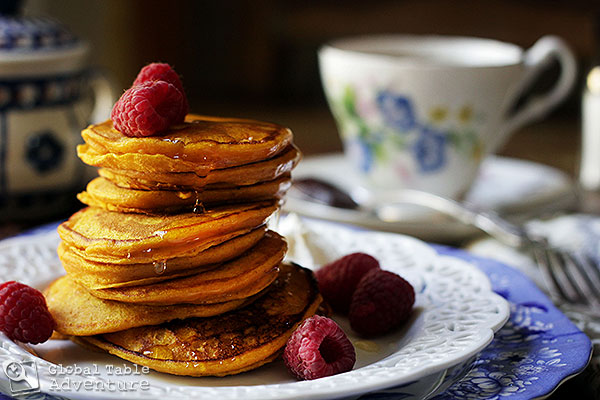 Extra deluxe.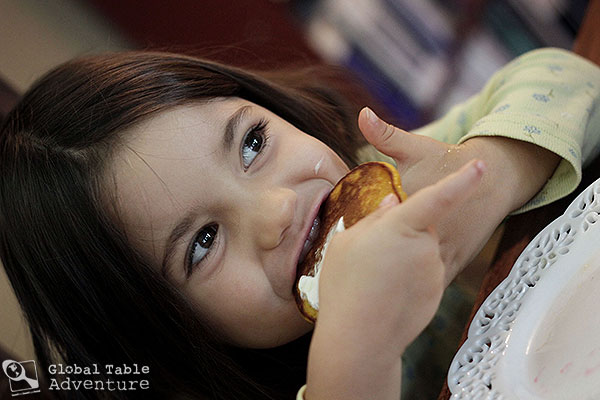 Enjoy until the golden morning gives way to the easiest sort of green and blue.
P.S. Try it with a cup of black tea stirred with a spoonful of jam – another glorious Russian tradition.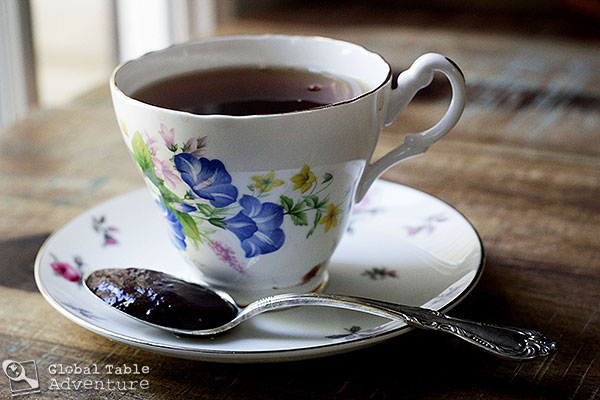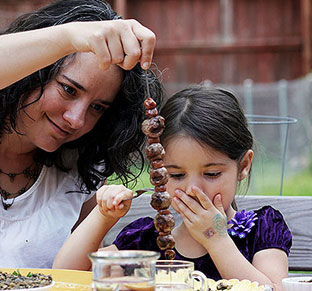 Hungry for more?
Be notified when National Geographic releases my memoir.
Simply fill in your details below.