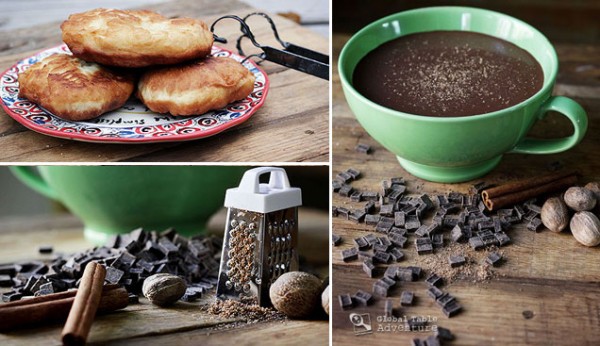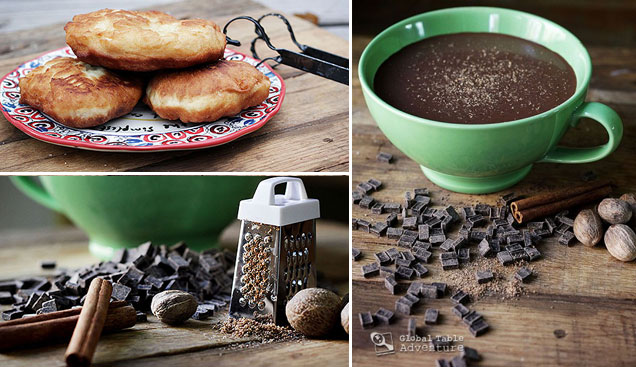 When Thanksgiving meal preparations take over the household, I like to do little things to make the rest of the week's meals feel fun. With that in mind, I put together two festive, but relatively quick treats to make the ordinary extraordinary.  After all, why can't every day be Thanksgiving? The theme for both is breakfast, Saint Lucia-style.
Caribbean Bakes [Recipe]
If your family likes doughnuts and biscuits, these fried discs of soft, doughy goodness will certainly be a big hit. Serve them warm with sweet, fruity jam, salt fish, lunchmeat, or even sliced cheese.
Cocoa Tea [Recipe]
This is the traditional morning drink in Saint Lucia. Think thick, rich hot cocoa with cinnamon, and a dusting of ground nutmeg.
THE GIVEAWAY
Happy Day Before Thanksgiving, friends!  So here's something you never knew you wanted… ancient map leggings from Black Milk Clothing.
I fell in love with these the moment I saw them. And, p.s., I instantly thought of ten people I'd like to buy them for.
They'd look great with a big sweater, under a skirt with tall boots, or just around the house.
And, just in case the thought of being so exposed makes you nervous, how about going for a layered look?
Count me in!
TO ENTER:
UPDATE: 
Congratulations to Dutchgirl who said:
Love the leggings!

In Holland no special meals this week. Normally I cook from a variety of countries during the week (Italian, Dutch, Indonesian…)
Yay! Please email me by December 3, 2012 to claim your prize.
Simply leave a comment here answering one of the following questions:
What will you be making/bringing for Thanksgiving Dinner? If you don't celebrate, how about what are your dinner plans this week? Will there be any global love on your table? What are you thankful for?
That's it!
Bonus entries will be provided for those that tweet this giveaway with hashtag #globalgiveaway and/or share it on Pinterest and Facebook.
Leave your answer in the comments below. One winner will be chosen at random and announced in the Monday Meal Review on November 26, 2012. Prize must be claimed by December  3, 2012. There are no sponsors for this giveaway. I simply wanted to share some global love with you. Enjoy!