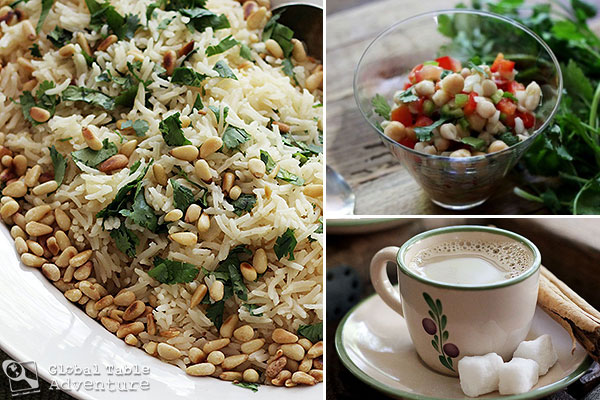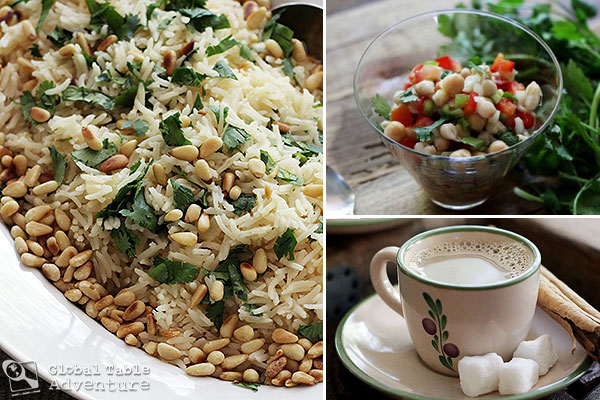 Whenever I cooked our Pakistani Global Table, our little family was swimming in sweat. Each day soared well over 100F (at times over 110F) and my air conditioner had all but decided to go the way of the puffin. So please forgive me if the menu feels a bit summery – a bit light on, well, cooking. While simmering curries for hours are a wonderful hobby for the bone-cold winters of Pakistan, I still managed to eek out a beautiful Pakistani menu for summer livin' here in Oklahoma (with the exception being the coffee, if only because it whips up in a flash).
Interestingly, the island nation of Palau (up next week on our Global Table Adventure) eats very similar food, so stay tuned for more options (I'm thinkin' there'll be a tandoori dish… and who knows what else!).
All three of this week's recipes were inspired by Laura Kelley's Silk Road Gourmet. The recipes and the meal review will be posted throughout the week.
Garlic Basmati Rice with Pine Nuts  [Recipe]
Take everything you love about garlic knots and put it in rice. You'll get a real garlic kick with this rice dish popular all over southwest Asia…  our variation, cooked with ghee and sprinkled liberally with cilantro, gives it a distinct Pakistani edge.
Pakistani Mixed Bean Salad [Recipe]
You can thank Pakistan for this great potluck dish. Forget the tired three bean salad of canned food fame. This one is bright and just a little spicy – made with chickpeas, northern white beans, chili pepper, onion and cilantro. Finished with bright lemon juice and a dusting of garam masala.
Pakistani Coffee with Cinnamon & Cardamom [Recipe]
Escape to milky coffee bliss, made dreamy with the addition of sugar, cinnamon stick, and fresh cardamom pods. Pakistani coffee involves some frothing, smiling and sipping. (All of those at the mouth, except the first one. Of course.)
WEEKLY GIVEAWAY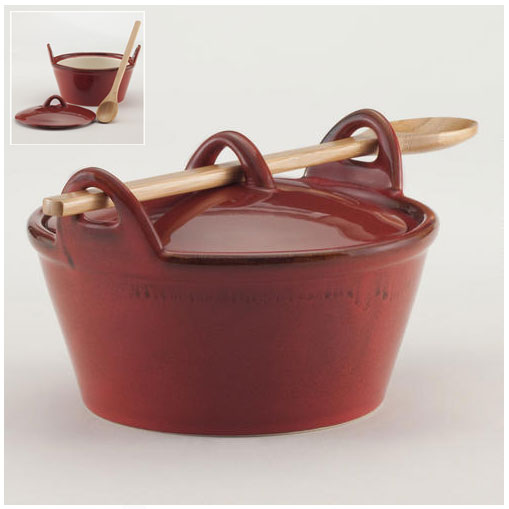 Let's go potluck crazy. It's that time of year – back to school, back to the grind, back to whatever it is you like to do when summer slides out of sight.
Hopefully among those things you like to do is potluck.
This week, because I love, love, love the color red, I am giving away this beautiful red stoneware Potluck Baker. This rustic lidded vessel with wooden spoon makes it easy to share your favorite Global Table recipes with friends and family. It's ideal for cooking and taking food to go in rustic style!
Personally, I think our Pakistani bean salad would be just lovely in this red beauty (and,as a bonus, the thick walls would help keep the salad cool).
TO ENTER
Simply leave a comment answering the following question:
What international dish would you like to put in this baker and where in the world would you like to eat it?
Perhaps Käsknöpfle (triple cheesy spaetzel), which you could eat in the Alps?
Or maybe our Dhal Baht, which you could enjoy with a few dear friends at the park near your house?
Have fun! There's no right or wrong answers.
As always, *bonus entries* will be provided for those that tweet this giveaway with hashtag #globalgiveaway and/or share it on Pinterest and Facebook. 
UPDATE:
*Winner from this week's Pakistani Menu Giveaway was selected at random by random.org. There were lots of great ideas for how to fill the potluck baker.  Congratulations to Christina, who said:
"If a genie in a bottle gave me 1 wish, I would put Peruvian pollo a la brasa & lomo saltado in it & have a picnic lunch at Machu Picchu or anywhere in the Andes in Peru or Ecuador. A big chunk of my heart got left in Peru & I really, really want to go back. Plus, the food is amazing."
Please email me to claim your prize.
TO WIN
One comment will be selected at random. Winner will be announced in the Monday Meal Review.  Contest closes Monday morning 8/20/12. Must claim prize by 8/25/12, at midnight. There are no sponsors for this giveaway. I just wanted to share some potluck love, from me to you. Enjoy!