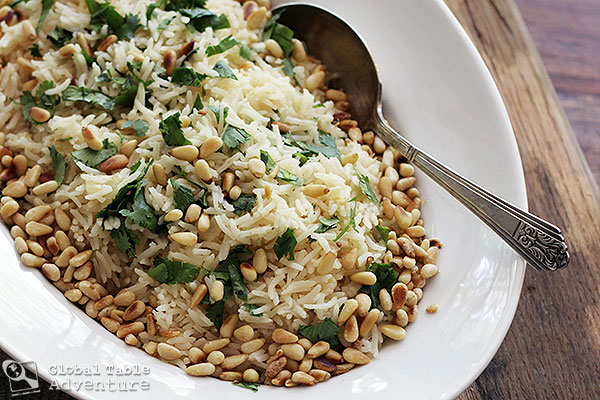 I'd like the record to state that I'm ready for a big hug.
It's the end of summer, times are changing, and I'm ready for that love-filled feeling that comes with a smooshable hug. I see people doing it all the time – their bodies smiling as they pull to each other.
My husband still hugs me, which is the best kind of snuggle-hug I can ask for. But I want more. I want the kind of hug that can't come from him. Or any person.
It's the kind of hug that comes from taking a giant bite of garlic bread. It's the cozy feeling I get as I methodically tear apart a tray of buttery garlic knots. But even that kind of hug seems so… ordinary. Today I want the extraordinary. Actually, every day I should want the extraordinary, but that's something I'll need to work out with my life coach.
Enter Pakistan and an ambling line of garlic goodness.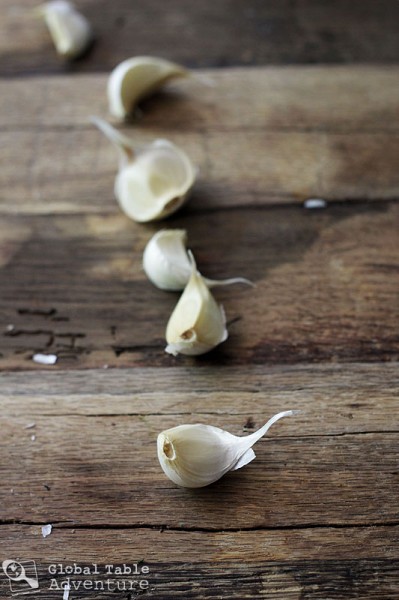 This grand garlic is going into a heaping platter of Garlic Basmati Rice sprinkled with Toasted Pine Nuts. Each bite is unabashedly fragrant, completely garlicky, and a tad bit smoky (from those glorious, toasted pine nuts). While this dish can be found all over the southwest Asia, Laura Kelley of Silk Road Gourmet (from whom I've adapted this recipe) tells us the addition of cilantro makes this version especially Pakistani.
While I've only used a handful of cilantro, you could easily fold in the better part of a bunch for even more authentic flavor.
Serves 2-4
Ingredients:
1 cup basmati rice
2 tbsp ghee (or butter)
1/2 large onion, diced
6 cloves garlic, crushed
2 cups stock (chicken or vegetable)
salt
pepper
Garnish
1/4 cup coarsely chopped cilantro, (about a handful of leaves)
1/3 cup pine nuts, toasted
Method:
Let's click on the stove and float away to Pakistan. Imagine yourself inside the cool walls of a Punjabi home.
This is a dish for those crystal clear times when you know exactly what you deserve – and you don't mind who knows it (or smells it, for that matter).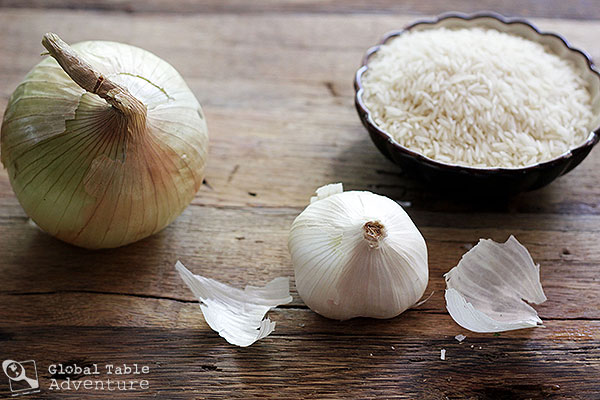 In a medium pot, fry up your chopped onion in either the ghee or butter until golden and soft.
Add on the crushed garlic and cook through until fragrant and translucent. Don't skimp or your house won't smell like the glorious hug that it should!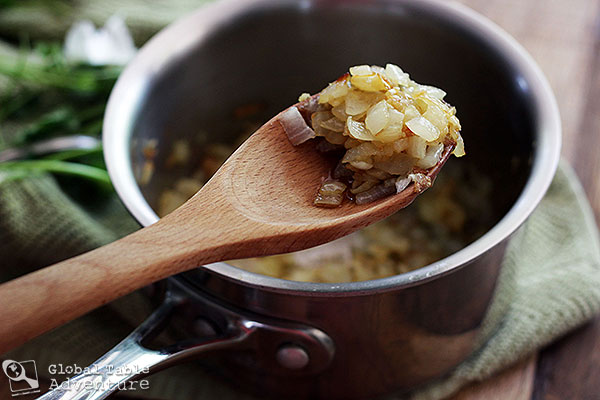 Stir in the rice and cook a few minutes to heat through. Then, splash on the stock and bring to a bubble over high heat. Cover, reduce heat to a simmer and cook for about 16 minutes, or until tender and fluffy.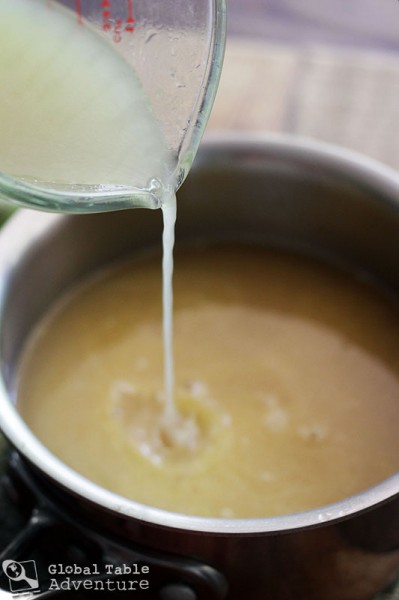 Remove from heat, uncover, and let the rice steam dry for about 5 minutes.
Feel free to stick your face in that garlic steam. I did and I'm not ashamed to admit it.
Meanwhile, toast the pine nuts in a dry skillet over medium heat until golden brown, shaking or stirring frequently to avoid burning.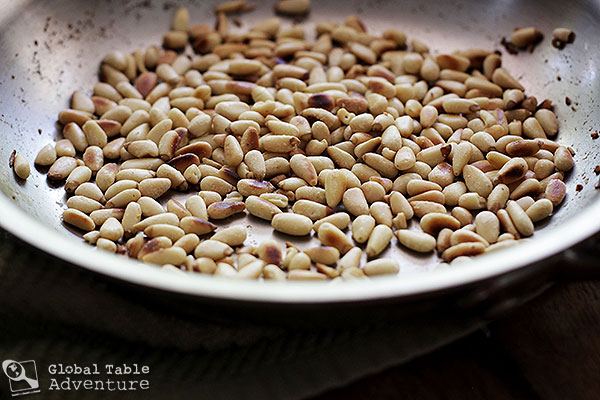 Scoop the rice on a platter and garnish with the pine nuts and as much cilantro as you'd like…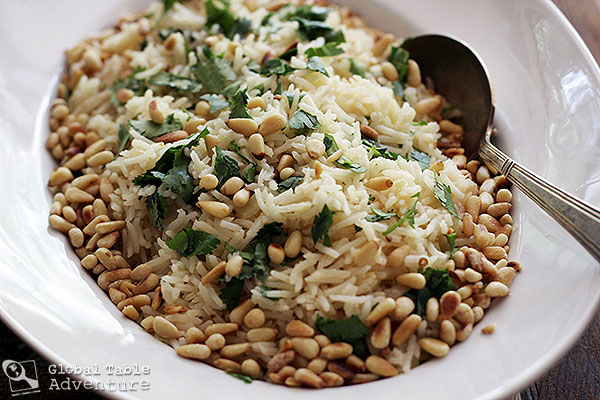 Good, glorious, soft, buttery, garlic delight!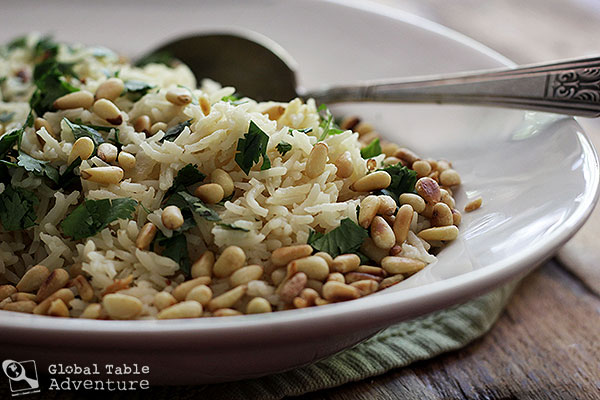 Even grandma Martin went back for more.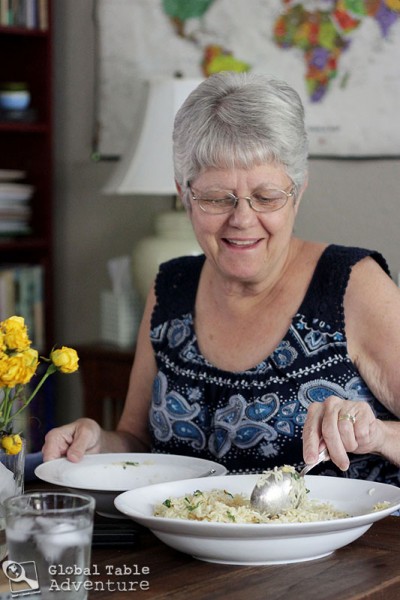 Ava was too busy digging in to give us a smile.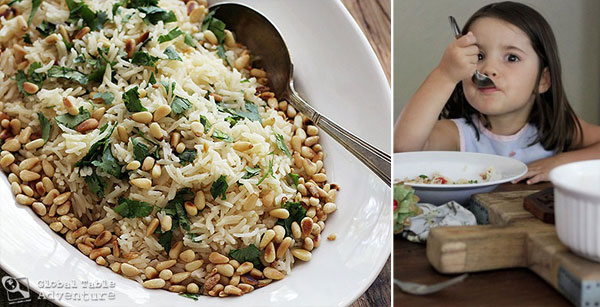 Enjoy with a bright, shining spirit and a window into the sky.
Thanks, Pakistan!
P.S. Have you entered our weekly giveaway? This garlic rice would look great in the potluck baker!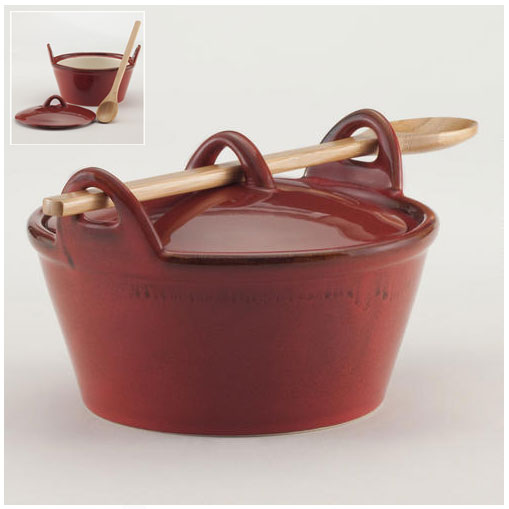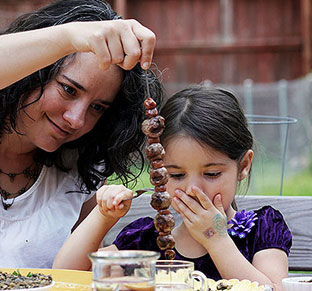 Hungry for more?
Be notified when National Geographic releases my memoir.
Simply fill in your details below.