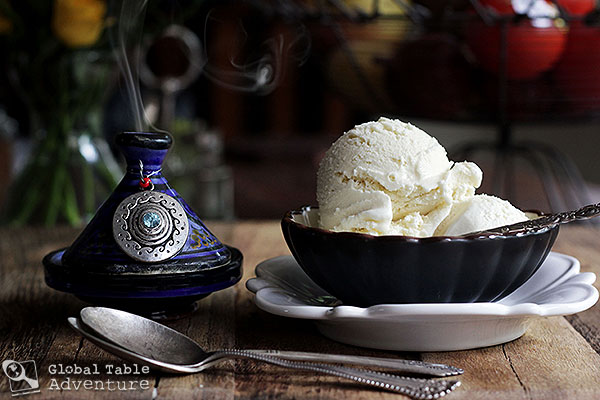 I like a little mystery in the midst of routine. A drizzle of scented massage oil makes the evening fly by. A simple puff of incense fills every crevice of my home with glorious serenity. And of all possible aromas, Frankincense reigns supreme.
Ever since I was a little girl, poised with wonder under the glittering Christmas tree, Frankincense has captivated me. My little brain could never quite grasp what on earth Frankincense was or why it was so special, but that didn't stop me from dreaming of the magical era when a gift of Frankincense was as beloved as gold.
In fact, the mystery only made it seem more special.
Then, thundering in from the far reaches of Oman comes Frankincense Ice Cream. Each nibble is creamy and sweet – Frankincense has an alluring bite of pine, sweet ginger, something like orange zest, and foggy twilight smiles.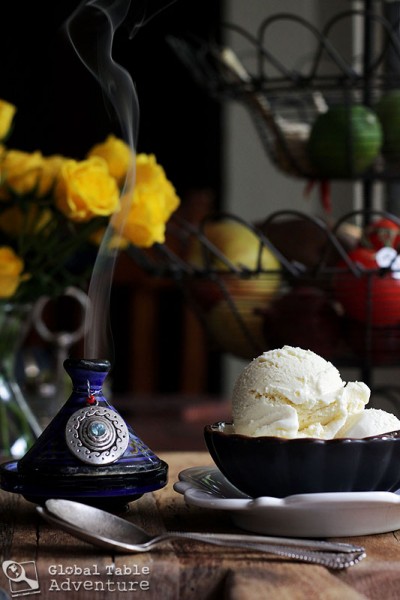 In my research I  learned that Frankincense is resin (a.k.a. dried sap)  from the Boswellia tree. The highest quality flows creamy white and is called luban, meaning "milk,"  although the color can vary from soft yellow, to rich amber or even luminous green. It just depends on the season.
While you can find ice cream with sprinkles of frankincense resin on it all over Oman, the creamy ice cream as I've made today seems to have been popularized by a woman named Trygve Harris. Her creamy scoops draw Omanis and foreigners alike.
While you can get lost in wisps of Frankincense Ice Cream any time of year, I'd highly recommend serving generous bowls during the winter, when the crunch of snow and pine surround you and your heart is filled with the holiday spirit.
Frankincense Ice Cream would also be a grand addition to a Halloween party. After all, the mysterious scent of Frankincense transforms even the humblest room into a fortune teller's parlor… equal parts creepy and mysterious.
Finally, any ice cream – even Frankincense – is great right now, in the glint and glimmer of summer.
Just don't drop your cone.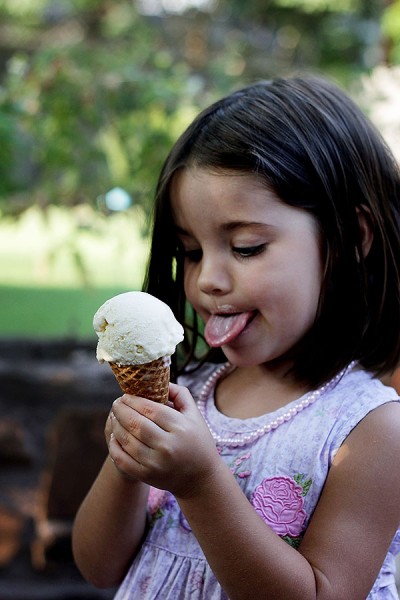 No, really.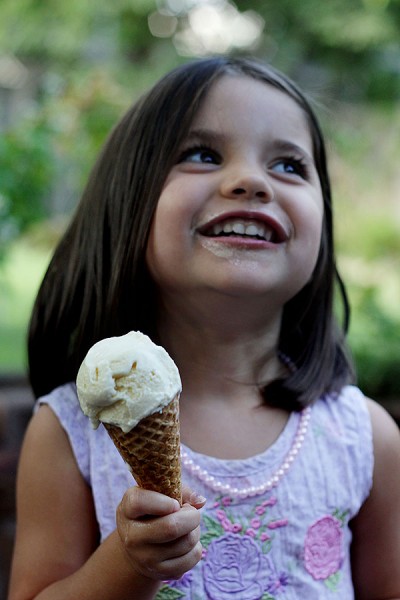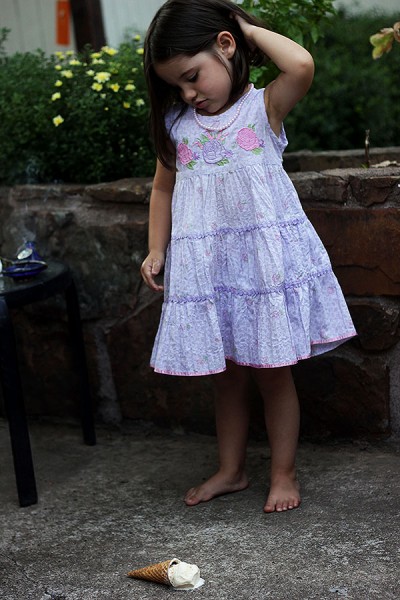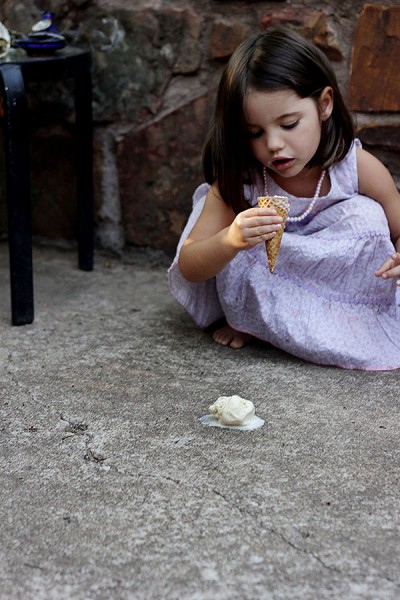 I tried to stop her. Really, I did.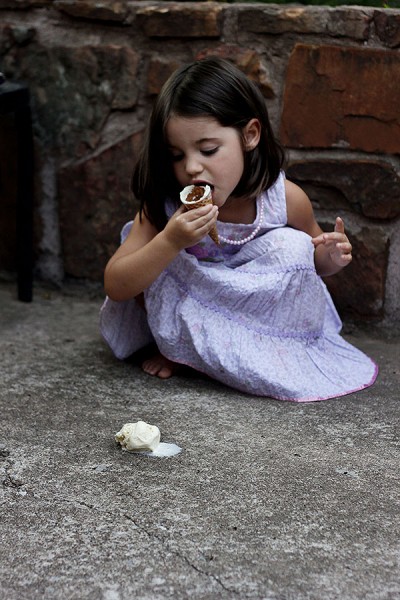 Thanks to Laura Kelley of Silk Road Gourmet for tipping me off to this fascinating treat, as well as the Chicago Reader for selling me on making it. 
*Very Important 100% pure Frankincense oil should never be consumed "straight," but should always be diluted. Please read the following article on the side effects (and benefits) of consuming Frankincense essential oils prior to consuming frankincense oil. While their label may say "Not for consumption", the company Aura Cacia (available at Whole Foods) has stated that (for their products) this has more to do with USDA regulations than the actual safety of the product (assuming that the essential oil is 100% pure boswellia sacra, with no additives). Read the entire article for more information. After reading all this material I felt comfortable serving this dish to my family (as they do in Oman without a second thought). None of us suffered any ill effects. Please make the decision that's right for your family.
Ingredients:
2 1/2 cups milk
1 1/2 cups heavy cream
10-15 drops 100% pure frankincense oil (boswellia sacra), available at health food stores*
1 cup sugar, divided in half
3 egg yolks
Method:
Breathe in the beauty of Frankincense. Close your eyes and travel to the exotic heart of Oman.
On your voyage you'll need little more than cream, milk, sugar, eggs and… 100% pure Frankincense oil (Boswellia Sacra).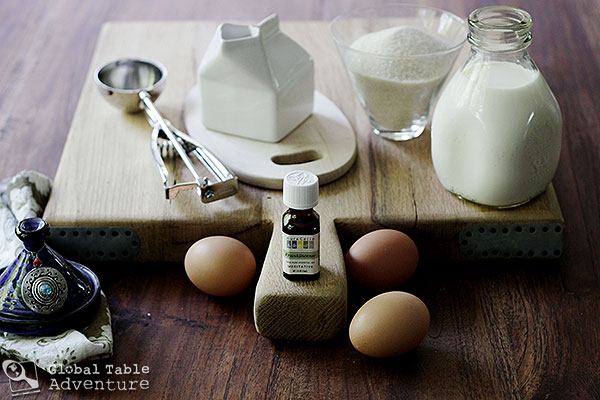 First, whip three golden balls of sunshine with a 1/2 cup of sugar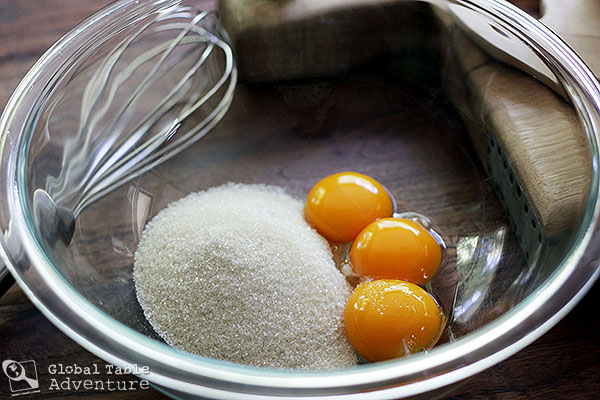 You want  the mixture to become thick and soft yellow.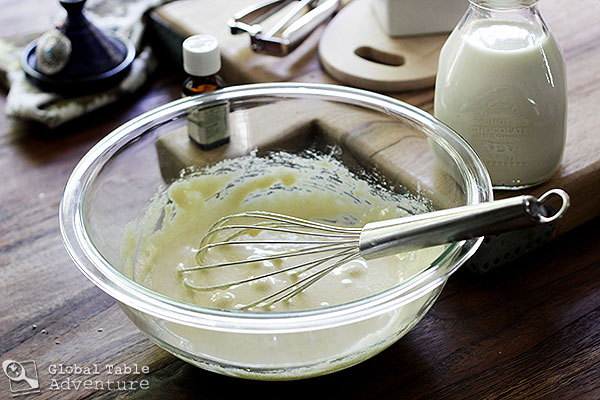 Meanwhile, heat up the milk, cream and remaining sugar in a medium pot.  Slide off the stove right before it reaches a bubble and whisk the hot liquid a little at a time into your egg mixture.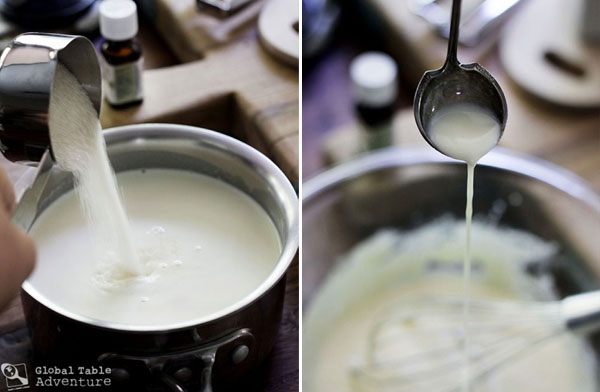 Return to medium-low heat and cook until thickened and the velvety mixture coats the back of a spoon.
Even the steam crawls through the air like incense. Beautiful.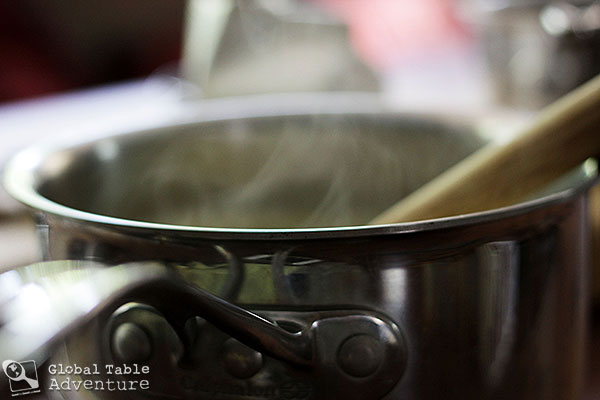 Whisk in the frankincense drops to taste and strain. Tip: the oil will want to separate so move quickly to incorporate it (as though you're making salad dressing). Chill the mixture in an ice bath or overnight in the refrigerator.
Churn in an ice cream maker according to manufacturer's instructions.
(P.S. Have you entered our weekly giveaway? This week we're giving away a Cuisinart Ice Cream Maker to one lucky winner)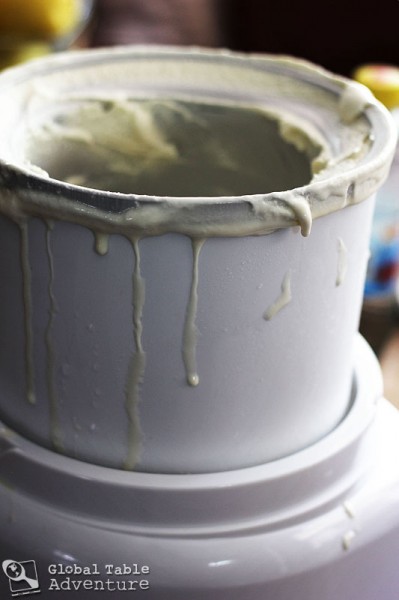 Be sure to enjoy with a little flicker of fire.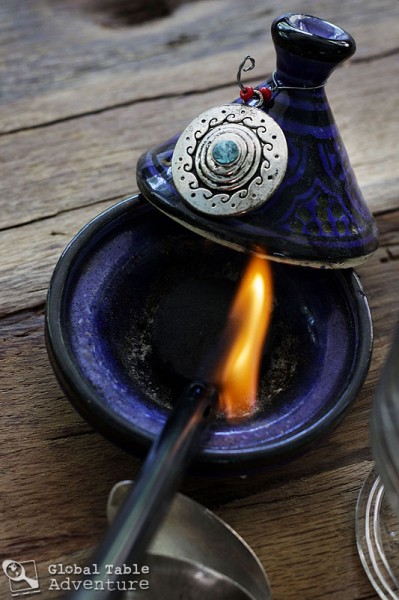 And a wisp of a daydream.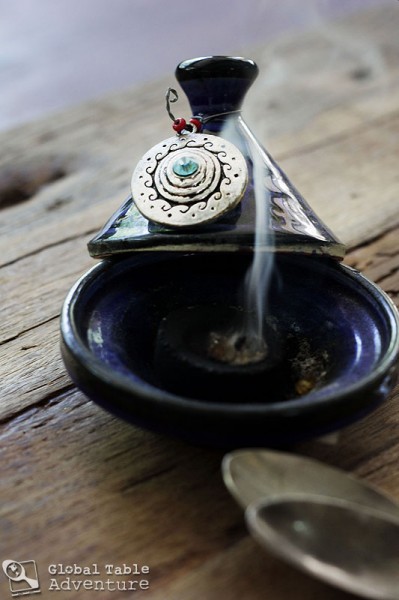 Breathe in.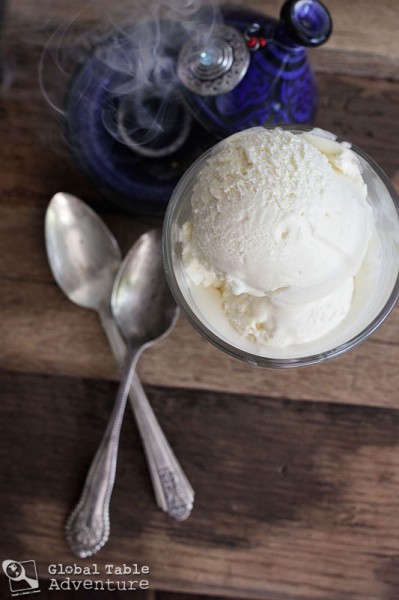 Breathe out.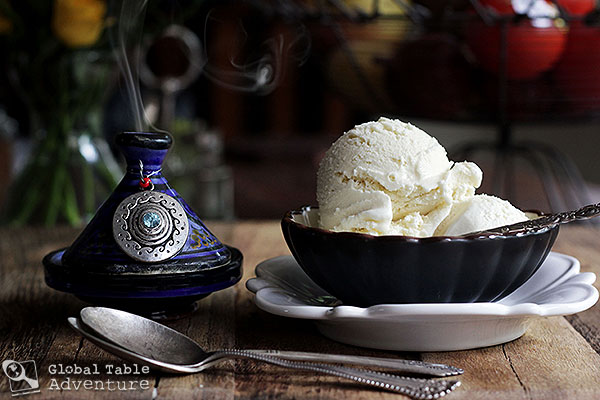 This is your chance: lap up cooling, spiced Omani dreams.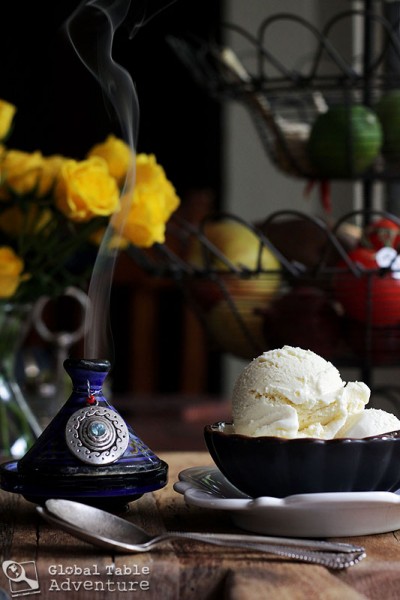 Where incense is good enough to eat… and tastes like a mystery. This is ice cream that's been kissed by a cluster of gentle pines, sweet ginger, and the ghost of oranges.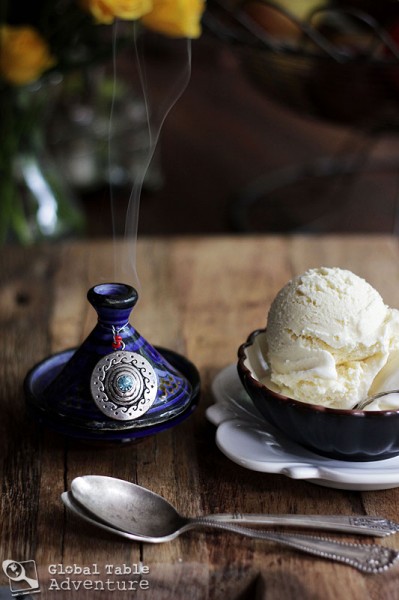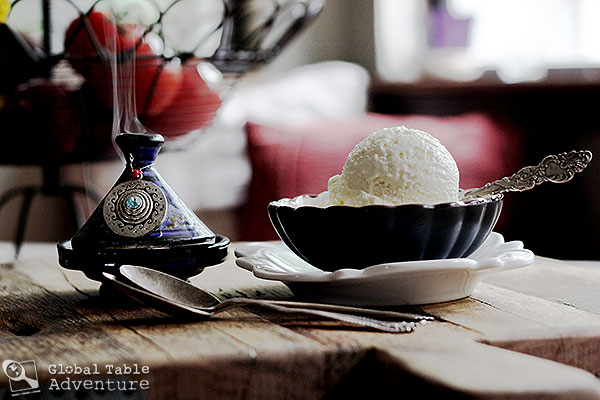 Enjoy the moment.
Wrap yourself in relaxation.
Let the ice cream lift your senses and encourage a smile to curl up from the corner of your lips.
It's worth it.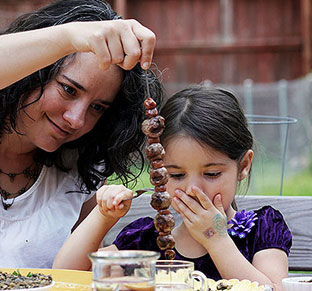 Hungry for more?
Be notified when National Geographic releases my memoir.
Simply fill in your details below.