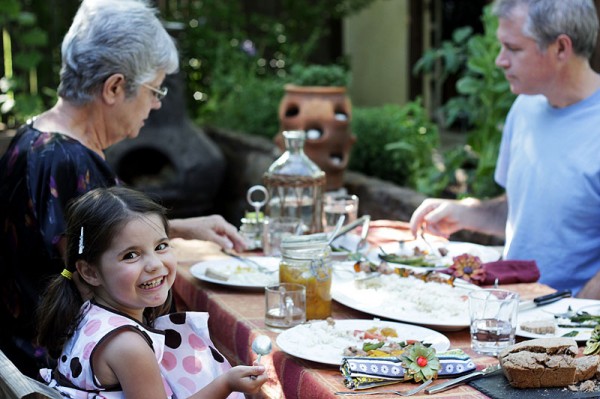 This week we're celebrating two awesome, wonderful, happy, lovely things. 1) We're in the "N" countries… finally! It's been nearly 2 1/2 years of cooking food from every country in the world and here we are! Namibia is a great place to start, too. This menu combines something new (alligator), with the rustic (Veldt bread) and a dash of sass (mango chutney). If that doesn't sum up the spirit of this adventure, I don't know what does  2) My husband was promoted to a new fancypants position at his company. It's long since overdue.  We're fairly sure this means he has to stop wearing superman shirts, except for on the weekends. We shall see.
What sounds good to you?*
An Alligator's Bite (Bushmeat Skewers) [Recipe]
In Namibia Crocodile reigns supreme. Since we can't get those in Tulsa, Oklahoma we're cooking up the (incredibly similar) alligator. Just marinate with piri piri sauce and thread with peppers on skewers.
Bread of the Wild (Veldt Bread) [Recipe]
Dense whole wheat quickbread made with cinnamon, ginger, and cloves. A rustic combination from African and European heritages. Goes extra well with butter.
Mango & Ginger Chutney [Recipe]
A sweet and spicy blend of mangoes, ginger, onion and red pepper flakes. This vegan condiment is perfect with just about anything.
*All recipes and the meal review will be posted throughout the week.