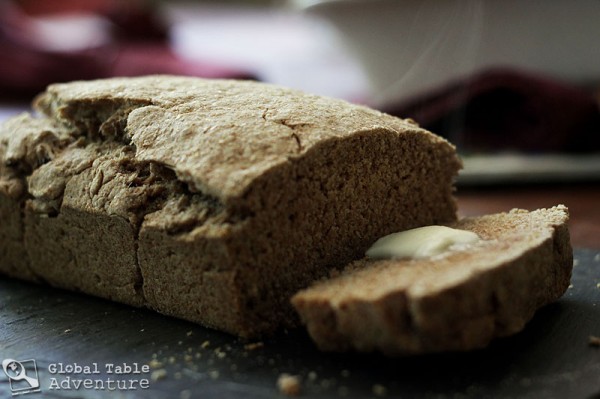 Today we're traveling to the sandy, dusty plateaus of of Southern Africa where you'll find the Veldt – large expanses of wilderness, often filled with scrubby bushes and the occasional scraggly tree. Here, too, you'll find prowling lions, circling scavenger birds, and hearty veldt bread – which pretty much means bread of the wild.
According to the World Cookbook for Students, this quickbread was created by European settlers as a way to nourish themselves with familiar ingredients in an unfamiliar land. Since it's leavened with baking powder, there's no long rise time – just pop in the oven (or over a campfire) and chow down. No muss, no fuss.
Spices like ginger, cinnamon and cloves give this rugged, dense "wheaty" bread a lovely lift. Much like Irish soda bread, Veldt bread tastes best when steaming hot, slathered with butter. So go ahead, set up camp by a Namibian sunset and enjoy a slice.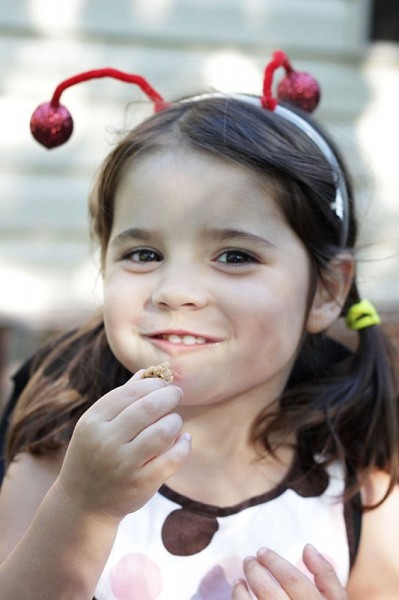 Makes 1 loaf
Ingredients:
3 1/2 cups whole wheat flour
1 1/2 tsp baking powder
1/2 tsp salt
3 Tbsp brown sugar
1/2 tsp cinnamon
1/2 tsp ginger
1/4 tsp cloves
1/4 cup melted butter
3/4 cup milk
1 egg
2 tsp oil or melted butter, for greasing loaf pan
Method:
First, get in the mood with a little Namibian music. Preheat the oven to 325F.
Dance while you whisk together all the dry ingredients. Enjoy how the earthy cinnamon, golden ginger, and deep brown clove make the flour look like a dusty wilderness – much like the veldt. See if you can find any lions in there…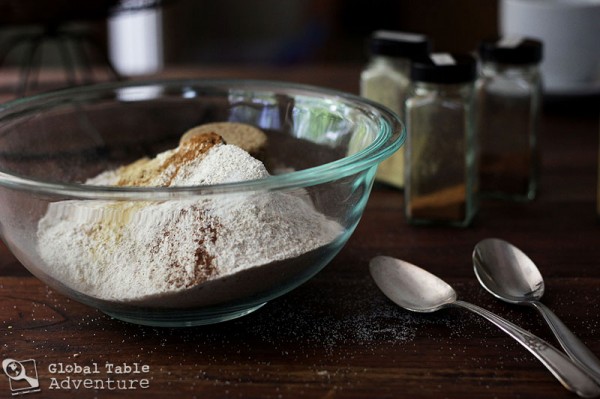 Next, add in the wet ingredients.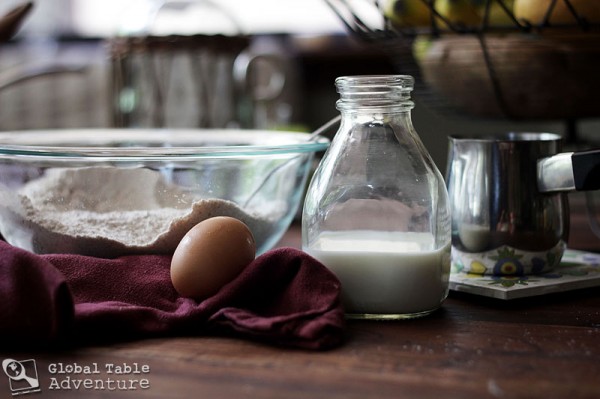 You'll end up with a somewhat stiff dough, but it should not be crumbly. Knead for several minutes until smooth. I got distracted and stopped short when I made this recipe – next time I'll try kneading for at least 5 minutes.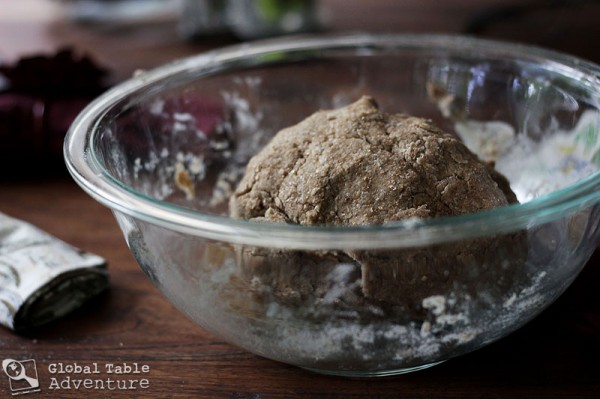 Press into an oiled loaf pan and brush with more oil. Bake for 35-45 minutes, or until cooked through.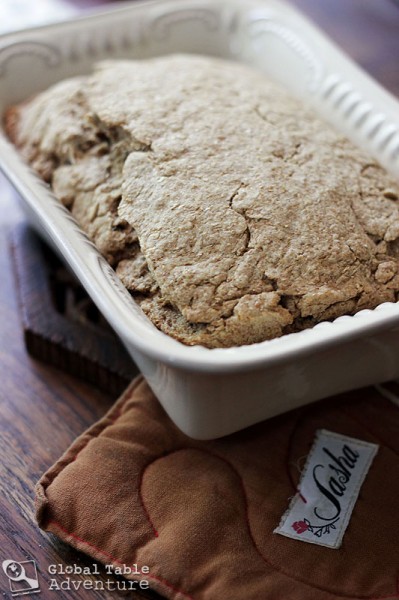 Since this is a quick bread, the loaf doesn't rise a whole lot and maintains a rustic appearance.
Embrace imperfection. It tastes divine.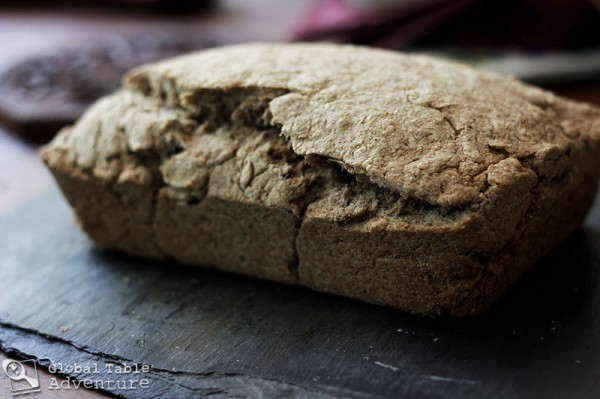 When you slice the hot bread, prepare yourself for the subtle beauty of the spices to perfume your home.
Immediately slather thick slices with soft butter.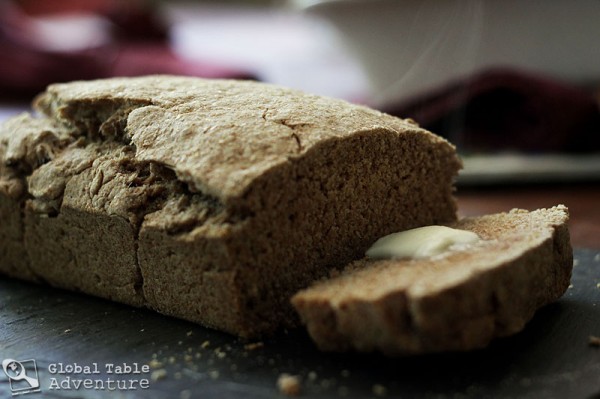 Wait until it just melts into the bread…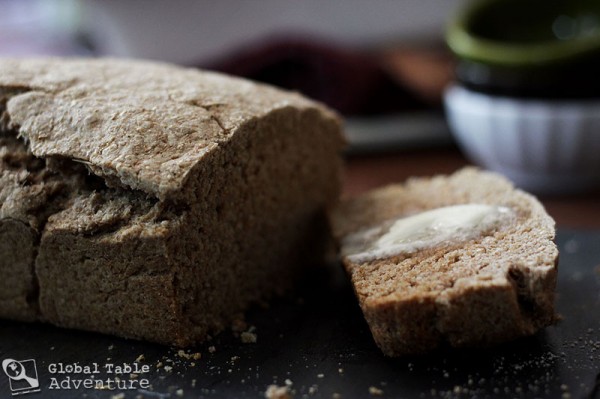 … and enjoy!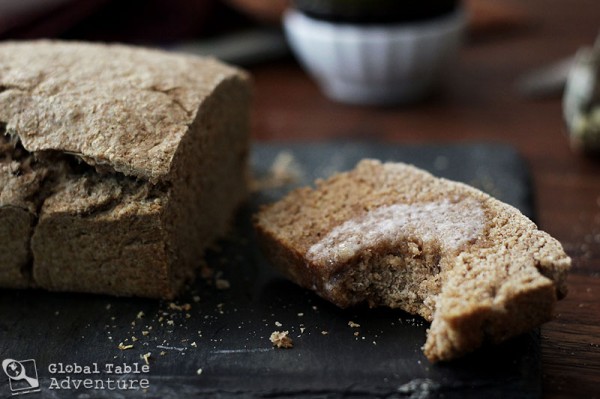 Don't let that giraffe bother you. She's just loving the subtle hint of cinnamon, ginger, and cloves rising from your bread.
Enjoy hot for breakfast in an early morning light, with tea in the bright afternoon, or with just about any meal as evening approaches.
Veldt bread also tastes beautiful at midnight under the Namibian night sky.  Watch the glory and see if you agree.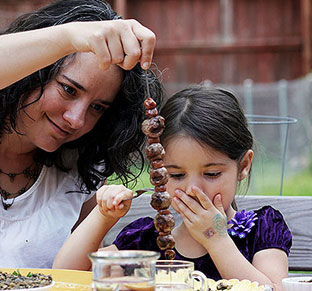 Hungry for more?
Be notified when National Geographic releases my memoir.
Simply fill in your details below.