I was talking with someone the other day about what this Adventure is all about. She wanted to know if I really thought I could change the world by cooking a meal from every country.
"It just doesn't seem realistic" she said.
I considered my answer, gazing at the puffy clouds dotted throughout the blue sky.
I immediately thought of our latest Global Table meal – Mauritania, in northern Africa. The week was all about food cooked more than once:
Stuffing simmered before roasting.
Couscous steamed twice before spooning.
Tea boiled four times before sipping.
While each dish was easy enough, there was a lot of waiting around. Of listening to the ticking clock. Of watching the birds sing and swoop just outside our window. Of talking and dreaming and talking some more.
Of taking the time to really see and hear each other.
After all, what else is there to do while cooking and recooking all that food?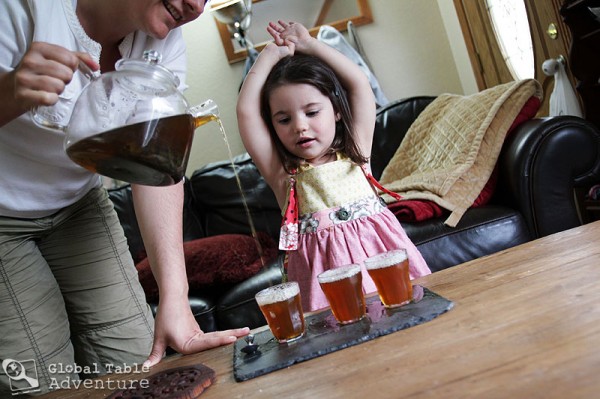 "Maybe changing the world is as simple as slowing down enough to experience it," I finally said, "to appreciate each other – to be present with each other, both locally and globally." I finally said.
"You know – instead of seeing the world through our cellphones," I quickly added.
We both laughed.
Just think of the wonderful chain reaction … if we could all slow down at meal time… if we would consider boiling our tea four times, or steaming our couscous twice.  We could use that time to talk to each other.
If, instead of just slurping down our tea (and coffee) in the car, on the way to the office, we actually noticed what we were drinking and who we were with.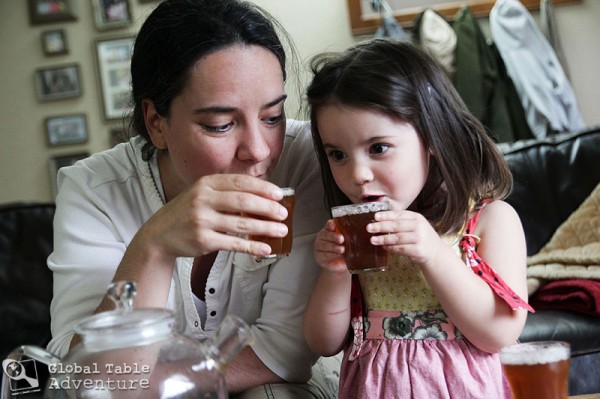 "But you're just one person." she said.
"Yes, that's true. I was. But not any longer. There are others."
I told her how a movement is forming. The Knights of the Global Table are growing in number, all over the planet – regular people bringing other cultures into their own homes by way of stovetop travel. Simply by eating differently. Each time we bring another culture's food to our table, we come closer to accepting them and their common humanity.
Who knows where it will lead. The good news?
"We care enough to try. And isn't that enough?"
That same night I ran into this quote, from Dr. Seuss: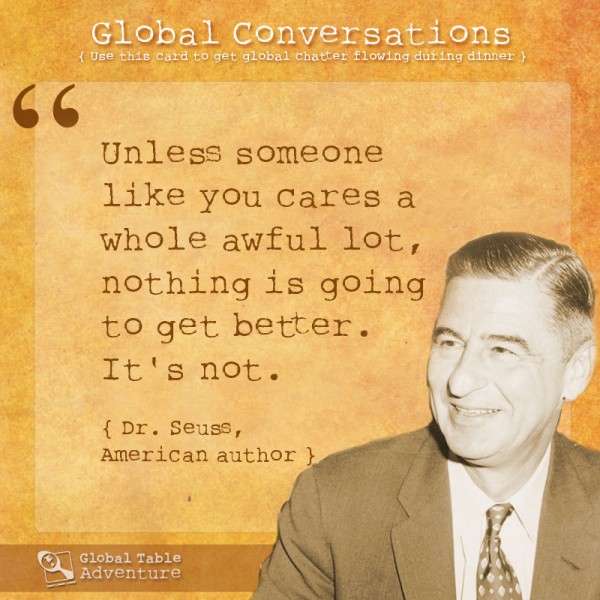 Let's raise a glass to caring. And let's give three cheers to the movement (because three is better than just one).
Are you cooking along with us? Have you tried some of the dishes? Many? A few? Do you have plans to, but haven't gotten there yet? I love hearing from you and am always happy to hear how things are going. I welcome your stories!
THE FOOD
Rainy Day Cous Cous [Recipe]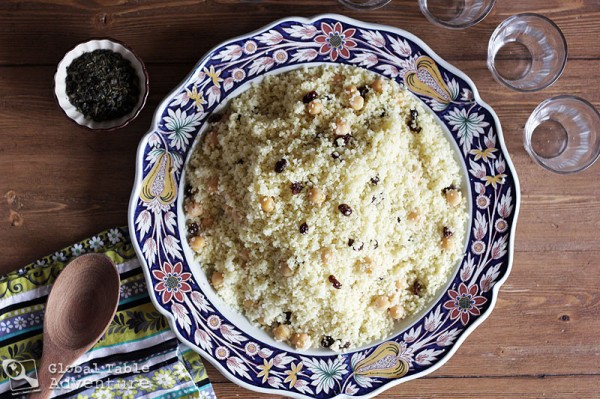 What I loved most about this dish:
The texture of this couscous is divine. The rich hint of olive oil, delicately coating each grain, makes for the most luxurious side dish. Ava gobbled this one up, chanting "couscous, couscous, couscous" with every bite. Apparently it's as fun to say as it is to eat. Since this meal, Ava tries to ask  for it for dinner, but she forgets the name, calling it "that yellow thing" (not sure where she got the "yellow" from). Keith, a.k.a. Mr Picky, enjoyed it as well and ate his fair share.
What I loved least about this dish:
Twice steamed couscous is a bit confusing the first time, if only because I was trying to decipher and adapt other people's recipes. Thankfully, I believe I came up with a straightforward recipe which will be easy to make from here on out.
Mechoui Stuffed Leg of Lamb with Dried Fruit [Recipe]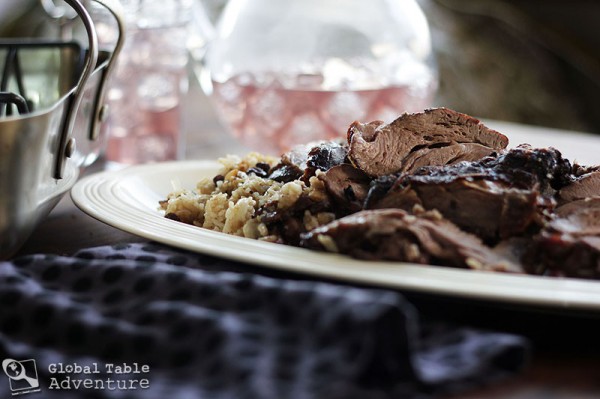 What I loved most about this dish:
The rich, sweet fruit with the deep crusted lamb makes for an addictive combination. I chopped up the leftover lamb and added to a lagman shurpa inspired soup from Kazakhstan. Now that's a true Global Table!
What I loved least about this dish:
I had trouble keeping the stuffing inside the leg of lamb when slicing the meat. I think next time I'll simply bake the stuffing alongside the lamb, as we do with turkey stuffing. The flavor is fantastic.
Traditional North African Green Mint Tea [Recipe]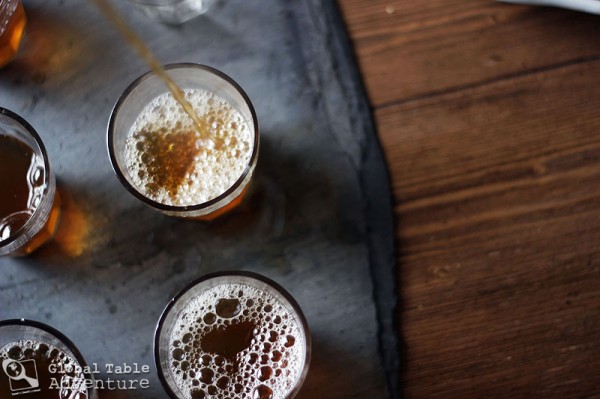 What I loved most about this dish:
Everything, everything, everything. To quote Mr Picky, "is there anything in this tea besides sugar?" While I don't  normally go for super sweet drinks, the mint is so refreshing, especially after a heavy meal. It's the perfect way to finish a meal and all the waiting around encourages great conversation. I hope to make this in a metal kettle around a campfire (or in my chimnea) soon. As for Ava – her thoughts were clear when, one sip in, we got the most fantastic grin.
What I loved least about this dish:
Just be careful of the glass teacups – they get hot, so try to underfill them so you have something to grab onto as you pour the tea in and out (and in and out again!).
Ava's Corner
P.S. Don't forget to vote in the polls and help decide our entire Mexican menu…