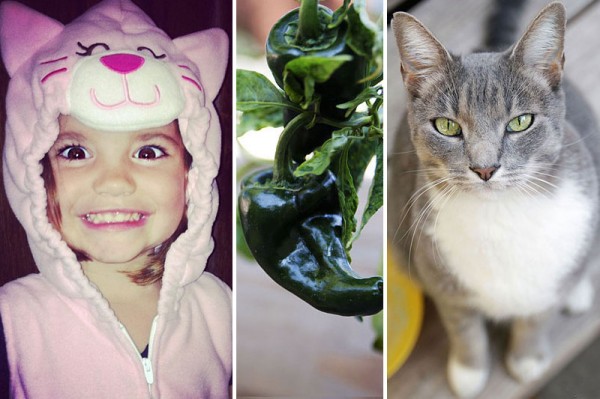 I'm sitting at a café writing about Kuwaiti food. If shut my eyes I can almost imagine I'm in the bustling metropolis of Kuwait City. Kuwaiti culture places great emphasis on entertaining with a plentiful table – being a generous host. This menu, loaded with fragrant, flavorful food, will definitely help you towards ultimate hospitality. Just be sure to begin with a nice coffee and finish with tea. Cat costumes are optional.
Today the question is not what sounds good, but what to eat first.
That's what Ava tells me, anyway.
She's hungry. Like a cat.
Machboos [Recipe]
A large platter of aromatic basmati rice and whole chicken, topped with caramelized onion, raisin and slivered almonds, seasoned with a blend of cinnamon, turmeric and a sour blast of black lime powder.
Daqqus Sauce (Kuwaiti Tomato Sauce) [Recipe]
You, tomatoes, garlic, hot peppers, a blender and an appetite. It's love.
My Kuwaiti PB&J  [Recipe]
My brain went crazy when I ate this. I wonder if yours will, too. Stay tuned for details.
 P.S. These recipes and the meal review will be up by Monday morning.
A note about this weekend: When did Halloween sneak up on us? Jack-o-lanterns stare me down everywhere I go and the trees are finally crimson and gold. So, in honor of dressing up in silly costumes and eating sweets, here are a few treats from around the world that would be fun on your party table. Enjoy and have a safe holiday!