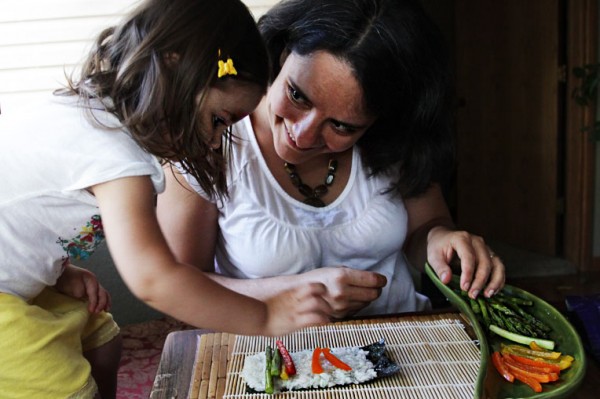 Last night I did my first ever live demo while on radio. There were about two dozen people there to try the food.
What a rush!
What fun!
What a late night.
So here I am, rubbing the sleep out of my eyes, focusing in on Japan. I'm happy to tell you that this menu is going to be both beautiful and delicious. And very hands on.
So here's the menu… What sounds good to you?
A Bento for Miss Ava [Recipe]
Send your toddler to preschool with the cutest bento lunch in the world. Just be warned – you'll end up wanting one for yourself. It's like a hundred delicious smiles in a lunch box. Brilliant.
Veggie sushi (futomaki) [Recipe]
If you've never done it before, you need to do it: veggie sushi. In fact, this is one of my favorite interactive dinner party themes. Colorful and fun, everyone makes their own sushi from an assortment of sliced veggies like avocado, asparagus, bell pepper, cucumber and sweet pickled gourd. Plus, kids love it. The fun is in trying, not perfection (or the "P" word as Flylady says)
Sushi Rice [Recipe]
Slightly sweet, slightly vinegary. Sushi rice is surprisingly easy to make and incredibly satisfying.
Espresso Jello with Evaporated Milk [Recipe]
Pull yourself out of the 3pm slump with this crazy, wiggly, jiggly drink. Cubes of espresso jello in evaporated milk might be the most ingenious drink idea ever. Especially since the jello can be slurped up through extra wide straws. Wonderful!