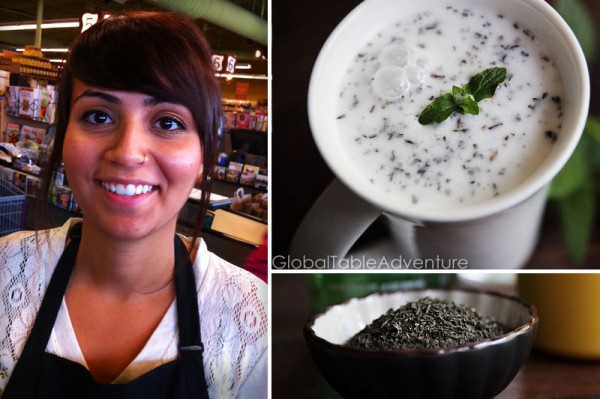 THE SCENE
Beep.
Beep.
Beep.
I was waiting to pay at Whole Foods, watching my food come down the belt with one eye and shooing Ava away from the chap stick display with the other. Other than that, I might as well have been asleep.
I've been working hard. Lately, that's all there's been time for. Working to be a good mom. Working to be a good wife. Working to not melt in the 100F temperatures Tulsa has been sustaining for a month now. And, of course, working on work.
My brain was tired, and the steady beep of the scanner only lulled me deeper into a trance.
So, when the happy voice said "What's the pomegranate syrup for?" it took me a few seconds to realize they were talking to me.
I looked up, unglazed my eyes, and smiled.
"What?" I said, looking vaguely at the bottle in the girl's hand and then up at her name tag. Farisa, it read.
"The pomegranate syrup?"
Farisa was bagging my groceries. She was friendly, polite, and interested in me as a human being – not just a customer.
I told her it was for dipping kabab koobideh in – that I was making Iranian food later on.
"Ahh, yes," she cheered, with a knowing smile, "I'm from Iran!"
My eyes lit up.
The next five minutes were spent in eager chatter about what I was making, how to make it, and what a good omen it was to meet someone from Iran the day I was to cook Iranian.
Ever conscious of the line piling up behind me, I hurriedly asked her if she'd ever had doogh, the minty yogurt drink from Iran.
"Yes, yes," she nodded enthusiastically. "It's wonderful! Yes. You're meal is going to be perfect."
And, just like that, I was energized.
As I walked out the door, I swooped down and gave Ava a kiss on the nose.
I'll never get over how International Tulsa is. Nor will I ever get over how often these fateful encounters have happened over the course of this blog – I've written about Belarus, Bulgaria, Finland, Ghana, and now Iran – but there was also my friend's Austrian wife, my German neighbors, and more.
You could call it chance.
You could call it crazy.
But, when you think about the really big picture, here's what I'm thinking:
The fact that I keep meeting the exact right people along the way, exactly when I need them most, is a sure sign that I'm on the right path.
Correction: that we're on the right path.
Let's eat the world!
THE FOOD
Sour Cherry Rice [recipe]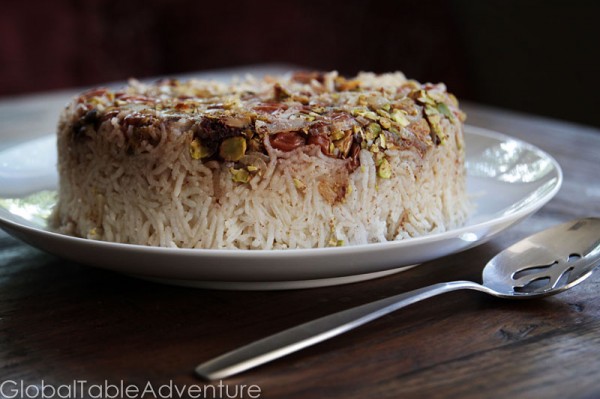 What I like most about this dish:
This dish is incredibly impressive. The rice comes out fluffy and dry (as it should), and looks lovely decorated with a smattering of sour cherries and caramelized onion. The pistachios, softened from their time steaming, were possibly my favorite part of the entire dish.
What I like least about this dish:
It's easy to overcook the rice. You need to have your stove set as low as possible and check the rice once or twice. Mine only took 30 minutes (but the top of the rice looks less done than the inside, so I overcooked it slightly). Also, if you flip the pot over (exciting!) and some of the bottom stays stuck, have no fear. Simply scrape it off and pile on top of the mound.
Kabab Koobideh [recipe]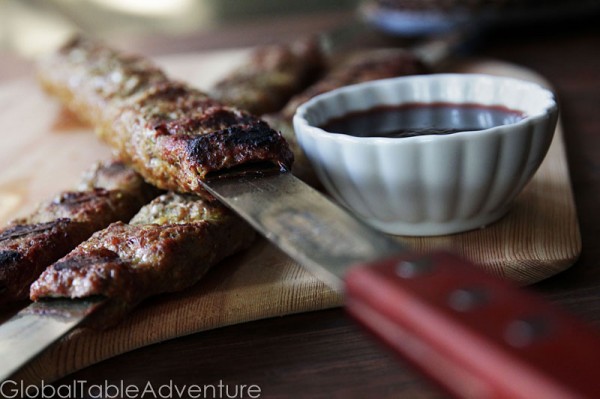 What I like most about this dish:
The slightly sour sumac with the mild spice of turmeric made for a fabulously fragrant kabab that was not overly hot. This should be a good mixture for all palates. My absolute favorite part? Dipping it into the sweet/tart pomegranate syrup. I had to restrain myself from drowning it in the stuff.
What I like least about this dish:
Next time – for the fun of it – I'd like to try a blend of 50-50 beef and lamb. Whatever you do, be sure you use a juicy cut – about 90% lean seemed perfect.
Iranian Cucumber Salad [recipe]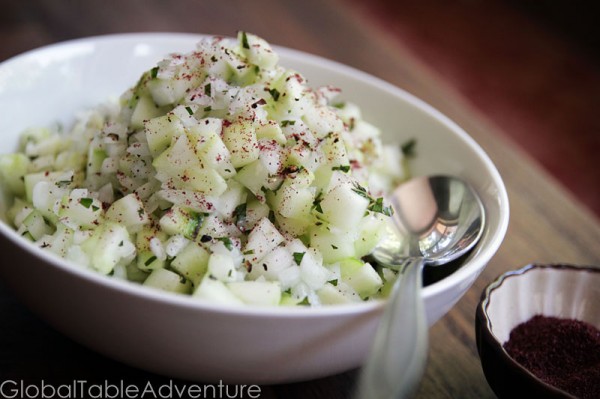 What I like most about this dish:
The sour flavors create a refreshing side dish, while the mint punches it up a notch, so you know you're not in Kansas anymore, so to speak.
What I like least about this dish:
Nothing here, although Mr Picky was rather dismayed, exclaiming "It tastes like pickles!" He's not a fan of pickles, although he was proud of himself for "eating way more of this than any pickle anywhere." Let the record state…. he had five bites.
Doogh [recipe]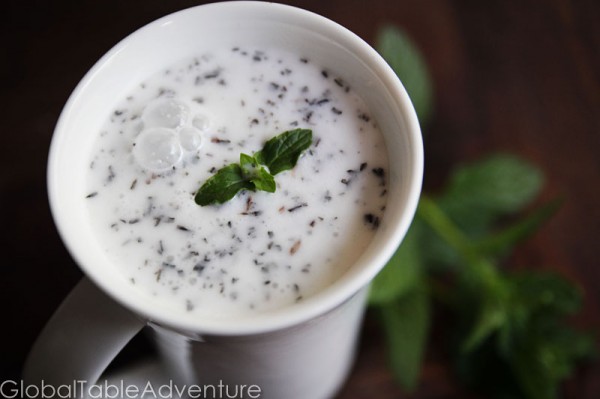 What I like most about this dish:
As strange as the combination of ingredients seemed on the page, I found doogh to be incredibly refreshing. It was also thinner than I expected, so it wasn't heavy.
What I like least about this dish:
While it was good and easy to make, I think it would be better with real carbonation (from a soda fountain), as suggested by Laura Kelley in her book The Silk Road Gourmet.
Ava's Corner
Be sure to watch all the way to the end. You'll be sure to love it.