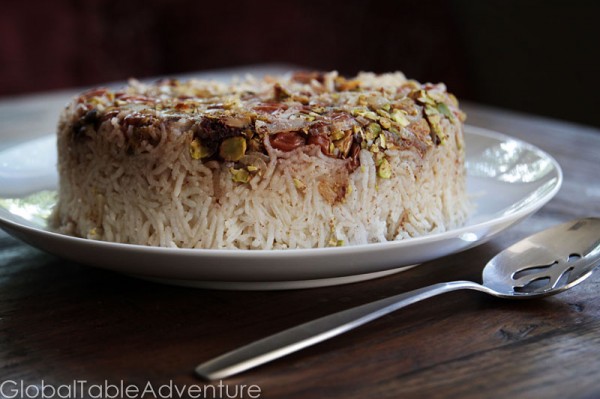 Serves 6
Take a look around you.
I mean really, really look around.
Every little thing – that weathered window sill, the sparkly vase, even that fuzzy gray pillow – they can all be your inspiration. Your muse. The catalyst to the next great idea.
Take this Persian Sour Cherry Rice, for example. When I look at this masterpiece in form and taste – I can't help but wonder what inspired someone to create such a dish. Who was the clever soul that first made this tower of deliciousness infused with cinnamon, nutmeg – punctuated by soft pistachio nuggets, sour cherries and sweet caramelized onion? What were they looking at that sparked the idea?
There had to be something.
Let's see if we can make some guesses…
Recipe adapted from The Silk Road Gourmet by Laura Kelley. You can find more recipes and fascinating history on her blog Silk Road Gourmet.
Ingredients:
1 1/2 cups uncooked basmati rice
2 Tbsp butter (or vegetable oil/vegan butter)
1 medium onion, sliced
1 tsp cinnamon
1/4 tsp nutmeg
salt & pepper
1 tsp sugar
1/4 cup shelled pistachios, roughly chopped
1 cup sour cherries
3 cups boiling water
Method:
My first guess? Iranian wildflowers.
Perhaps someone happened upon this lush meadow, dotted with cherry red poppies, highlighted with purple, white, and green – all sitting below a gray-white tower of stone. And, after staring at this vision, an idea was born…
… Red sour cherries, highlighted with a purple onion and green pistachios, steamed together with a white tower of basmati rice.
Quite the homage to Iranian wildflowers.
Yes. I can see it now.
Only there's just one problem.
I didn't use a purple onion. But I could have.  And, after looking at those flowers, I feel as though I should have.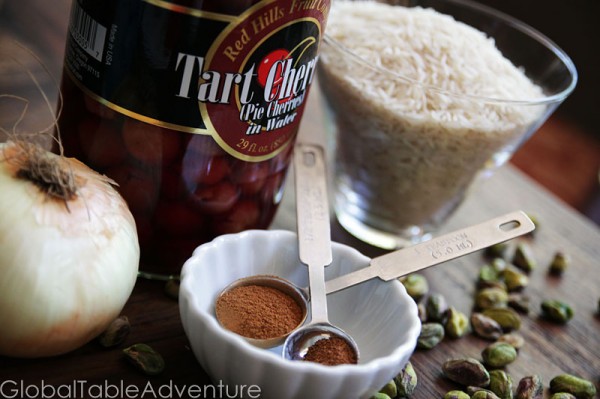 Let's make the dish and see if any other ideas come to us.
First step: Bring water to a boil.
Meanwhile, in a 2.5 quart pot, cook down the onion in butter. Get it in the early stages of caramelization – take it darker than I did. This will make a nice crusty topping for the rice. Next? Add on the pistachios, cinnamon, nutmeg, salt, pepper and sugar. Give everything a stir, then dump on the drained sour cherries.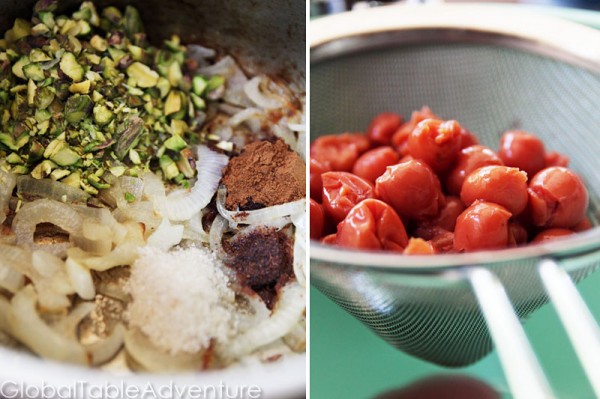 Spread the mixture into an even layer and cover with rice. Add boiling water and cover with lid. Reduce heat to very low. Let steam 30 minutes to 1 hour – give it a taste along the way. Mine only took 30 minutes.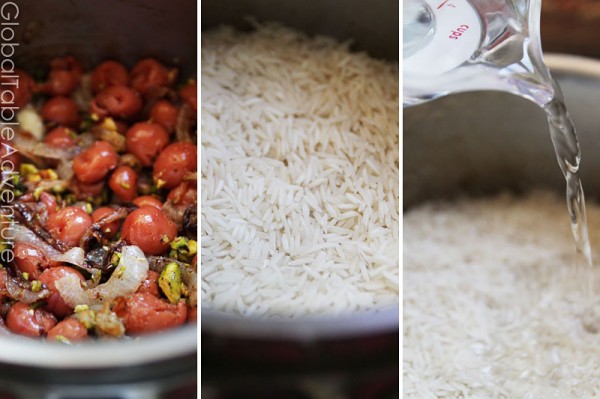 The rice will be done when the grains fluff up and just barely resist when bitten. Remember, the inside of the rice will be more cooked than the top so take care not to overcook it. When you're satisfied with the rice, place a large platter over the top of your saucepan.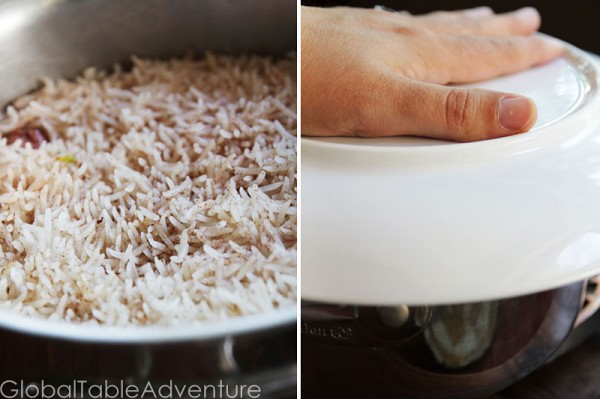 Flip it over and slowly lift off the pot.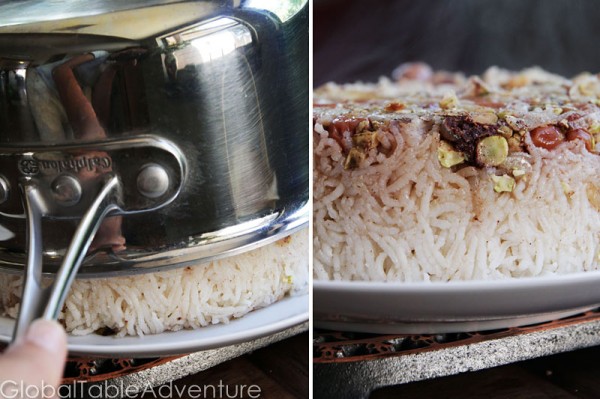 Ahhh. Beautiful.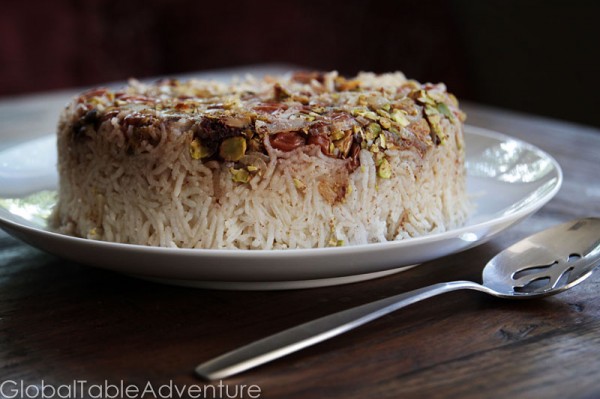 I'm ready to take my second and final guess as to the source of inspiration for this incredible dish.
It's a little unconventional, but I think rather appropriate.
The tent of an Iranian nomad.
These tents stand tall and proud in the wind. They are sturdy and majestic, but also flexible. They flap in the wind.
As for this rice? It is tall and proud. Sturdy and majestic. And, when you let it steam dry for a few minutes after unmolding, you'll bite into the lightest rice you'll ever have the fortune of sampling. So, despite it's sold form, it's really rather delicate.
It might even flutter and flap in the wind.
Wouldn't that be wild?
(Or would it be weird…)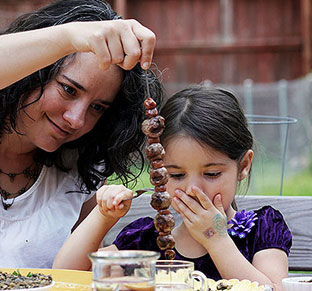 Hungry for more?
Be notified when National Geographic releases my memoir.
Simply fill in your details below.