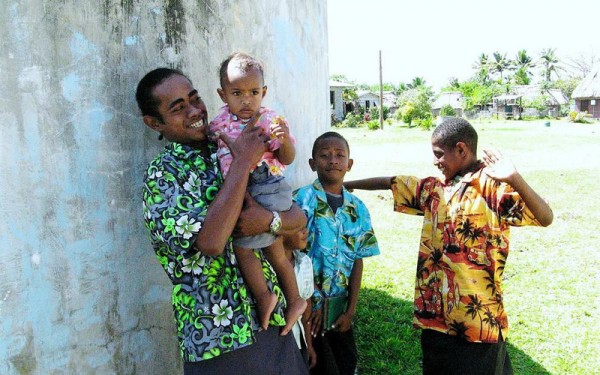 "Bula" my dear friends.
That's Fijian for "Hello, live life fully."
And I really mean it. I hope you take risks – get the courage to talk to your cute neighbor, be brave enough to speak up when someone is in need, and spread love with every action.
Make an effort to look past the superficial. In the wake of the sunami, which set Fiji on red alert this weekend, Fijians certainly were not worried about what brand shoes they were wearing (if they ever worried about this at all). They were cherishing each moment – each second – with family and loved ones.
Yes, wake up each morning and say "Bula." Your conviction will be contagious. And eat some Fijian food while you're at it. You'll be delighted by the variety …
Fan-curry-tastic
Because she was a former British colony, British-ruled Indians came to Fiji and spread a love for all things curry. My eyes almost fell out when I read that they happen to love curried corned beef (you know, what with St. Patty's day coming up this week) [Recipe] made with what else besides homemade curry powder [Recipe].
It's true, I read it in Lonely Planet Fiji.
I also came across a story about cans of corned beef washing up on Fiji's shores years ago, but I can't seem to retrace my steps back to that source. Regardless, corned beef makes it's way into many meals, including lunch – cooked in taro leaves or scooped up with roti bread.
Starchy Staples
Fijians love taro, cassava, yam, breadfruit, and rice. Exact popularity varies with each ethnic group. If so desired, an entire meal could be a carb lover's dream.
Coconut Crazy
Seems like every Fijian recipe I saw had some form of coconut in it. There's the local ceviche, called kokoda [Recipe], made with coconut milk, lime juice, peppers and more. Then, there's the ever popular polynesian dessert – bananas barely warmed through in sweetened coconut milk [Recipe]. And that's just the beginning. Coconut water is everywhere… for good reason – it's healthy and refreshing.
Intoxicate and Celebrate
If you're a guest of honor, you might be offered kava, a somewhat intoxicating drink made from a plant related to the pepper bush, traditionally served out of a coconut shell.
The drink has a mildly numbing effect on the teeth and the tongue but otherwise it had no noticeable effects on us. According to some sources, it is meant to make you feel relaxed, de-stressed and sleepy, but since for me that just about sums up the whole Fiji effect it's hard to tell.

– Sam Breach Becks Posh Nosh
Guests of honor might also be invited to take part in a meal baked underground, in a lovo oven. Lovo ovens are popular throughout polynesia.  The entire meal – fish, starch, and veggies are buried underground, in the lovo.  When the leaves (or dirt) are removed, the food parcels are said to suddenly fill the air with wonderful aromas. Enticed diners pick through the food and fill their plate. Fun!
Last Resort
If none of these dishes are to your liking, keep on sipping from your water bottle. You know, the one with "Fiji" plastered all over it.
I still love ya.