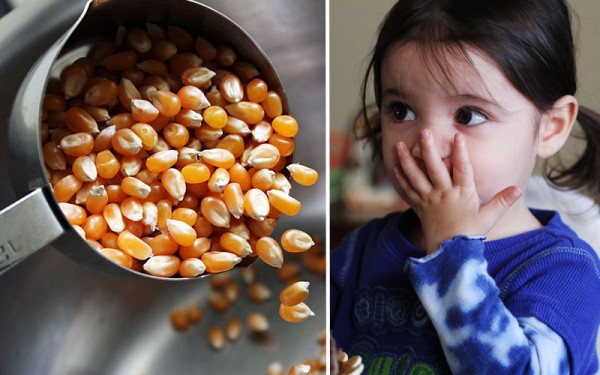 THE SCENE
Popcorn. The final frontier.
I traced my fingers along the counter tops, navigating between a giant red bowl and a small plastic bag filled with popcorn kernels. I stopped when I reached the spot the microwave was supposed to be.
About this time last year, early one Saturday morning, I had a minor meltdown (in my baby blue bathrobe and fuzzy slippers, no less). I was bleary eyed. My head hurt. All I wanted in the whole, wide world was a giant mug of hot chai tea with milk. I walked into the kitchen and literally couldn't see the counters for the appliances. Stuff was everywhere.
I could almost feel all 3.75 walls of my tiny windowless kitchen closing in on me.
I started crying.
All thoughts of tea forgotten, I hastily unplugged the microwave, my bread machine, and coffee maker. I began taking them, one by one, to the curb.
(If I know how to do anything, it is how to be impulsive and overtaken by emotion.)
Mr Picky stumbled into the kitchen as I struggled to lift the the microwave.
"What's going on?" he said, taking the giant box from my hands.
"This stuff is in my way." I said, lower lip trembling. "I can't take it any more. I have zero counter space. I can't work like this."
He looked me straight in the eye with the most sincere look of affection. "I'll take care of it." he said and off he went.
My tiny kitchen gained 4 square feet of counter space that day. I could breathe again.
Three months later I wandered into the garage and saw something that froze me in my tracks. There was the microwave, tucked behind a large cardboard box. Turns out Mr Picky, always the practical husband, secretly stashed the microwave – in case I changed my mind.
I ran into the house and told him I was happy as a clam, melting butter on the stove and reheating pizza under the broiler. I told him that I really, really, really didn't want the microwave. It was gone that same day.
And yet. A year later, here I was, about to make my first batch of microwave-free popcorn.
I was giddy. The oil shimmered, swirling around the golden kernels. I squealed when the first few white clouds popped their way into existence. More and more kernels popped, making a mountain that eventually reached the lid. I was doing it – I was making popcorn – just like mom did when I was little. It was no big deal.
I'd reached the final frontier thanks to Ethiopia.
Boy was I relieved.  I really didn't feel like buying another microwave.
THE FOOD
Spicy Lamb and Sweet Red Onion Stew (Awaze Tibs) [Recipe]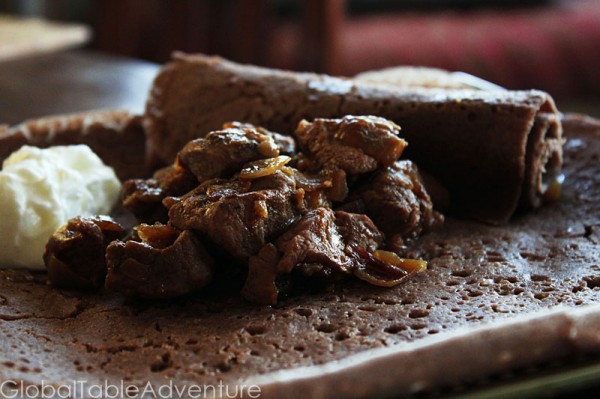 What I liked most about this dish:
Tibs was one of my favorite dishes so far on this Adventure. Sweet caramelized onions make a great backdrop to the intense heat from berberé. I also love how the ginger and garlic brighten up normally gamey lamb. I would try this with chicken, too. Overall, another great recipe adapted from Laura Kelley at Silk Road Gourmet.
You'll be happy to know Mr. Picky actually ate this one with his fingers – thanks in great part to the peer pressure exerted from you all during our Eritrean Global Table. Not only did he survive, but he actually seemed to enjoy himself. Thank you!
What I liked least about this dish:
Play around with the spice levels – 2 teaspoons of my berberé was very hot – I enjoyed it, but any hotter I would not have been able to handle it. For mild, try a teaspoon.
Stovetop Popcorn [Recipe]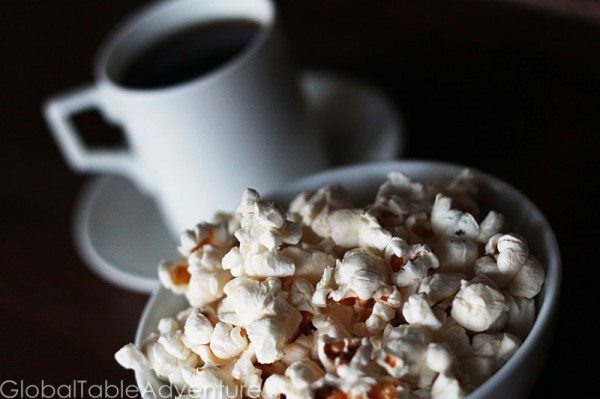 What I liked most about this dish:
Anyone who makes popcorn on the stovetop is a superhero, especially to a child. Try it – it's easy!
What I liked least about this dish:
I should have melted butter ahead of time to drizzle over the top. I forgot and by the time it was melted the popcorn was already cool. No matter, in Ethiopia they probably wouldn't put butter on it anyway.
Ethiopian Coffee Ceremony [Recipe]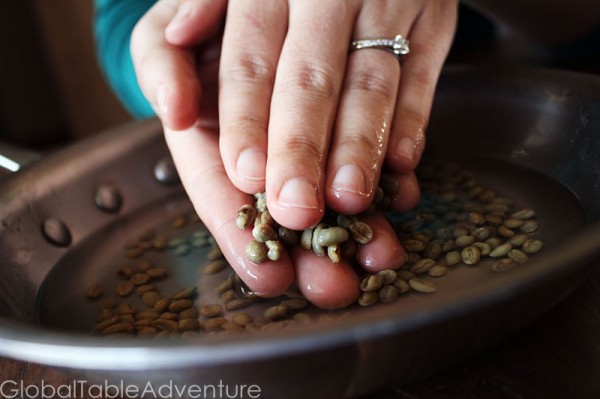 What I liked most about this dish:
This was the most fun I've had making coffee. There's something about the relaxed ritual that makes a simple cup of coffee extra special. Plus, roasting the beans right before drinking the coffee makes the flavor extraordinary.
What I liked least about this dish:
The only thing that would have made this experience better is if I had had the proper equipment to do a 100% authentic Ethiopian coffee ceremony. Luckily, the flavor was still good.
Ava's Corner