We had killer-good food and one epic fail this week. Considering we've been living in "renovation-land," things could be a lot worse.
For example, I almost lost my measuring cups, spoons, and chef's knife. Turns out they were just hiding in the living room, under the contents of three other drawers.
And, while we're talking about renovations…
Did you know there are about 100 million kinds of white paint in the world? I assure you that, if you ever decide to paint your cabinets white, you'll quickly become acquainted with all of them. White whites, creamy whites, green whites, blue whites. Pretty soon, you'll be begging for a white padded room.
Just keep breathing.
Here's my kitchen, now in the middle of the renovation. Please ignore the mess, but note several key things.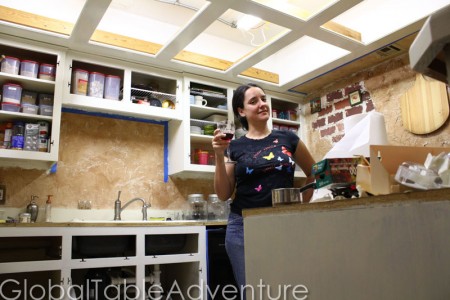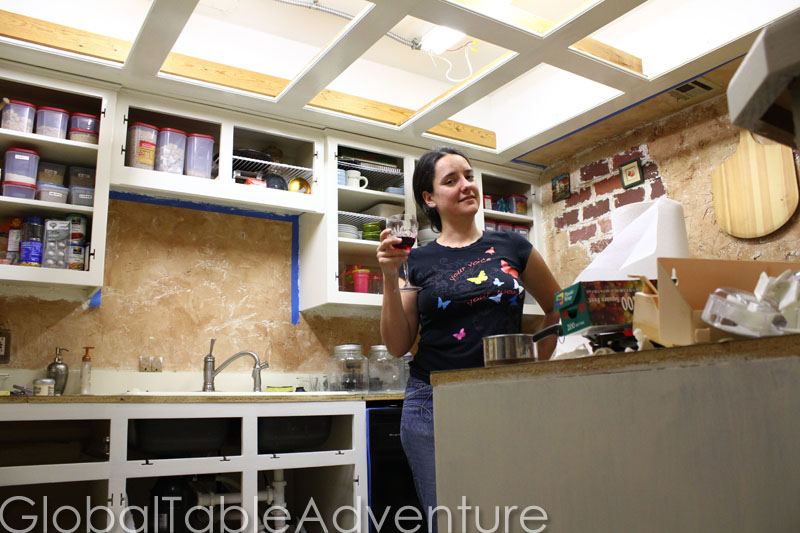 1.  The cabinets in front of me are antique white. As pretty as it sounds, antique white isn't pretty under fluorescents. The color is sad, sallow, and dingy under my flickering lights, especially once the overhead diffusers are in place. I'm actually afraid of this color. I bet that, given a few months, it would cause a wicked case of Season Affective Disorder.
2. The cabinets behind me are the final white. Cheery and chipper, but also creamy. This white is called White Linen. I'm 100% into it.
3. The teeny tiny pot in front of me is the only copper bottomed pot that I own. It was used by my mother for years and now by me. There is something magical about the way it melts butter.
4. The neat rows and tall stacks of tupperware (most of it is Rubbermaid's modular pieces). I finally broke down last weekend and spent good money to get my "lack of pantry" under control. Plus, I couldn't have the painter see my messy cupboards. How embarrassing.
5. The modular tupperware pieces are the depth of the cupboard, making it impossible to lose one thing behind another.
6. Wine is a requirement when it comes to kitchen renovations. Keep several bottles around, in case of emergency. If you don't drink wine, try herbal tea. But it must have honey in it.
7. I like the immediate gratification of not having cabinet doors. I might never put them back on.
Heart of Palm Salad [Recipe]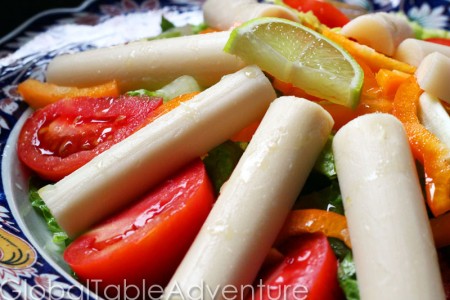 What I liked most about this dish:
Although I thought it would be boring, I loved the simplicity of fresh lime juice and olive oil on this salad. Also, I'm in love with Heart of Palm – they are kind of like artichoke hearts, but firmer and a bit brighter flavor. The varied colors make for a festive salad that I'll be making again.
What I liked least about this dish:
Some Costa Rican's enjoy this salad with mayonnaise. I just wasn't into it – I think it adds to much fat and heaviness. Thankfully, that's just an option. Oh – and if you don't like some of the ingredients, feel free to play around with them. The only thing that has to stay is the heart of palm. After all, that's the salad's name.
Gallo Pinto [Recipe]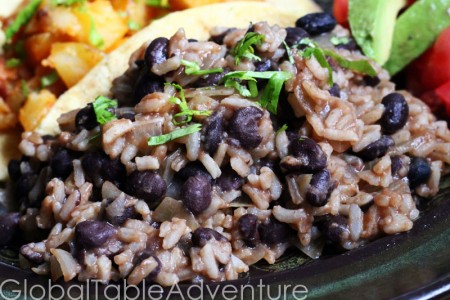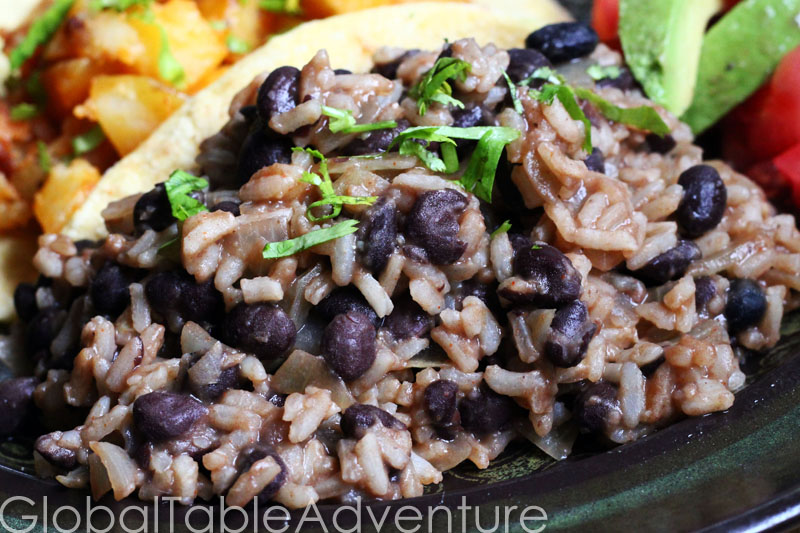 What I liked most about this dish:
This is a nice way to use up day-old rice. I agree with the Costa Ricans – this dish would be great with eggs, for breakfast.
What I liked least about this dish:
I didn't mind the worcestershire sauce – but wish I could have gotten my hands on the authentic sauce they use down there. Mr. Picky was really befuddled by the flavor of the beans and rice. "I thought this was just beans, rice, onion, and garlic?" he asked. "Yes," I replied, "and Worcestershire sauce." "Oh. That's the funny taste." His taste buds are way more sensitive that mine. Except when it comes to salt. And then he piles it on.
Costa Rican Potatoes with Corn Tortilla (Gallitos de Papa) [Recipe]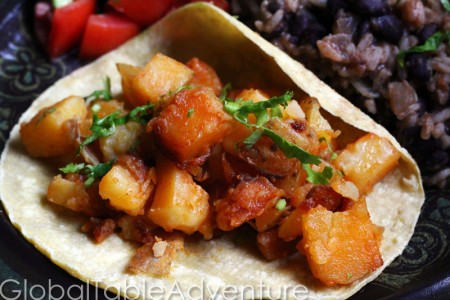 What I liked most about this dish:
This was another dish that would be incredible with eggs. In fact, I think this will be my go-to recipe for breakfast potatoes from now on. It was super easy and, thanks to the smoky paprika and pinch of sugar, big on flavor!
What I liked least about this dish:
I wasn't crazy about this in the corn tortillas – I thought the combination of potato and tortilla was dry – perhaps the situation would be improved with a healthy dollop of salsa and moist scrambled eggs.
Cooking tip – although it seems like a lot of oil, good olive oil adds great flavor AND keeps the potatoes from sticking. (A little bit of crusties is good, though). Just keep them covered and stir about 3 times during the cooking. The cover keeps the moisture in. If you want to, add some water – but I really don't think they need it.
Caramel Milk Candies (Dulce de Leche Candy) [Recipe]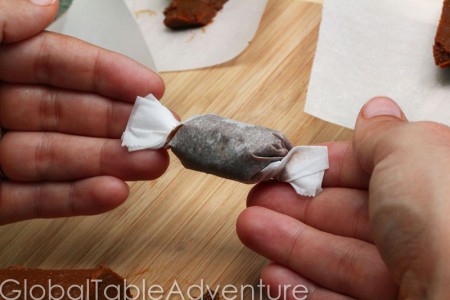 What I liked most about this dish:
I love this concept for Halloween. Or any time candy is needed. I also loved all of you rallied to give me advice on how to fix my epic fail. Perhaps one day I'll try again… Wait. I devoted over 24 hours of stove time to this dish alone. I. just. cannot. do. it. again. If you find a way to make this work, send me an email with photos and I'll post your fix with the recipe.
What I liked least about this dish:
As far as epic fails go, this wasn't too bad. All I had to do was simmer a can for hours on end. Not much blood, sweat or tears. At the end of the day, I was told that what I made is good spread on bread. At least it isn't garbage, but it sure isn't candy. What a shame.
Ava's Corner