I poured the thick, grade A dark amber maple syrup into the pot and reluctantly added a cup of water to thin it out. Even still, the liquid was viscous, sluggish, sweet. Perfect for simmering dough until tender.
I clicked on the range and watched as the syrup shimmered, swirled, and eventually bubbled up. Time to make the doughnuts.
I mean… grandpères.
One by one, I dropped small, sticky balls of dough into the simmering syrup and watched them dunk, then bob back up to the surface.
"Are they ready yet?"
Keith was breathing down my neck. A moment later his nose was an inch from the molten hot tub of sugary goodness.
"You'll get burned," I warned, slapping his fork away.
"What's with you and forks for dessert, anyway?" I muttered.
He laughed.
You see, almost every time we eat dessert he uses a fork. And every time I ask him why.
He also wears his socks inside out.
The man is a mystery.
Canadian Dijon and Maple Grilled Chicken [Recipe]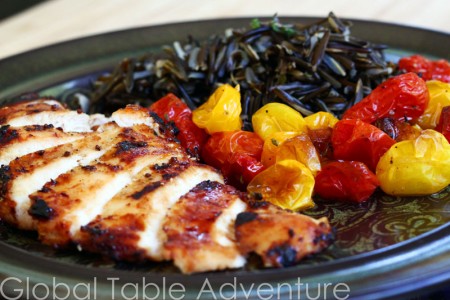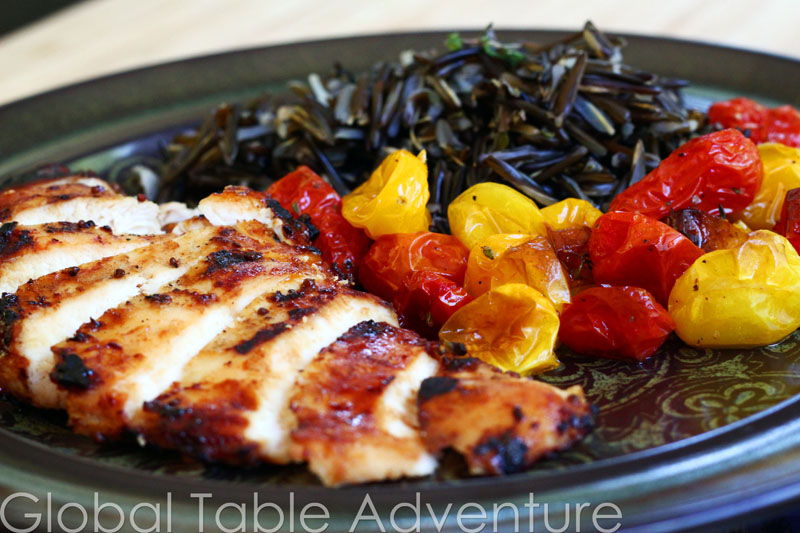 What I liked most about this dish:
This tender, grilled chicken is sweet, savory, and easy. The longer you marinate the chicken breasts (overnight is ideal), the better the maple flavor soaks into the chicken breasts, tinting them light brown. What better that coming home, after a hard day's work, and pulling out the marinated breasts and throwing them on the grill. Dinner in fifteen – can't be beat!
What I liked least about this dish:
Watch the grill so that you don't undercook or dry out your chicken. I'm not above cutting into a piece, just to be sure. Revenge of the chicken is not pleasant, nor is a dry, stringy mess.
Butter-roasted Tomatoes [Recipe]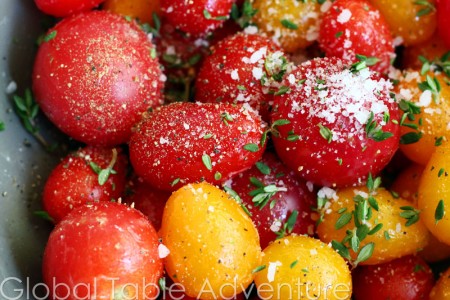 What I liked most about this dish:
A pint of farm-fresh tomatoes – a few bucks.  Keith calling tomatoes "Pretty Good" – priceless!
I've tried to tell Keith that the limp, pale tomato slices found on burgers across America are not what real, in-season tomatoes are like.
This week, thanks to this recipe, I think he finally believed me.
Ideal to pair with a dry dish – such as the wild rice – because the sweet juices keep your palate moist and awake.
What I liked least about this dish:
I made a pint of tomatoes which was just enough for two. I enjoyed them so much, I could have eaten the entire pint by myself.
Canadian Wild Rice [Recipe]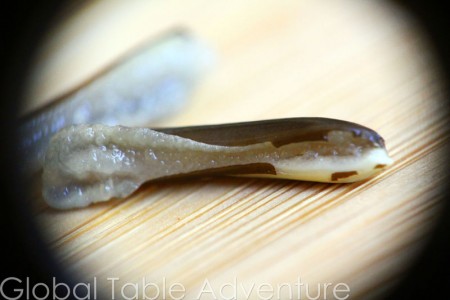 What I liked most about this dish:
This dish is a breeze to make. I've had wild rice blends, but never authentic Canadian Lake Wild Rice –  I enjoyed the little pops  chewiness of the rice. Also, I love how the macro shots of the rice came out. My husband's getting pretty nifty with the camera.
What I liked least about this dish:
I wish I could have paddled along a Canadian lake and harvested the rice myself. The process looks very serene – if you haven't seen it, I posted a video on Saturday of this)!
Grandpa's Maple Dumplings (Grandpères) [Recipe]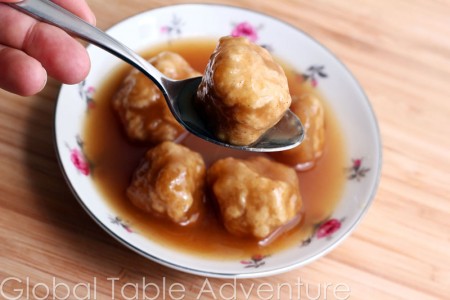 What I liked most about this dish:
We simmer dumplings in broth, in oil – to make doughnuts – but never, ever had I heard of something so incredible – simmering dough in maple syrup. I'm actually in mourning for all the years this recipe was not in my life. Just think how many times I could have had grandpères instead of hot fudge sundaes… or ladled several grandpères into a big bowl of icecream  to make a Canadian Ice Cream Sunday.
What I liked least about this dish:
Do you hear that? Hmm. Must have been crickets.
Ok, seriously – here's an important tip: don't overcook or boil these too hard – they'll get dense and tough. A low simmer is ideal.
Ava's Corner
Sleepy baby! And notice her Canadian themed bib 😀